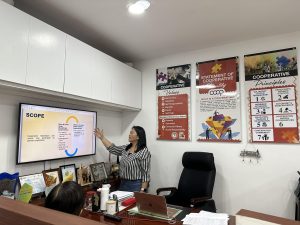 A briefing on the Revised Guidelines on the Implementation of the Koop Kapatid Programs was held at Taguig City CDO on August 23, 2023. This was attended by seventeen officers from five Large Cooperatives who are willing to participate in the Koop Kapatid Program as big brothers to micro and small cooperatives of Taguig.
Ms. Lecira V. Juarez (Taguig CDO head) and Ms. Marilou Valencia (FCDS of Taguig) led the discussion on the said guidelines. 
The Koop Kapatid Program aims to improve the cooperative management, governance and business operation of coop beneficiaries (small brothers), by providing technical, financial, and other forms of assistance to micro and small cooperatives.