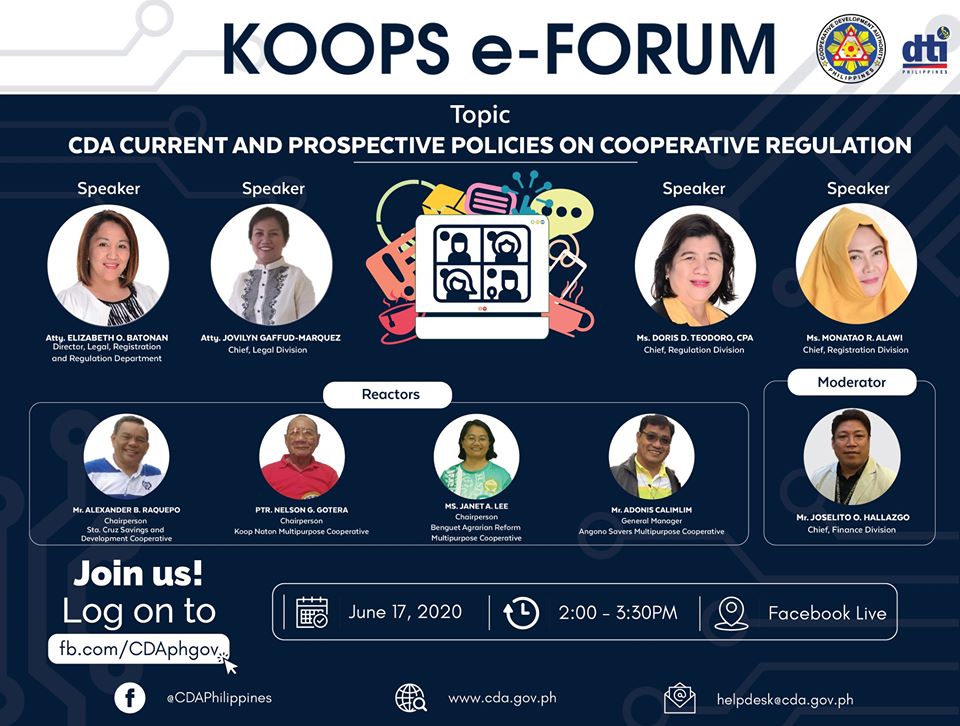 On June 17, 2020, the 2nd CDA Koops eForum started off with a welcome statement from Undersecretary Orlando R. Ravanera, CDA Chairperson, on the firm determination of cooperatives as countervailing force in the COVID-19 pandemic, poverty, inequity, social injustice, climate change and violent extremism.
The topic discussed during the eForum focused on CDA Current and Prospective Policies on Cooperative Regulation, with resource persons Atty. Elizabeth O. Batonan, Director of the Legal, Registration and Regulation Department, Atty. Jovilyn M. Gaffud-Marquez, Chief of the Legal Division, Ms. Doris D. Teodoro, Chief of the Regulation Division and Ms. Monatao R. Alawi, Chief of the Registration Division.
The 2nd eForum invitation was able to reach 26,500 Facebook users, while the live stream has 1,000 viewers, and the recorded video was able to reach 14,000 viewers.
To view the entire recorded video during the CDA Koops eForum CLICK HERE.  The presentation can be viewed/downloaded CLICK HERE.