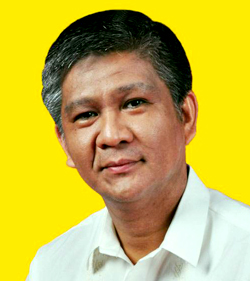 The Cooperative Development Authority is pleased to announce the promotion of CDA Dagupan Regional Office Director Ray Ragel Elevazo as Executive Director III effective October 1, 2014, succeeding the late Atty. Niel A. Santillan who died of cardiac arrest in January of this year.
The appointment of Dir. Elevazo came at the helm of a new leadership under OIC Administrator Eulogio T. Castillo who intends to bring significant development to the grassroots level by empowering micro and small cooperatives through provision of adequate support in terms of extension of technical services, training for skills development and market access, with a balanced approach on development and regulation.
As Executive Director, Dir. Elevazo shall lead the effective implementation of all policies, plans and programs of the Agency according to the strategic direction set by the Board of Administrators.
A Career Service Executive, Dir. Elevazo served as Director of Dagupan Regional Office since May 2011 where he rose from the ranks, starting as Clerk II, thereafter promoted as Cooperative Development Specialist II for 10 years, Senior Cooperative Development Specialist for 7 years, to his appointment as Director of the CDA Cordillera Administrative Region in 2009 to 2011 when its former Director, Atty. Rogelio P. Madriaga retired. He was later transferred to Dagupan Regional Office in May 2011 upon the retirement of Dir. Ernesto Z. Rosario. Dir. Elevazo served as Officer in Charge of the Office of the Executive Director from April 2014 to September 2014 prior to his appointment.
Dir. Elevazo finished his master's degree in Development Management in 2002 at the Pangasinan State University (PSU) and earned his Bachelor of Laws in 2009 at the University of Pangasinan, Dagupan City. He took up his undergraduate studies in Bachelor in Political Science at the Polytechnic University of the Philippines (PUP), Manila in 1991.
Dir. Elevazo is married to the former Daisy Cabanela and has four children.
The CDA family congratulates Dir. Elevazo and wish him success in his new career! (Mary Grace I. Cinco)