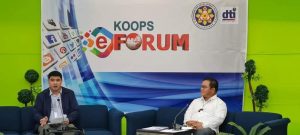 On May 11, 2021, the CDA Koops eForum featured the newly installed CDA Chairperson as he presented his vision for the agency and the cooperatives during his 6-year term of office.
CDA Chairperson Usec. Joseph B. Encabo discussed the general perspective of his plans and programs, entitled CDA in the 21st Century – Breaking Barriers, Going Beyond Limits.  He shared point by point on what road he wants the agency to take, with him leading and joining in the progress of the agency and the cooperative sector.
In the presentation of Usec. Encabo, he wants the CDA to be more responsive to the cooperative sector, to be closer to the people, starting with improved programs, focused on the Micro, Small, Medium Enterprises (MSMEs) and cooperatives in need.
The CDA Chair expressly mentioned as well that there must be inclusive growth, as response to the mandate in alleviating poverty and achieving economic sustainability and promotion of social justice, and together with this is the strengthening of ties with cooperative development partners, to foster camaraderie and strengthen relations for more partnership opportunities.
Apart from increasing marketing competitiveness of cooperatives in both local and national level, Usec. Encabo plans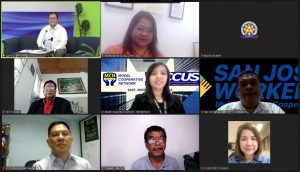 to showcase cooperatives globally, by forging partnerships with different countries.
Present also were reactors from the cooperative sector, Mr. ROY M. RIBO, Chairperson of KAMMPIL AGRICOOP from Region 8, Mr. HECTOR F. ROSALES, Chairperson of Kabalikat ng Bulakenyo MPC from Region 3, Mr. EMMANUEL A. MUNDA, Manager of San Jose Workers' Multipurpose Cooperative from Region 4-A, Mr. EDGARDO MICAYABAS, Chief Executive Officer of First Community Cooperative from Region 10, Atty. ELEONOR T. HERNANDEZ, Board of Director of the Union of Metro Manila Cooperatives from NCR, and Ms. RHODA RUTH PILLERIN, Chief Executive Officer of the Model Cooperative Network from Region 11, where they were able to directly convey their concerns to the CDA Chairman, who willingly responded to them and assured them of the assistance and support of the agency, and even invited them to visit his office to further discuss their issues.
Usec. Encabo has been with the CDA for only 3 weeks, and according to him "The best is yet to come, and the best of CDA has already begun."
For more information, please visit the CDA Philippines Facebook page, like and share the page to be updated on latest issuances, programs and activities of the CDA. To watch the recorded video of the recently concluded Koops eForum you may click https://shorturl.at/jszEV. (Cherryl B. Marders)