MOU Signing – On October 20, 2022, the Cooperative Development Authority (CDA) entered into an agreement with the Social Security System (SSS) in assisting the agency to implement its mandate to authorize cooperatives registered with the CDA to act as collecting agents of the SSS with respect to their members.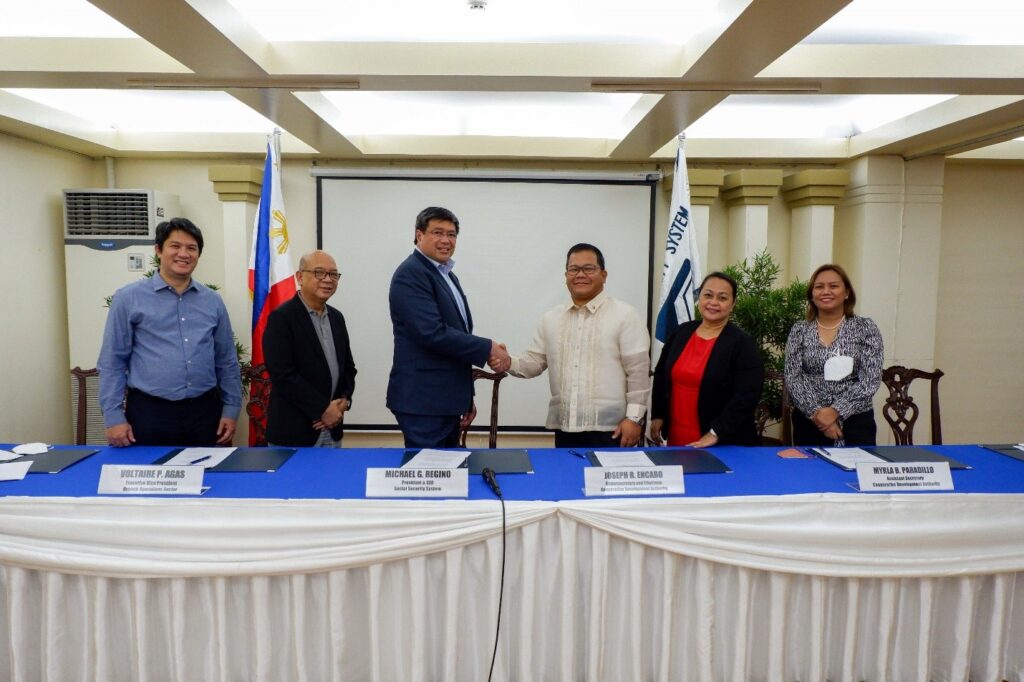 Photo shows SSS President and CEO Michael G. Regino (3rd from left) and CDA Undersecretary and Chairman Joseph B. Encabo (4th from left), together with SSS Cooperatives and Informal Sector Department Concurrent Acting Head and Professional Sector Department Manager III Carlo C. Villacorta (leftmost), SSS Branch Operations Sector Executive Vice President Voltaire P. Agas (2nd from left), CDA Assistant Secretary and Acting Administrator Myrla B. Paradillo (2nd from right), and CDA Legal Division Chief Jovilyn Gaffud-Marquez (rightmost), during the MOU signing ceremony held at the Executive Lounge, 2/F, SSS Building, East Avenue, Diliman, Quezon City.
Through the MOU, the SSS will conduct orientation and awareness campaigns with regard to SSS membership and cooperative accreditation in collaboration with CDA through different events and venues where CDA may organize and will provide information, education, and communication materials about SSS programs. Likewise, SSS will assist cooperatives in the registration of their members and in the remittance of their contributions in accordance with existing policies, guidelines and procedures of the SSS as well as access to the SSS list of benefits and privileges through various e-services, and the creation, development, improvement, and implementation of programs and policies for their welfare. On the part of CDA, it will help the SSS by increasing knowledge of the benefits of SSS membership for cooperatives and their members as well as by helping the SSS in the formulation of policies to improve access to SSS membership and social security support.
The MOU is signed in conjunction with the celebration of the National Cooperative Month in accordance with Republic Act No. 11502, which encourages the organization of events and programs that advance cooperative principles and values and boost cooperative movement.