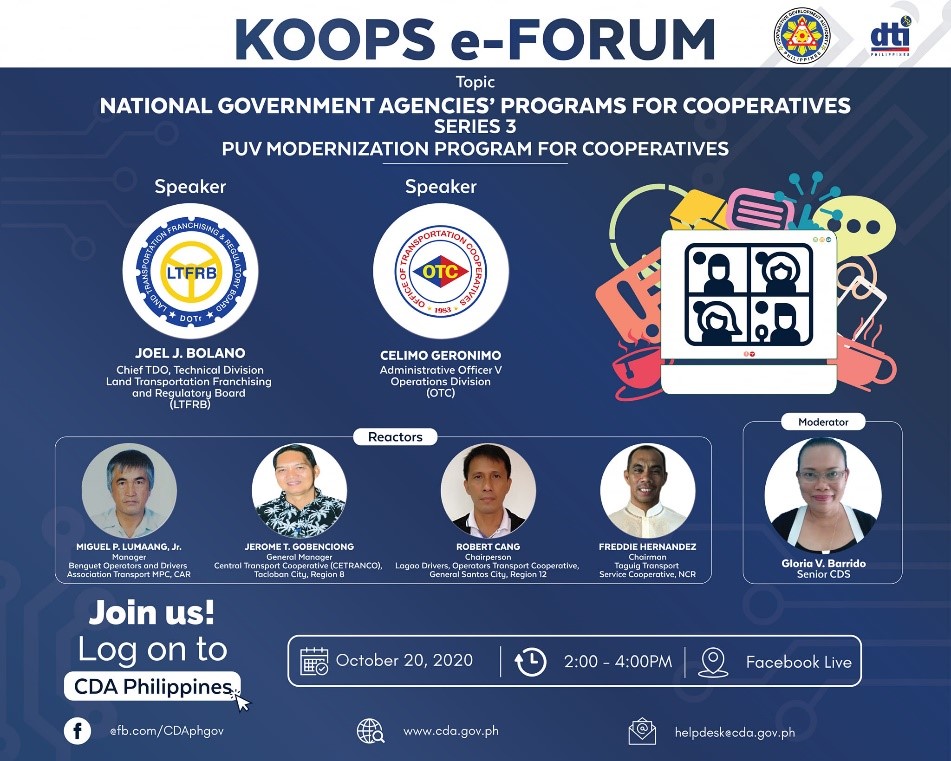 10.20.20 – A day set for CDA Koops eForum with topic of PUV Modernization Programs for Cooperatives. The CDA Koops eForum started with a message from CDA Board Member ASec. Abad L. Santos, Head for Public Utilities Cluster, and Usec. Orlando R. Ravanera, CDA Chairman.
The activity was graced with speakers form the Land Transportation Franchising Regulatory Board (LTFRB) in the person of Mr. JOEL J. BOLANO Chief TDO, Technical Division, and Mr. CELINO GERONIMO, Administrative Officer V, Operations Division from the Office of Transportation Cooperatives (OTC) who discussed their programs for PUV modernization programs for cooperatives.
Reactors for the CDA Koops eForum were Mr. MIGUEL P. LUMAANG, Jr., Manager, Benguet Operators and Drivers Association Transport MPC, La Trinidad, Benguet, Mr. JEROME T. GOBENCIONG, General Manager, Central Transport Cooperative (CETRANCO), Tacloban City, Mr. ROBERT CANG, Chairperson, Lagao Drivers, Operators Transport, Cooperative, General Santos City, Mr. FREDDIE P. HERNANDEZ, Chairman, Taguig Transport, Service Cooperative, Taguig City
The topic was very relevant since Transport Cooperatives is one of the sectors badly affected by the pandemic, with public transportation suspended or can only have limited movement during the Community Quarantine, and with the eJeepneys as priority for those allowed to cruise the highways, thereby largely affecting their livelihood. It was an intense discussion but the speakers were able to elucidate and expound on their response and reactors were able articulate their issues and concerns to LTFRB and OTC. The viewers also contributed by posting their questions, comments or recommendation in the CDA Philippines FB page.
To watch the recorded video of the Koops eForum, you may click HERE (https://www.facebook.com/107061480949245/videos/760889934833232) to visit the CDA Philippines Facebook page. Please like and share the page to be updated on latest issuances, programs and activities of the CDA. You may also download the presentations of OTC attached. (Cherryl B. Marders)
---
Resources: