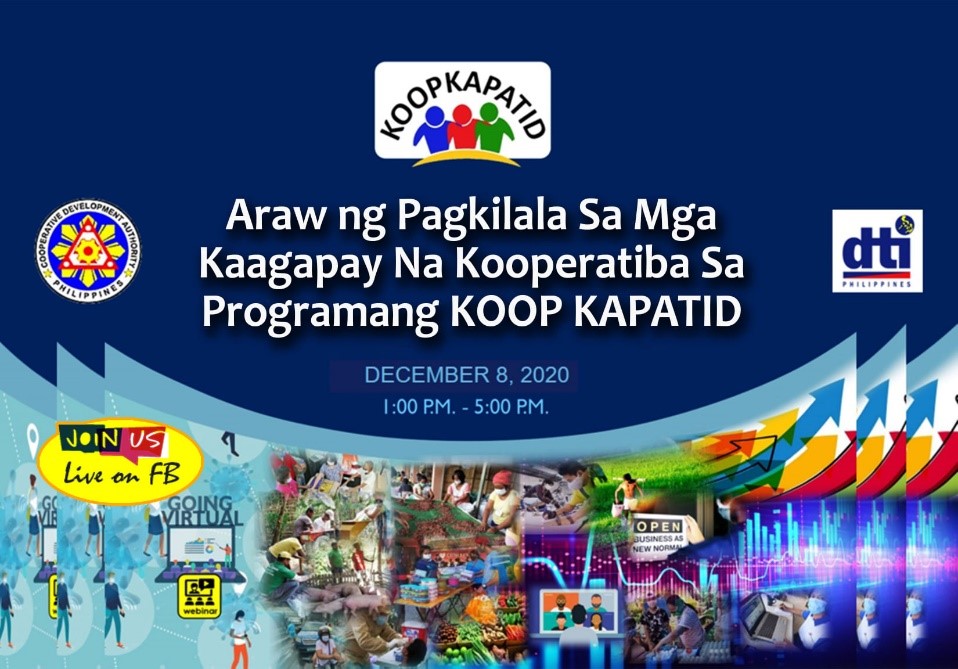 The culmination activity for the recognition of "Big Brother" cooperatives for the KOOP Kapatid program was recently conducted with 56 medium and large cooperatives all over Visayas and Mindanao regions were awarded for their partnership with CDA in extending technical and financial assistance to small and micro cooperatives.
The virtual program, dubbed as "Araw Ng Pagkilala Sa Mga Kaagapay Na Kooperatiba Sa Programang Koop Kapatid" was held on December 8, 2020 and was streamed live via CDA Philippines' Facebook page. It was the first recognition program conducted for Koop Kapatid partners since the program's inception in 2018.
The "Big Brother" cooperatives awarded were as follows;
REGION
BIG BROTHER
VI

 

 

1.     Riverside Medical Center MPC

2.     Kooperatiba Naton MPC

3.     Lezo MPC

4.     Nueva Valencia MPC

5.     Guimaras Employees MPC

6.     Ponteverde Peoples MPC

7.     San Jose MPC

8.     Pavia Entrepreneurs MPC

VII

1.     Lamac MPC

2.     Perpetual Help Community Cooperative

VIII

1.     Kasugbong MPC

2.     Abuyog St. Francis Xavier Credit Cooperative

3.     LICO Agrarian Reform Cooperative

4.     Leyte National High School MPC

IX

1.     Siari Valley Agrarian Reform Beneficiaries MPC

2.     Aurora Integrated MPC

3.     Bayside MPC

4.     Upper Salug Daku MPC

5.     Labason MPC

6.     Provincial Agrarian Reform Employees MPC

X

1.     City Hall Employees MPC

2.     Claveria Teachers Employees & Community MPC

3.     Misamis Occidental DAR Employees MPC

4.     Paglaum MPC

5.     MORESCO 1 Employees & Retirees MPC

6.     MSU-IIT National MPC

7.     Kerdos MPC

8.     Jobnet MPC

9.     Servus MPC

10. Iligan City Government Employees MPC

11. Del Monte Phils. Inc. Employees and Community Credit Cooperative

12. Oro Integrated Cooperative

13. PLDT Employees Credit Cooperative (PECCI)

14. Philippine Army Finance Center Producers Integrated Cooperative (PAFCPIC)

XI

1. Davao Oriental Health Personnel MPC

2. Davao Oriental Market MPC (DOMMUPCO)

3. Yagakauyon na Kooperatiba ng San Ignacio

4. Pilipinhon MPC

5. Bankeron Vendors Credit Cooperative

6. Silangan MPC

7. BCS Credit Cooperative

8. AdDE Credit Cooperative

9. Agdao MPC

XII

1. Alamada MPC

2. Sta. Catalina MPC

3. Mediatrix MPC

4. Makilala MPC

5. Pangkat ng Mamayan ng South Cotabato MPC

6. San Felipe Cooperative

Caraga

1. Baug CARP Beneficiaries MPC

2. Los Arcos MPC

3. Mangagoy Fishermen MPC

4. Bislig Community and Government Employees MPC

5. Surigao Del Sur Community Initiative MPC

6. Wilson Agra MPC

7. North East West South MPC

8. JCA Agrarian Reform Beneficiaries MPC

9. Concern Agrarian Reform Retirees Community Cooperative

10. Pilar MPC
The event was attended by CDA Chairman Orlando R. Ravanera and Executive Director Ray R. Elevazo who thanked the awardees for their support and selfless contribution for the empowerment of micro and small cooperatives through the various assistance they extended.
A video message from Datu Modesto Pocol of Kitanglad-Kalatungan Producers Cooperative-Region X, a small brother beneficiary of the PLDT Employees Credit Cooperative (PECCI) was shown where he highlighted the construction of a training center for the members' use during seminar-trainings as PECCI's significant contribution.
Special citations to the CDA Iloilo and Cagayan de Oro Regional Offices were given for having the highest number of "Big Brother" Cooperatives in Visayas and Mindanao regions, respectively, to join the KOOP KAPATID Program. Both offices were cited for their efforts in bringing more Cooperative-Partners into the fold of brotherhood or "kapatiran', by going the extra mile, resulting to more cooperatives empowered and members capacitated, thereby opening more opportunities for economic development in their community.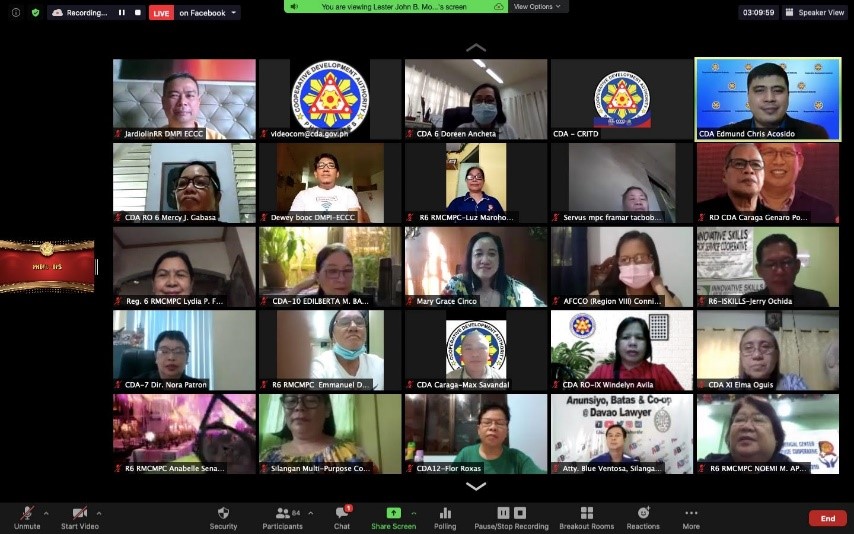 CDA Regional Office VI Director Doreen C. Ancheta and Regional Office X Director Glenn S. Garcia gave their respective messages of appreciation for the award of recognition, and expressed their continuous support to the program, so that more micro and small cooperatives can benefit from the CDA and "Big Brother" cooperatives partnership.
The KOOP KAPATID Program is being implemented by the Cooperative Project Development and Assistance Division (CPDAD) who was the over-all in charge of the activity for Luzon (October 30, 2020), Visayas and Mindanao regions. /mgc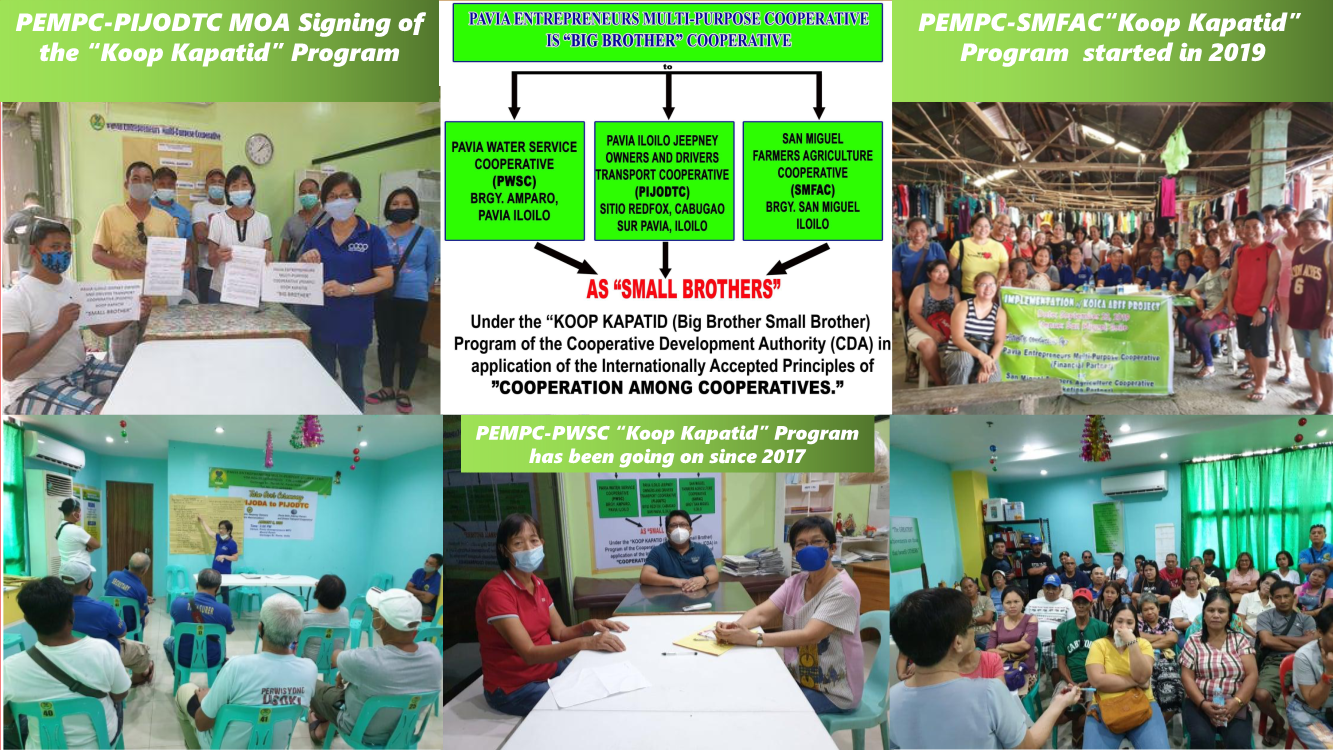 Region 6 – PEMPC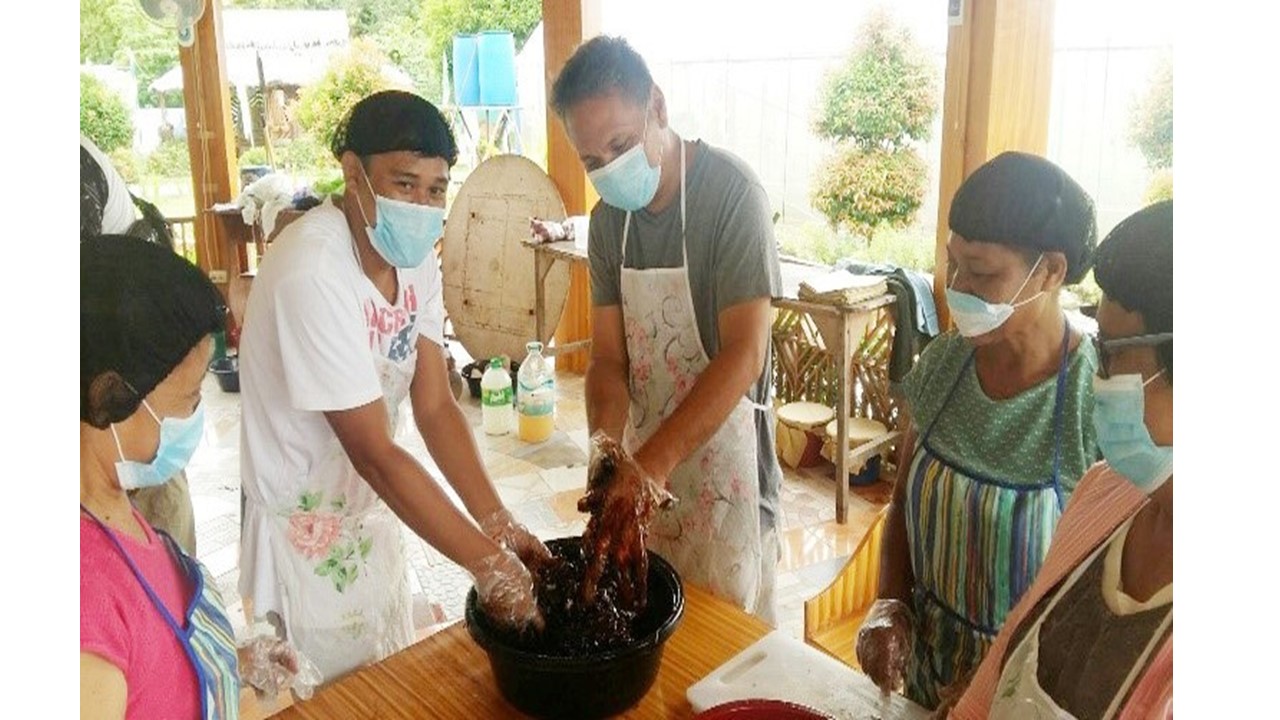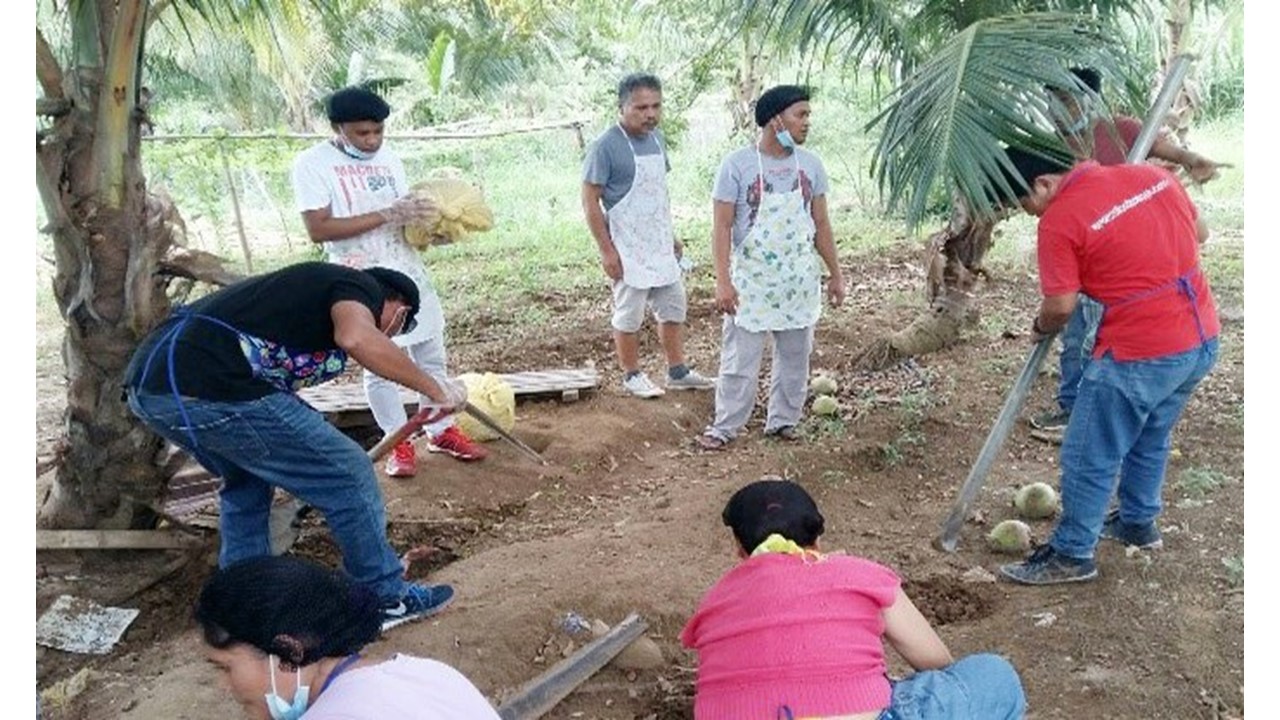 Region 7 – Training on Organic Farming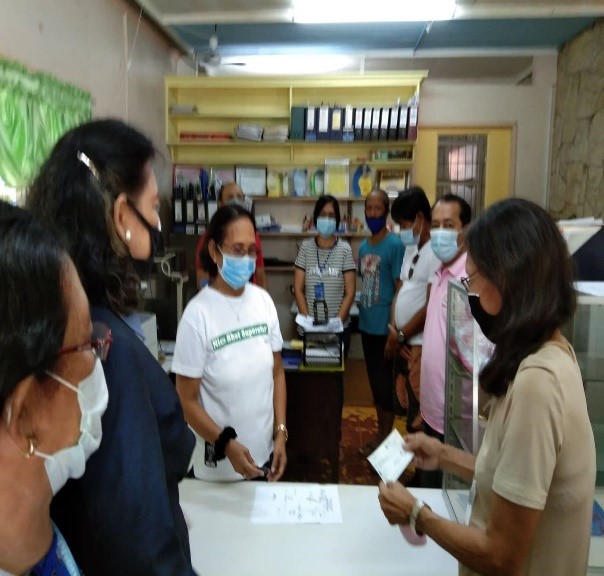 Region 8 – Kasugbong MPC treasurer Mrs. Rosalia T. Roncesvalles turn over a check amounting to 25,000 as cash assistance to Small Brother Coop BPCC, witnessed by Dr. Asela A.  Cabaňas and BODs from both cooperatives.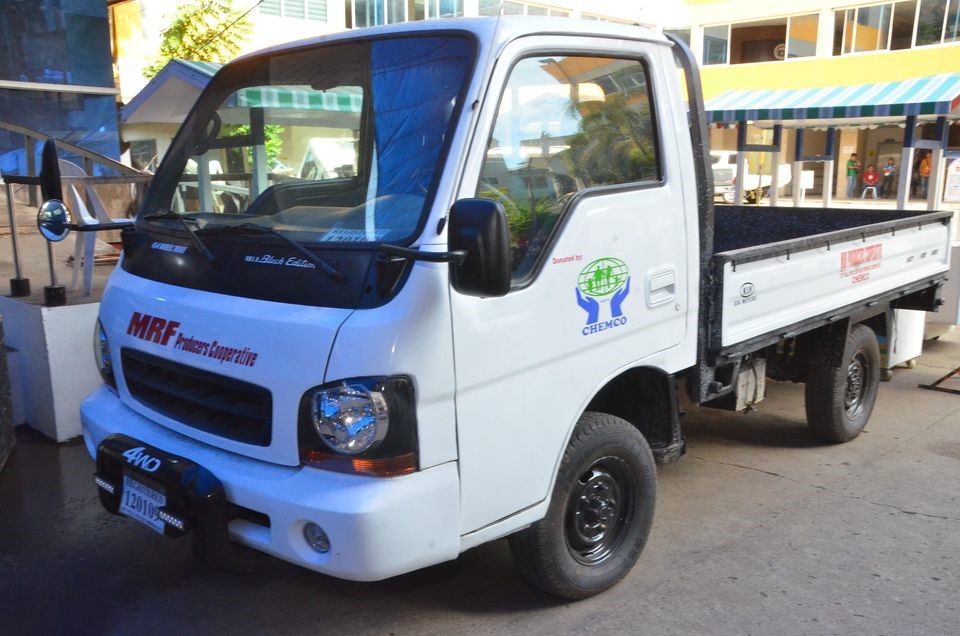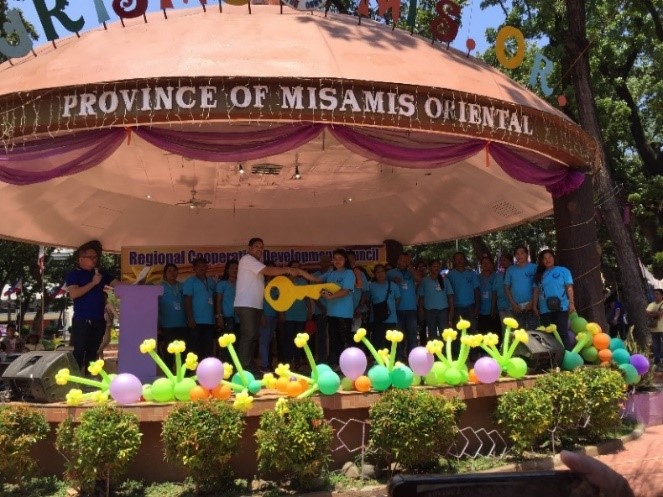 Region 10 – City Hall Employees MPC donated One (1) unit Bongo Vehicle to the Material Recovery Facility (Mrf) Producers Cooperative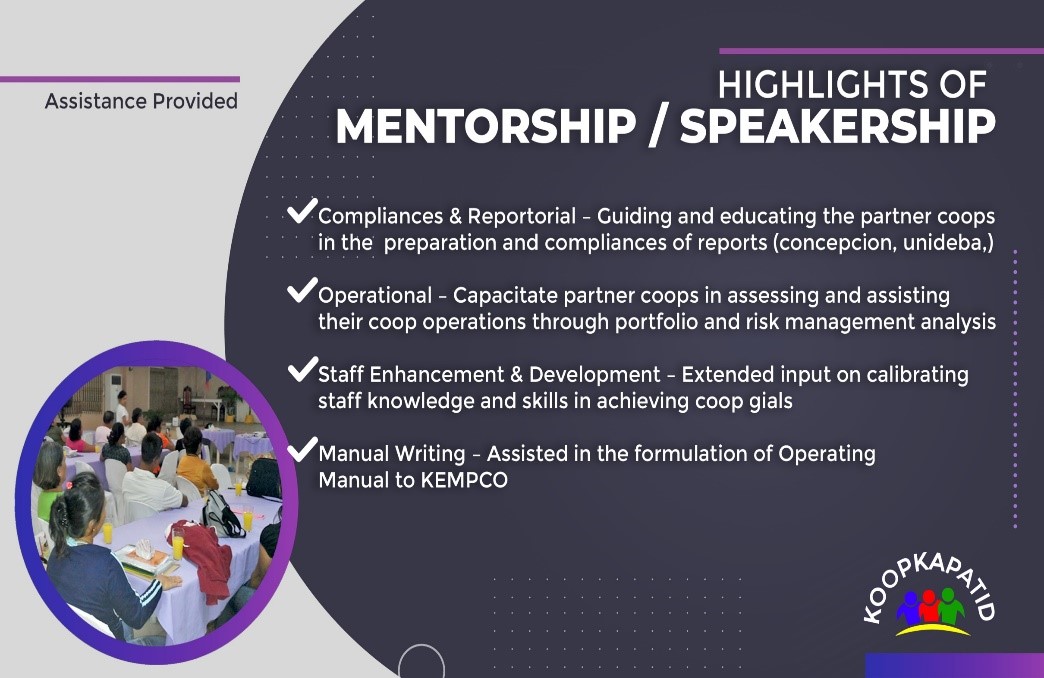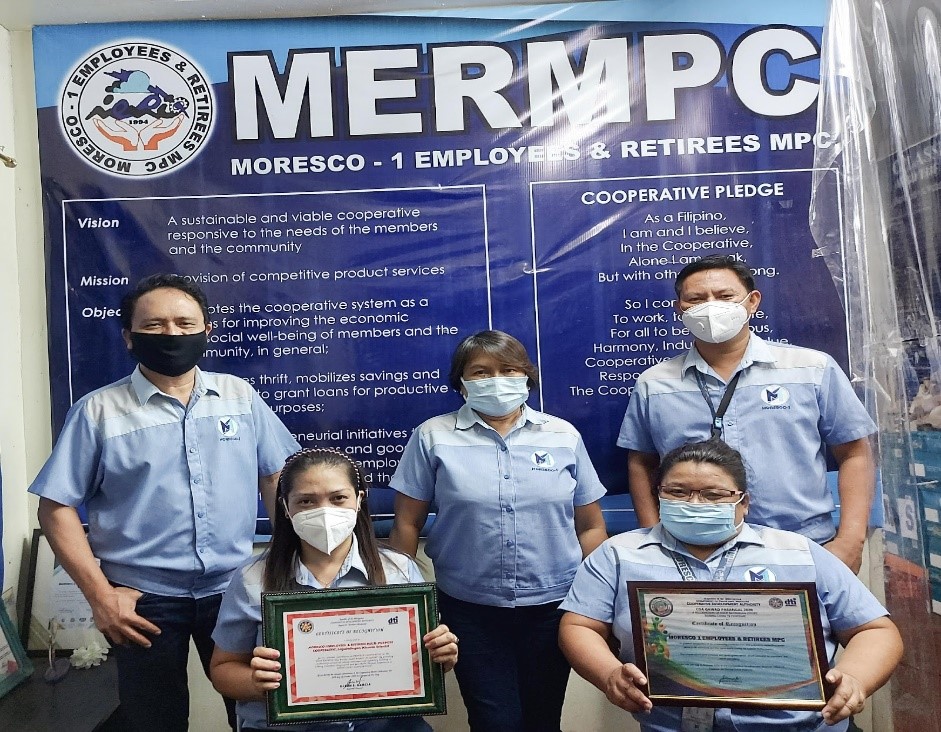 MERMPC assisted Liberty Consumers Cooperative in the submission of annual mandatory reports and the on- line submission of their Cooperative Annual Progress Report and Financial Statements to the CAPRIS & CAFSIS
Helps promote partnership of small cooperatives by providing assistance to strengthen business operation through technical support and sharing of best practices in handling cooperative operations especially on credit engagements