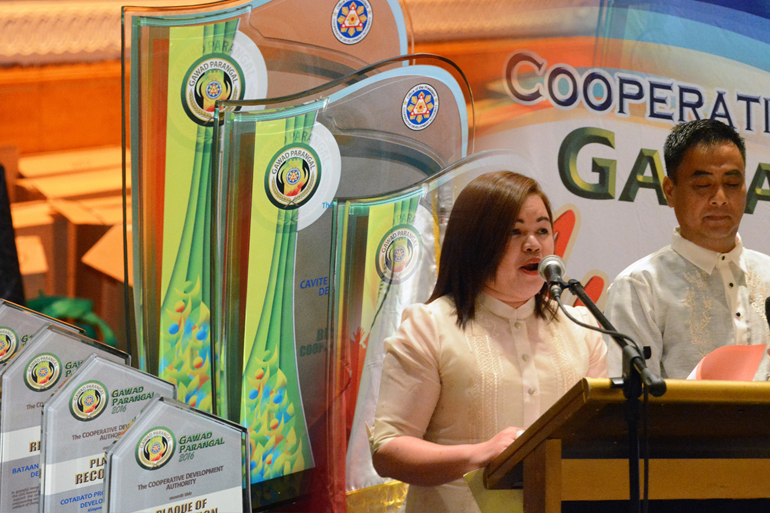 A majestic 6-tiered chandelier gave a soft, warm glow to the two grand staircases and luxuriously carpeted lobby which greeted the more than 200 guests during the Cooperative Development Authority (CDA) Gawad Parangal 2016 Awarding Ceremony held at Makati Shangri-la last October 26, 2016.
As guests entered the function area, stunningly designed walls and ceiling delighted their senses, with tables covered by floor length linens which were formally set up for fine dining. The stage was adorned with fresh flowers, well-lit and ready for the awarding ceremony.
The event started at 2:45pm with Masters of Ceremony, Atty. Monaliza Arriba-Juarez of CDA Central Office and Mr. Allain Gallero of MIA Transport Service Cooperative leading the program. A presentation by the Sacred Heart Savings and Credit Cooperative from IIocos Sur was given to liven up the occasion, after which the Invocation was led by Atty. Ma. Lourdes P. Pacao of CDA Region 5 Extension Office.
Welcome Remarks was given by CDA Executive Director Ray R. Elevazo. He thanked everyone for supporting all CDA programs, particularly the Gawad Parangal as this is one of several programs of CDA that has been institutionalized and gives honour to the agency, the cooperative sector and partners for cooperative development. He stressed on the importance of maintaining good relations among the sectors involved for a strong partnership.
Chairman Orlando R. Ravanera gave his Opening Remarks and he emphasized that the cooperative sector be the catalyst of change to attain poverty eradication and social transformation. He said that:
"The path toward building a society that is based on social justice, equity and sustainable development is not an easy one. We need leaders who will show us the path and inspire us as well. These leaders should be innovative enough to cope up with the changing times.
"For a society to continuously have such a highly stratified economic set-up, rectifying social wrongs has been the battle-cry to advance social justice, equity and a kind of development that puts the people at the center of progress. In a highly skewed societal set-up, there is that imperative need to launch a collectivist counter culture against the lethal combination of powerlessness, apathy and greed. The people's collective struggle emanating from the strength of the human spirit will bring forth, in the long term, a society that is more humane and just.
"The cooperatives are now exemplifying an alternative development model where money is used to enhance life and the well-being of the people and NOT to make more money. Yes, we must now debunk the present development paradigm that is based on profit and greed that propels materialism and consumerism to greater heights at the expense of the environment."
Dir. Cirio Pastolero, a representative from the Office of the Cabinet Secretary, in lieu of Undersecretary Halmen Valdez made a speech on the importance of cooperatives to the community and its development. He said that the Office of the President is fully supportive of the CDA, the cooperative sector and its partners and encourages the participation in all programs and plans of their office and its leaders for the cooperative sector, and likewise, he is also asking for support to the agenda of the current administration.
Director Pastolero enumerated some of the accomplishments of the Office of the President, in terms of cooperative development and related programs. He assured that cooperatives and its achievements throughout the years are being noticed by the government and congratulated all the nominees and winners of the CDA Gawad Parangal 2016.
Usec. Evelyn G. Laviña, Undersecretary for Agribusiness and High Value Crops of the Department of Agriculture (DA) also shared solidarity message where she conveyed her support to the CDA and to the cooperative development programs it implements. DA is one of the active partners of CDA in cooperative development.
The CDA gave special thanks to the government agencies and people's organization for supporting the CDA Gawad Parangal 2016, and they are Chairman, Senate Committee on Cooperatives; Chairman, House Committee on Cooperatives; Department of Agriculture; Department of Trade and Industry; Landbank of the Philippines; Philippine Association of State Universities and Colleges; and Villar Sipag Foundation.
After speeches were made, the program proceeded to recognizing pioneers and partners in cooperative development and national nominees and winners of the Gawad Parangal per Category.
Among the pioneers in cooperative development recognized by the CDA are Ms, Gerarda Teves of PHCCI, Dumaguete City, for being the Oldest Cooperative Leader and the College Consumers Cooperative in the University of the Philippines, Los Banos for being the Oldest Cooperative in the Philippines as it exists for 100 years now.
For the Gawad Parangal, the recipients of the National Awards are as follows:
BEST PERFORMING COOPERATIVE DEVELOPMENT COUNCILS
REGIONAL LEVEL
SOUTHERN TAGALOG REGIONAL COOPERATIVE DEVELOPMENT COUNCIL
Calamba City, Laguna
PROVINCIAL
1st Placer ISABELA PROVINCIAL COOPERATIVE DEVELOPMENT COUNCIL
City of Ilagan, Isabela
2nd Placer CAVITE PROVINCIAL COOPERATIVE DEVELOPMENT COUNCIL
Trece Martires City, Cavite
3rd Placer BATAAN PROVINCIAL COOPERATIVE DEVELOPMENT COUNCIL
City of Balanga, Bataan
MUNICIPAL/CITY LEVEL
1st Placer CAUAYAN CITY COOPERATIVE DEVELOPMENT COUNCIL
Cauayan City, Isabela
2nd Placer CALAMBA CITY COOPERATIVE DEVELOPMENT COUNCIL
Calamba City, Laguna
3rd Placer VALENZUELA COOPERATIVE DEVELOPMENT COUNCIL
Valenzuela City
BEST PERFORMING LGU-COOPERATIVE DEVELOPMENT OFFICES
PROVINCIAL LEVEL
1st Placer PROVINCIAL COOPERATIVE AND ENTERPRISE DEVELOPMENT OFFICE
PROVINCE OF BULACAN
Malolos City, Bulacan
2nd Placer PROVINCIAL COOPERATIVE DEVELOPMENT OFFICE
PROVINCE OF ISABELA
City of Ilagan, Isabela
3rd Placer PROVINCIAL COOPERATIVE DEVELOPMENT OFFICE
PROVINCE OF DINAGAT ISLANDS
San Jose, Dinagat Islands
INDEPENDENT COMPONENT CITY
1st Placer TACLOBAN CITY COOPERATIVES AND LIVELIHOOD ASSISTANCE OFFICE
Tacloban City, Leyte
2nd Placer MANDAUE CITY COOPERATIVES DEVELOPMENT DEPARTMENT
Mandaue City, Cebu
3rd Placer VALENZUELA COOPERATIVE DEVELOPMENT OFFICE
Valenzuela City, Metro Manila
MUNICIPAL/COMPONENT CITY
1st Placer COOPERATIVES AND LIVELIHOOD DEVELOPMENT DEPARTMENT
Calamba City, Laguna
2nd Placer CAUAYAN CITY COOPERATIVE OFFICE
Cauayan City, Isabela
3rd Placer CATBALOGAN CITY COOPERATIVE OFFICE
Catbalogan City, Samar
BEST PERFORMING COOPERATIVE UNIONS
Cooperative Union of Taguig and Pateros
Taguig City
BEST PERFORMING COOPERATIVE FEDERATION
NATIONAL LEVEL
NUEVA SEGOVIA CONSORTIUM OF COOPERATIVES
Vigan City, Ilocos Sur
REGIONAL LEVEL
CENTRAL LUZON REGION LEAGUE OF THE PHIL. FEDERATION OF CREDIT COOPS
Malolos City, Bulacan
MOST OUTSTANDING COOPERATIVE LEADERS
NOLAN G. BELARO
RODRIGO M. CAMIA
EDILBERTO B. LANTACA, JR.
MOST OUTSTANDING PRIMARY COOPERATIVE
MICRO
GOOD CARE MULTIPURPOSE COOPERATIVE
Baguio City
SMALL
1st Placer MALALIM MULTIPURPOSE COOPERATIVE
Batangas City
2nd Placer PATEROS PUBLIC SCHOOL TEACHERS MULTIPURPOSE COOPERATIVE
Pateros, Metro Manila
3rd Placer CORTES MULTIPURPOSE COOPERATIVE
Basilisa, Dinagat Islands
MEDIUM
1st Placer WATCHLIFE WORKERS MULTIPURPOSE COOPERATIVE
Mariveles, Bataan
2nd Placer NONESCOST MULTIPURPOSE COOPERATIVE – VISAYAS
Sagay City, Negros Occidental
3rd Placer BAGONG BARIO MULTIPURPOSE COOPERATIVE
Pandi, Bulacan
LARGE
1st Placer LAMAC MULTIPURPOSE COOPERATIVE
Pinamungajan, Cebu
2nd Placer ACDI MULTIPURPOSE COOPERATIVE
Taguig City
3rd Placer SAN JOSE DEL MONTE SAVINGS & CREDIT COOPERATIVE
City of San Jose Del Monte, Bulacan
The CDA also awarded cooperatives who went the extra mile in terms of developmental services to their members and the community at large, to wit:
SPECIAL CITATIONS
Remarkable Cooperative Solidarity and Partnership Program
IWAHORI MULTIPURPOSE COOPERATIVE
Mariveles, Bataan
Exemplary Environmental Protection and Conservation Program
BAGNOS MULTIPURPOSE COOPERATIVE
Banna, Ilocos Norte
Outstanding Community Involvement and Development Program
LAMAC MULTIPURPOSE COOPERATIVE
Pinamungajan, Cebu
Excellence in Membership Growth and Expansion Program
ACDI MULTIPURPOSE COOPERATIVE
Taguig City, Metro Manila
Excellence in Providing Financial Products and Services To Members
BARBAZA MULTIPURPOSE COOPERATIVE
Barbaza, Antique
Local Government Unit Cooperative Development Champion
GOV. FAUSTINO G. DY III
Province of Isabela
For this year, there were also cooperatives that were recognized as Hall of Famer in their specific category:
HALL OF FAME AWARDS
Provincial Cooperative Development Office, Province of Batangas
A 3-time 1st Placer Best Performing Provincial Cooperative Development Office
Watchlife Workers Multipurpose Cooperative
A 3-time 1st Placer Most Outstanding Cooperative – Medium Scale Category
Two (2) CDA Extension Offices were given Plaques of Recognition for having the most number of nominees which qualified and were given national awards. These are the CDA Calamba Extension Office and CDA Pampanga Extension Office.
Shouts of joy, exchange of congratulations, pats on shoulders, loud applause from the audience, lively performance from the Sacred Heart Savings and Credit Cooperative of Ilocos Sur, it was indeed a triumphant afternoon not only for the cooperative sector and partners, but as well as for the CDA as this year's search for the best was concluded.
It was well attended too, as we were graced with the presence of DA Usec. Evelyn Laviña, Governor Wilhelmino Sy-Alvarado and Vice-Governor Daniel Fernando of the Bulacan Province; Governor Faustino Dy, Jr. of Isabela Province; Acting Governor Rowena Africa of Batangas City; Cauayan City Mayor Bernard Faustino Dy; Vice-Governor Benglen Ecleo of the Dinagat Islands; Mayor Jimmy Chipeco of Calamba City; Mariveles City Mayor Ace Jello Concepcion and Catbalogan City Mayor Stephanie Uy-Tan.
To cap off the afternoon, Administrator Paisal I. Cali gave his Closing Remarks by thanking everyone who were present and congratulated the nominees and winners of the CDA Gawad Parangal 2016. Adm. Cali stated that he hopes the cooperative sector and cooperative development partners will not tire in joining the award-giving body of CDA in years to come and for the continual support of the government agencies and people's organization to this program. (C. B. Marders)