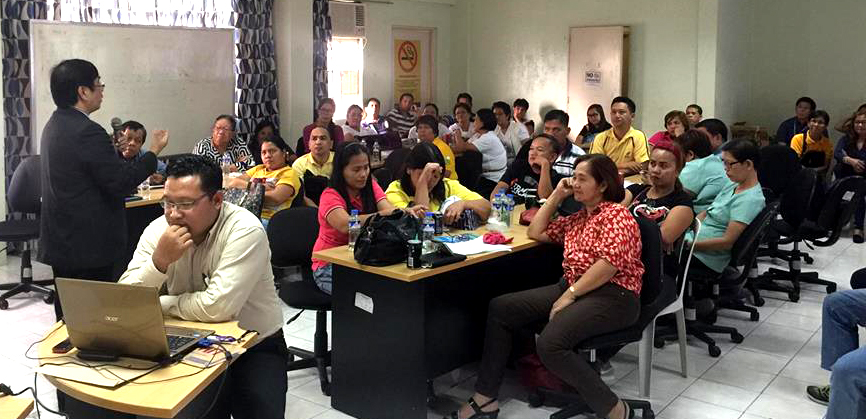 Coop Tourism is a Project back with a vengeance. Forgive the writer for the enthusiastic opening, but in mere honesty, it cannot be stated any better.  The project, though has been on ice since 2012, was not forgotten by the people behind its conceptualization. Its beautiful promises, endless opportunities, and benefits to many, especially to the people of cooperative sector loomed large in their hearts for four years.
Coop Tourism is a new business platform for cooperatives wherein there will be easier exchange of products and services, new business opportunities, additional job generations with the infusion of tourism in the locality, and efficient utilization of resources based on careful planning and study. Careful study because of the pre-requisite Value Chain Analysis which will identify the gaps and opportunities of the primary products and services within a community.
Coop Tourism's main objective is to contribute to poverty alleviation in the rural and peri-urban areas through the cooperatives as a platform in the transformation of the communities towards economic and social improvement.
Ms. Jo-Hizon Lapitan, the current Vice-Chair of Community Development Committee (CoDeCom) of the UPLB Credit and Development Cooperative (UPLB CDC), initiated the Coop Tourism's pursuit to grab the interest of many.
It was on February 21, 2017 when Ms. Lapitan, together with her co-proponent, Ms. Girlie R. Sarmiento, met with CDA Chairman, Orlando R. Ravanera and Dir. Giovanni Platero, CDA Deputy Executive Director. Truly, a beautiful project cannot stay hidden for good, because it immediately earned the support of the enthralled Chairman. With no further ado, he gave his go signal for the ground preparations of the project.
Through the partnership of Laguna Province headed by Governor Ramil L. Hernandez; Cooperative Development Council, headed by Ms. Aldea Roguel; Laguna Cooperative Development Office, headed by Mr. Edwin Bautista; UPLB CDC, headed by Chairman Danilo M. Mendoza, and the CDA Calamba Extension Office, headed by Dir. Salvador V. Valeroso, the Technical Working Group of Coop Tourism was formed and started its conceptualization for strategic activities on making the project a reality.
And so on June 27, 2017 at the Provincial Health Office of Laguna Province in Sta. Cruz, Laguna, a Cooperative Forum on Sustainable Coop Tourism towards Community Empowerment happened. PCDO Laguna hosted the event which was attended by 21 cooperatives from different parts of Laguna.
Graced by CDA Chairman himself, Hon. Orlando Ravanera; Dr. Rosauro Bimbo Sta. Maria, Jr, Head of Laguna Tourism, Culture and Arts Office (LTCATO); Atty. Dulce H. Rebanal, Laguna Province Administrator; Mr. Joselito R. Barile, Chairman of Community Development Committee of UPLB CDC; Dir. Giovanni T. Platero, Deputy Executive Director of CDA; and Atty. August Owen P. Magdato, Legal Officer and concurrent Assistant Regional Director of CDA Calamba Extension Office, the forum was a success and became an informative one as the speakers enlightened and encouraged the cooperative representatives on the very essence of Coop Tourism.
In addition, Prof. Eden S. Piadozo and Prof. Danica S. Asma of the University of the Philippines Los Baños presented the Scholarship for Cooperatives: The UPLB Way. They have presented undergrad and master degrees related to cooperative that they offer wherein through the assistance of UPLB CDC, coop members can also avail scholarship. CDA Chairman Ravanera also expressed his support for the project and the possibility of partnership with the CDA as well. Scholarship Program is also one of the sub-projects that can be implemented under Coop Tourism.
"Tourism is the people, all of us", exclaimed by Dr. Rosauro Bimbo Sta. Maria, Jr. He also allowed the participants to have a closer view on the improving tourism of Laguna Province, its rich culture, interesting festivities, beautiful churches and enchanting sceneries. He also narrated how he perceived Coop Tourism as a very good idea on incorporating cooperative and tourism.
"We are freedom fighters: fighters against hunger, poverty, and corruption….. If you have talent, do not try to be rich using it, use it to help your brethren", stressed by Chairman Ravanera. He further encouraged everyone by stating that cooperatives can help in reducing costs for the consumers by lowering the price of valuable products such as rice and other consumable goods. Cooperatives must be empowered to make the change and must not stop at producing but also in value adding.
The Coop Tourism, though still facing challenges, such as the lack of funds and commitment of possible stakeholders, it is perceived, garnering to what transpired during the forum, that its journey has officially started. Kudos to the people behind it, kudos to the cooperative movement for continuously evolving for the betterment of the future of its people. (Jerah Bravo Valdez, Cooperative Development Specialist)