The Credit Surety Fund Service (CSFS), in partnership with the Landbank of the Philippines (LBP) and its corporate foundation, Landbank Countryside Development Foundation, Inc. (LCDFI), successfully conducted a two-part online training session for CSF Cooperatives on loan evaluation, credit appraisal, and background investigation on July 31 and August 18, 2023. The training aimed to bolster the competency and adeptness of the officers of CSF Cooperatives on the 5Cs of credit, credit rating, and scoring. More than 100 officers and members of the Board of Directors and Credit Committee from CSF Cooperatives and Primary Cooperatives all over the country attended.
"This is a good opportunity for the officers to learn, unlearn, and relearn", Atty. Ma. Lourdes P. Pacao, CSFS Deputy Administration, conveyed in her opening remarks. She underscored that the training is an opportunity to acquire new skills and capabilities, to let go of old habits and ways of thinking and to learn something that have been forgotten. This requires one's willingness to step outside his or her comfort zones, seek new learning opportunities, and continuously upgrade skills.
Atty. Mickel Borigas, an industry expert and Finance Cooperatives Cluster SAO President served as the resource speaker for the training. In Part I of the training, Atty. Borigas centered his discussion on account management and credit administration underlining the 5Cs of Credit – Character, Capacity, Capital, Collateral, and Conditions. The topics presented a solid credit analysis framework that CSF Cooperatives can use to make decisions relative to the issuance of surety cover.  While Part II of the training provided the participants with a thorough discussion of the key factors of credit appraisal which include Creditworthiness, Technical and Financial Appraisal of the Project, Repayment Capacity, Credit Risk Management, Cash Flow Projections, and Collateral Valuation. This topic enabled the participants to grasp the importance of the credit appraisal process in ensuring borrowers' creditworthiness or capacity, and willingness to repay.
The online training also facilitated the exchange of experiences, the airing of issues and problems encountered, and the sharing of best practices among the participants.
The success of this online training is one step forward in empowering CSF cooperatives nationwide. Through the strengthening of their loan evaluation capabilities, these cooperatives are better equipped to advocate financial inclusion and foster the economic development of their communities.
Ms. Jo Ann C. Gamboa, Chief CDS of Inspection and Examination Division, expressed her gratitude to LBP and LCDFI for partnering with CDA in capacitating the CSF Cooperatives. She also extended her appreciation to the participants, "Today is an amazing day as we again filled and refilled our cups with learnings. To our CSF Cooperatives and primary cooperatives, your attendance is a manifestation of your steadfast commitment to enhance your cooperative's operations through safe and sound financial decisions."
As the financial landscape continues to evolve, training initiatives such as this play a vital role in ensuring that financial institutions and cooperatives are provided with the necessary tools to make prudent lending decisions and support sustainable growth.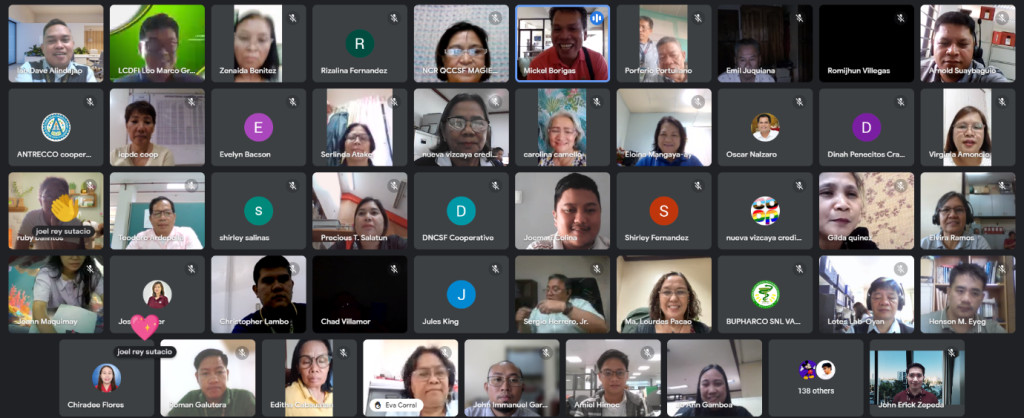 VIBRANT. The speaker and participants were full of energy, enthusiasm, and dynamism during the discussion. (J. Zepeda)