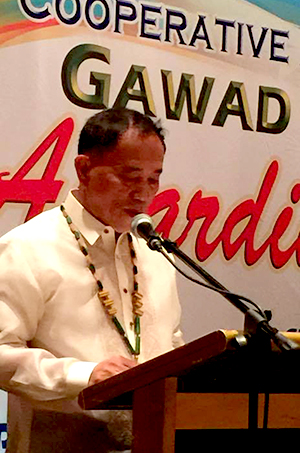 GREETINGS OF PEACE AND GOOD WILL!
Fellow workers in Government, honored guests, partners from the cooperative sector, friends, ladies and gentlemen.
Thank you for honoring us with your presence today and having been part in this dynamic and exciting activity that CDA has prepared for all of us, the awarding ceremony for the 2016 Gawad Parangal.
As many of you know, the Gawad Parangal is an activity that CDA undertakes to recognize exceptional cooperatives and partners in Cooperative Development annually.  And this afternoon we have witnessed, the recognition and awarding of the winners for this 2016 Gawad Parangal.
I would like to extend my grand congratulations to all the winners in the different categories.  Thank you for exerting efforts to be exceptional in your undertakings.
Ladies and gentlemen, we live in a world where vast inequalities are prevalent in our country.
We live in a world where some people feel they have no influence on the economy as a whole.
This afternoon however, we have witnessed what cooperatives can do for its members and the community at large.
Today, we heard citation on how cooperatives have gone far in breaking barriers to provide the necessary service to its members in an exceptional manner.
Today these proud cooperative winners affirm the fact that cooperatives can provide the economic strength that can neutralize economic inequalities in our society.
Ladies and gentlemen cooperatives transform to social conditions of the people.  Cooperatives builds understanding and unity.  Cooperative build better world.  Cooperative is PEACE cooperative indeed empowers!
Friends, CDA is very much proud to have recognized the accomplishments of these distinctive cooperatives.  And it is my singular pleasure and honor to be part of CDA.
Once more thank you for participating in this momentous CDA activity, we hope that this Gawad Parangal will be sustained in the years to come, in as much as this CDA annual awards being overlooked forward to by many cooperatives and CDA partners, stimulates economic creativity and innovativeness in cooperatives, which is a necessary tool towards economic empowerment resulting in poverty alleviation
Thank you.
MABUHAY KAYONG LAHAT
Mabuhay po ang Kooperatiba.
(Sgd) PAISAL I. CALI
Administrator