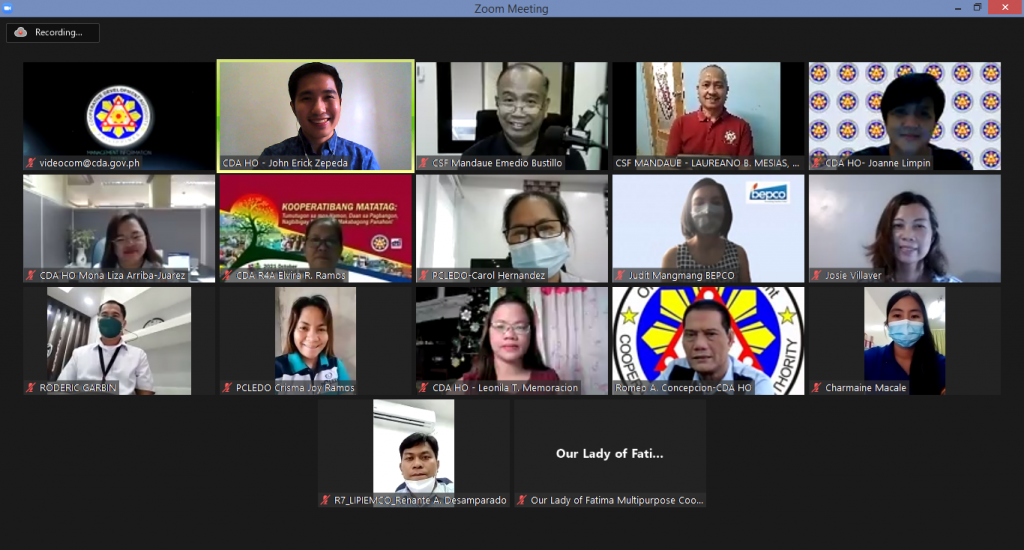 LEARNING PROCESS – Mandaue City CSF and Batangas City CSF Cooperative Officers zealously join the orientation on the process of issuance of a surety cover last October 20. (J.E. Zepeda)
QUEZON CITY – On October 20, 2021, the Inspection and Examination Division (IED) of the Credit Surety Fund Service, conducted a webinar titled, "The Process in the Issuance of a Surety Cover." The webinar aims to guide CSF Cooperatives in their business operation by helping them fully understand the processes in the issuance of a surety agreement to cover loans obtained by qualified member-borrowers.
In her welcome message, Atty. Joanne Limpin, Chief CDS of IED, emphasized that CSF cooperatives are still relatively new and that the stage of familiarizing with the processes is of utmost importance. She added that the better way to understand the processes is to make it simpler through the use of infographics, rather than merely reading the provisions of law.
During the discussion, Atty. Mona Liza Arriba-Juarez, CSF Service Director, talked about the nature of the suretyship contract as well as the obligations arising from it. The processes of issuing a surety cover to an individual MSME borrower and to a cooperative with endorser were discussed by the Acting Senior CDS of IED, Ms. Josie L. Villaver, while the process of issuing a surety cover to a member-NGO/member-cooperative without an endorser was tackled by Ms. Leonila T. Memoracion, CDS-I of IED.
Some participants raised questions during the open forum which were clearly and amply explained by Atty. Arriba-Juarez. Present during the activity were the Chairpersons, Board Members, Managers and other officers of Batangas City CSF Cooperative and of the now registered Mandaue City CSF Cooperative, as well as the CSF personnel from CDA Head Office and Regional Offices.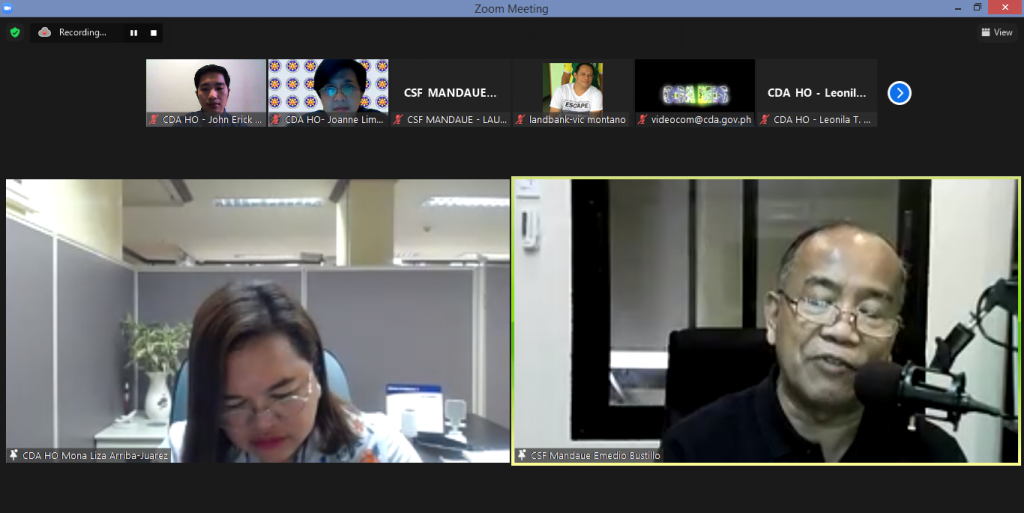 CONSULTATION – Mandaue City CSF Chairperson Emedio Bustillo (right) poses queries on operational processes to CSF Services Director Atty. Mona Liza (left). (J.E. Zepeda)