On July 15, 2021, the Cooperative Development Authority Region 1 Extension Office marks another milestone in its record as the new CDA Chairman USEC. Joseph B. Encabo meets personally with the officers and staff to listen to their concerns. The Meeting was in blended form, but the majority of the personnel were physically present. A simple program was prepared, The first part was the Meeting with the CDA RI EO personnel. Our Acting Asst. Regional Director Edilberto G. Unson delivered his warmest welcome message to USEC. Encabo and his entourage.  This was followed by presenting the CDA profile and its accomplishments from January – June 2021 by Director Josefina B. Bitonio.  The highlights of the presentations were the following: Overall performance of the CDA R1 EO for the period January – June 2021; Statistics of cooperatives; Partnership with NGAs/LGUs; Various webinars conducted for cooperatives, partners, and other stakeholders; Convergence with various NGOs; regular conduct of REXECOM, weekly convocation and performance assessment; convergence with partner agencies; support to the RTF-ELCAC activities and other programs and services.
Director Bitonio also presented the projects for the CDA R1 EO, namely, the construction of the building for CDA Ilocos Norte Provincial Office in coordination with the DPWH in Laoag City Ilocos Norte; 2. The CDA Region 1 EO construction at the government center in Lingayen, Pangasinan donated by the Local Government Unit (LGU) of Lingayen, Pangasinan, and in coordination with the DPWH – Lingayen, Pangasinan.  After the presentation, USEC. Encabo delivered his message and mentioned his plans and programs to the Authority, including the welfare and benefits of the employees.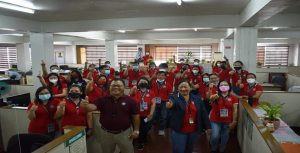 After meeting the CDA RI personnel, the Chairman also meet the invited cooperatives. Cooperative profiles of the invited cooperatives were presented to the CDA Chairman.  USEC. Encabo gave his surprise gift to them, a very handy laptop that they could use in their daily business operations. The first cooperative to receive the laptop was  the MultiPurpose Cooperative for the Disabled in Pangasinan of Dagupan City, these are group of Persons with Disabilities (PWD), followed by Dorongan Punta Womens and Farmers MPC of Mangatarem, Pangasinan and the third cooperative was  the D'Plowman MPC, composed of agrarian beneficiaries from Umingan, Pangasinan. The laptops given installed with the different applications can be used immediately in the preparation of reports and communications and likewise for their virtual meetings.

In the afternoon of the same day, USEC. Encabo visited the Calasiao Plant and Related Companies Employees Multi-Purpose Cooperative from Calasiao, Pangasinan, a billionaire cooperative in Pangasinan province.  The officers of the said cooperative warmly meet and welcome the Chairman in their office.  The Manager of the cooperative, as mentioned earlier, presented the brief profile as well as their best practices (Jacqueline de Leon, Sr. CDS).