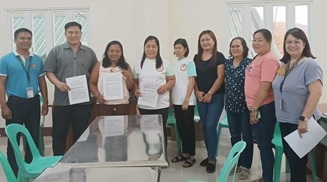 CDA, as mandated by Republic Act No. 6939 and as amended by Republic Act No. 11364, seeks to ensure the safe and sound operation of cooperatives in order to develop the cooperative sector into a viable and sustainable economic enterprise. To help the small and micro cooperatives, CDA has established a developmental intervention called "Koop Kapatid Program" through the application of the 6th cooperative principle, Cooperation Among Cooperatives. In this program, the PARTNER-COOPERATIVEs are the medium and large cooperatives, and the BENEFICIARY-COOPERATIVEs are the small and large cooperatives. The Partner Cooperative shall implement activities in the provision of needed financial or technical assistance to its Beneficiary Cooperative.
On May 10, 2023, a Memorandum of Agreement were signed between the Bagnos Multipurpose Cooperative as the Partner Cooperative and WIDAP Agriculture Cooperative as the Beneficiary Cooperative. Both cooperatives are in Banna, Ilocos Norte.
On May 11, 2023, a Memorandum of Agreement were also signed by San Joaquin Multi-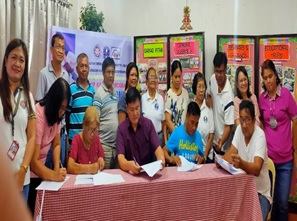 Purpose Cooperative as Partner Cooperative and Lubong Multipurpose Cooperative and San Jose Multipurpose Cooperative as Beneficiary Cooperatives. Cooperatives are all from Sarrat, Ilocos Norte.
During their acceptance speeches, the Beneficiary Cooperatives expressed their heartfelt gratitude to Cooperative Development Authority and San Joaquin Multi-Purpose Cooperative, stating that the program is essential for them to learn more for the benefit of their cooperatives. The Board of Directors is led by Chairperson Ms. Juliana Rabara, while the management team is led by Manager Ms. Elena Garcia. Chairperson Juliana Rabara remarked in her statement that they are willing to help cooperatives that require their assistance. Mrs. Rabara said "Haan nga ipapaidam nu ana ti adda kadatayo. You have to share". The Board of Directors also said that they are all willing to share their knowledge and expertise.
In the agreement signed by the Partner Cooperatives and the Beneficiary Cooperatives, specific assistance was identified by the Beneficiary Cooperatives and Accepted by the Partner Cooperatives.
Cooperative Development Authority Assistant RD Edilberto Unson, Sr. CDS Jacqueline Deleon and CDS IIs Arlene Espinosa, Rosievic Medina and Marwin Peralta facilitated and witnessed the signing of the MOA.  (Rosievic R. Medina, CDS II and Marwin C. Peralta, CDS II)