The KOOP KAPATID (Big Brother Small Brother) Program is an application of the number 7 of the universally accepted cooperative principles which is Cooperation Among Cooperatives. In this program, a successful cooperative is a partner of the CDA in the provision of assistance to the Small Brother (cooperative). The big brother continuously provide assistance for the sustainability, growth and development of Small Brother Cooperative's. Benefitting from the said purpose is the Rising Sun Credit Cooperative in Banna, Ilocos Norte as the Small Brother of one of the best primary coop in Ilocos Norte, the Bagnos MPC as the Big Brother.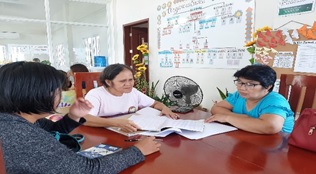 The program is beneficial to the small brother in order to be successful. The Rising Sun Credit Cooperative availed capacity-building activities offered to them by their big brother cooperative. The manager together with her staff visited their big brother and as the purpose of the said program, the big brother provided them with assistance and some tips to become a successful cooperative. Different activities were done.
First, The Rising Sun Credit Cooperative held a benchmarking activity in the Bagnos MPC, during which they realized the value and necessity of conducting PMES. As a result, they have attended the Bagnos MPC's PMES training to become more familiar with how to conduct said training. They believed that delivering a good PMES means instilling in the members their duties and responsibilities as cooperative members.
Second, the Rising Sun Credit Cooperative was guided in their financial transaction recording and analysis, planning, and proper cooperative governance and management.
Finally, in order to inspire the small brother, the big brother showed the small brother's management and staff their businesses, such as meat processing, grocery, and rice processing. The small brother cooperative realized that in order to best serve its members, they needed to amend their Articles of Cooperation and By-Laws to become a multipurpose cooperative in order to extend or enhance the products or services they offer.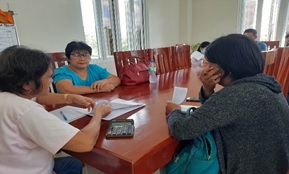 As a result of the capacity-building assistance provided by the big brother to the Rising Sun Credit Cooperative, the small brother cooperative is now well-versed in the recording, evaluating, planning, and executing of PMES. Inspired by the Big Brother Cooperative, the Rising Sun Cooperative is now amending its Articles of Cooperation and By-Laws in order to become a multipurpose cooperative and to continuously develop their business products and services. (Rosievic R Medina, CDS II)