On May 16, 2023, the Credit Surety Fund Service of the Cooperative Development Authority conducted a virtual public consultation on the draft Manual of Operations for CSFCs. This operation manual will be used by the CSF cooperatives as a guide for members and employees to perform their functions correctly and reasonably efficiently. It will document the approved standard procedures for performing operations safely and an insightful set of documentation related to all the CSF cooperative's know-how.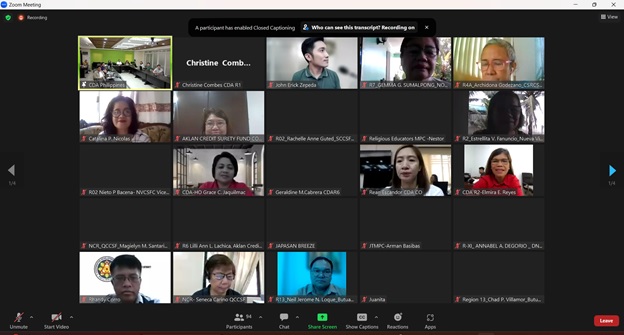 La Union Credit Surety Fund Cooperative (LUCSFC) and Pangasinan Credit Surety Fund of Region I attended the said webinar to have an insight on the clear process documentation on how to run their operations smoothly and efficiently.
Indeed, a lot of participants commended the continuous guidance and support of CSF personnel. They also appreciated this activity as this is essential to them most especially to the CSF cooperatives which are starting and this will become also very useful to them in sustaining their business operations.
(Bianca Cuenca, Acting Chief, CSF Section)