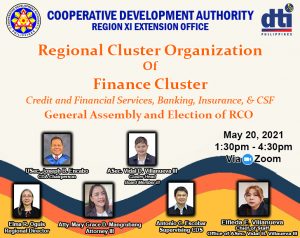 The Cooperative Development Authority Davao Region conducted the General Assembly Meeting and Election of Regional Clustered Organizations (RCOs) for Finance Cluster last May 20, 2021 from 1:30 – 5:30 PM via zoom platform. The participants are cooperative representatives under the Finance Cluster, which comprises the majority of cooperatives in the region.
The activity started with the Preliminaries- AVP for the Prayer, National Anthem, Cooperative Pledge and the House Rules. Ms. Doreen R. Catayoc, Sr. CDS of CPDAS Unit, acknowledged the participants under the finance cluster, the guests and CDA personnel. The Welcome Remarks and Objectives of the activity was given by CDA Davao Regional Director Elma R. Oguis.  Afterwards, she also introduced the Keynote Speaker, CDA Chairperson, USec. Joseph B. Encabo. The Profile of Cooperatives in the Finance Cluster was presented by Mr. Carlo Boji M. Nazareno, Sr. CDS, Regulatory Unit.
Supervising CDS Antonio C. Escobar presented the Procedural Guidelines in the Organization, Election and Recognition of National Alliance of Cooperatives (NAC), Sectoral APEX Organizations (SAOs), and Regional Clustered Organizations (RCOs) and the Procedural Guidelines in the Election of RCOs. Afterwhich, an Open Forum followed with Atty. Mary Grace D. Mangrubang and Dir. Elma R. Oguis as panelists. Immediately after, the election of officers followed with a breakout session for the election of representatives per province. The following officers are elected for the Finance Cluster:
Officers
President                     : Efren M. Bravo, CPA (Panabo MPC)
Vice – President         : Dr. Leah M. Cabang (PWC MPC)
Secretary                     : Rhoda Ruth M. Pillerin (MCN)
Treasurer                     : Marlon M. Magno (DOMMUPCO)
Representatives
Davao City                   : Arlyn Donga (PRO XI MPC)
Davao del Norte        : Lynnin C. Letigio (New Corella Cooperative)
Davao de Oro              : Feraldine B. Revisa (Pantukan Chess Club MPC)
Davao del Sur              : Anecita N. Albatera (Dalawinon Farmers MPC)
Davao Occidental       : Edel Quinn D. Casis (south Davao Seagull MPC)
Davao Oriental            : Novy Nacipo (LSCFWMPC)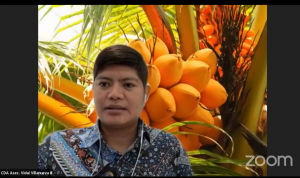 ASec. Vidal D. Villanueva III,  Member of the CDA Board of Directors and Head of the Finance Cluster delivered his Message and administered the Oath Taking Ceremony of the Officers. Ms. Noemi A. Magabilen, Sr. CDS and Head of the Working Committee for RCO General Assembly and Election gave her Closing Remarks emphasizing on the functions of the officers of the cluster.