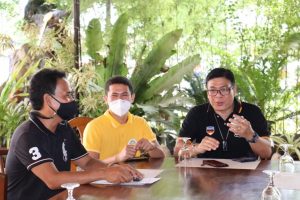 To manifest the vision of Cooperative Development Authority (CDA) as an effective and efficient regulatory agency working towards the development of viable, sustainable, socially responsive and globally competitive cooperatives, the CDA-Region XI Extension Office (CDA-RXI EO) Regional Director Ruben L. Cunanan, DDM, MPA, attended the Primary Cooperatives assembly of  District 2 of Davao Del Norte. This activity aims to guide and provide inputs to the cooperatives of the province on the mandates and updates from the Authority.
The event was held on 24 September 2021 at Magkono Pavilion, Maria Clara Resort and Restaurant, San Pedro City, Davao del Norte, with the presence of more than 10 coop leaders who also recognized the principal responsibility on the development of their cooperative.
Dir. Cunanan empowered the participants by expanding capabilities and opportunities to generate sustainable sources of income, propagating awareness, and increasing their participation by encouraging them to continually develop their group for the members, community, and as well as give impact to the economy of Region XI, and as a whole, in the Philippines.
One of the agenda discussed was to establish a Coop Federation of the province of Davao Del Norte and the election of officers.
In fulfillment of making the coops work together, Director Cunanan assured the body that the CDA, most especially CDA-RXI EO, will continually improve its service and shall guide and assist coops to prosper and grow more.