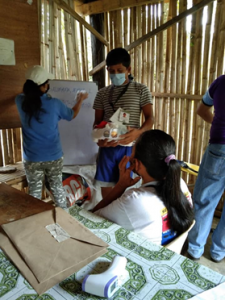 DAVAO ORIENTAL
Everyone is having a hard time in this pandemic. A lot of businesses are suffering,  many workers are craving for income, most especially those under "No work, No pay" status. The battle against COVID-19 is never easy; Others have no choice but to take the risks in order to sustain the needs for their daily living.
A lot of cooperatives took the initiative to provide in order to help others. One of those cooperatives is the Governor Generoso Organic Coconut Farmers Marketing Cooperative which is located in Purok 7, Jamboree, Nangan, Governor Generoso, Davao Oriental.
The generous act of the cooperative included distribution of masks and dried fish.
DAVAO DEL NORTE
Panabo Multipurpose Cooperative (PMPC) of Jose Abad Santos St., Barangay San Fracisco, Panabo, Davao del Norte, disinfected their office to help contain the virus.
The Philippines has been in combat of COVID-19 for months now. This pandemic is the number one concern of the country since it does not only affect the people's health, but also the economy and stability. The rampant increase of patients has been alarming despite the precautions taken by everyone.
That may be the reason why the PMPC took the initiative to disinfect not only their office but also its surrounding areas to help contain the virus.
The PMPC's idea is commendable not only for their members but also for the people that surround them.
DAVAO DE ORO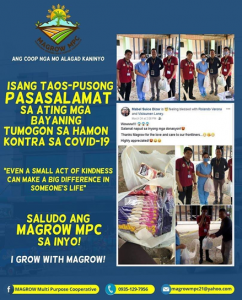 Maragusan Growers Multipurpose Cooperative (MAGROW MPC) located in Poblacion, Maragusan, Davao de Oro is one of the active cooperatives that shared their resources through kind acts and goods to the people, not only those who are in need, but also those people who sacrificed and are directly facing the COVID-19 virus in order to maintain the orderliness of the area and also contain the spread of the unseen enemy.
"Give and take" must be the motto of MAGROW MPC as they show their appreciation to the heroes of this pandemic by donatinggoods. This pandemic is an eye opener for us, that at a time like this, help is very heartwarming.
Together with MAGROW, we salute the efforts and sacrifices of