DAVAO CITY – On 18 July 2022, Cooperative Development Authority (CDA) Region 11 Director Ruben L. Cunanan led the ceremonial signing of the Koop Kapatid program Memorandum of Agreement (MOA) between CDA and various Koop Kapatid participating cooperatives in Panabo City at Den's Café, Panabo City, Davao del Norte.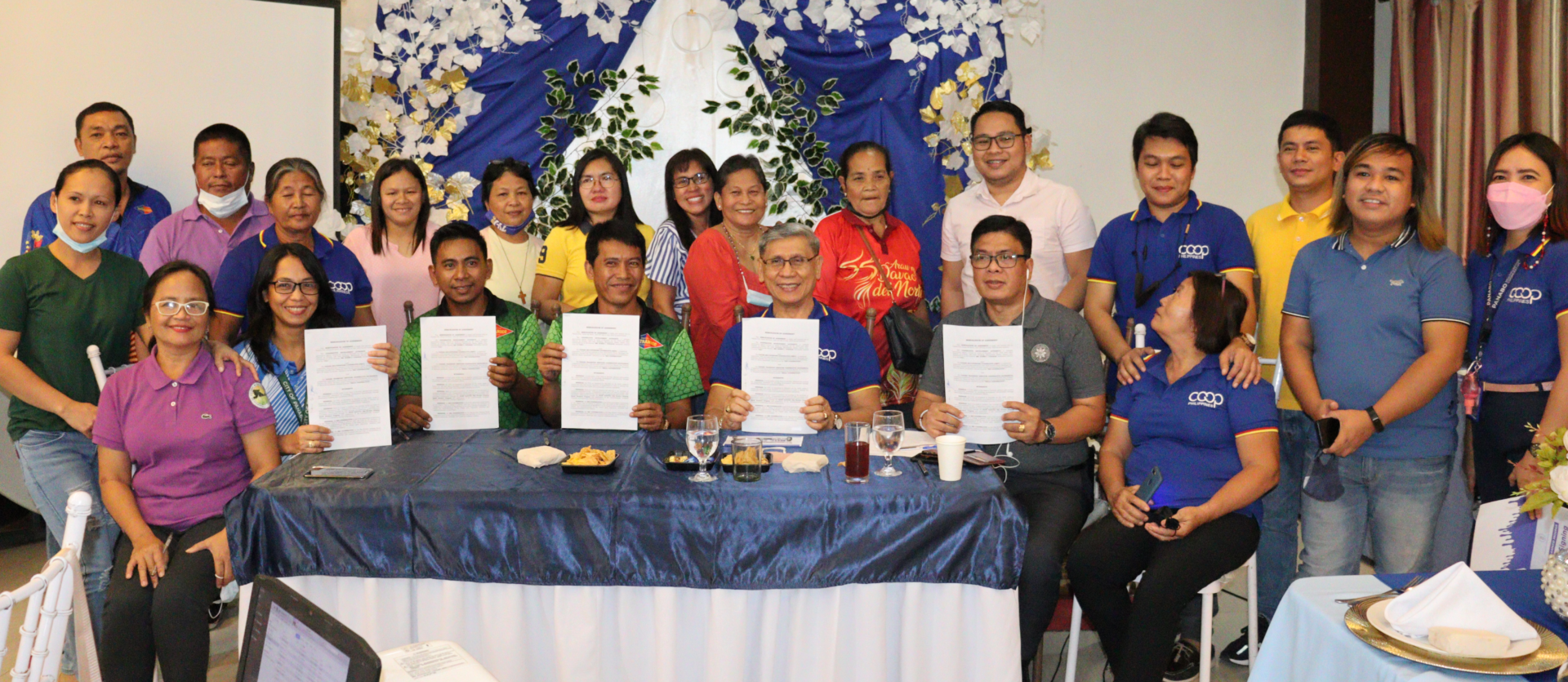 Koop Kapatid MOA signing on 18 July 2018 with CDA Region 11 Regional Director Ruben L. Cunanan (seated second from right) and representatives from both Big Brother Cooperative and cooperative beneficiaries at Den's Café, Panabo City, Davao del Norte
The MOA will allow Panabo Multipurpose Cooperative, as a Big Brother cooperative to provide technical assistance services to its four Small Brother cooperatives namely, Panabo Transport Cooperative, Mabunao Women Multipurpose Cooperative, Kauswagan Agri-Development Multipurpose Cooperative, and Cacao Multipurpose Cooperative.
Last 30 June 2022, a Koop Kapatid MOA was also inked in Mati City, Davao Oriental between Big Brother cooperative Silangan Multi-Purpose Cooperative (SMPC) and four Micro cooperative-beneficiaries namely, Taytayan Irrigators Marketing Cooperative, San Salvador del Mundo Agriculture Cooperative, Mati DPWH Multipurpose Cooperative, and Camansi Multipurpose Cooperative.
Koop Kapatid is a CDA-led program which encourages larger cooperatives like Panabo MPC and SMPC to provide technical assistance to smaller cooperatives. Beneficiaries shall receive CDA-prescribed mandatory and capacity building trainings for its officers and members through the Cooperative Development Fund allocated by the Big Brother cooperative in coordination with the Model Cooperative Network as their training provider.