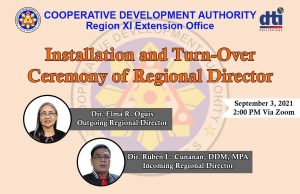 On 19 August 2021, USec. Joseph B. Encabo, issued the Special Order No. 2021-248, re: Reassignment of Regional Directors effective on 01 September 2021.  Correspondingly, on 03 September 2021, the Cooperative Development Authority-Region XI Extension Office (CDA-RXI EO) conducted a Turnover Ceremony of Leadership and Installation of the New Regional Director which was graced and officiated by ASec. Virgilio R. Lazaga, MD., one of the Board of Directors of CDA, through a blended platform.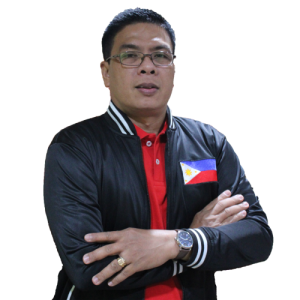 Pursuant to the said order, Director Elma R. Oguis, CSEE, will be assigned to CDA – is Region XII Extension Office at Kidapawan City. Hence, the new director of the CDA-RXI EO Dir. Ruben Labuguen Cunanan, DDM, MPA, who comes from CDA-Pagadian Extension Office at Pagadian City.
               Dir. Cunanan started his journey in the CDA on 01 July 1999, as Legal Officer III. On 01 July 2003, he was promoted to Senior Cooperatives Development Specialist.  Consequently, on 25 March 2004, he was promoted to Supervising CDS. Finally, on 01 January 2014, he started his career as the Regional Director of the CDA-Pagadian Extension Office, now known as CDA-Region IX Extension Office.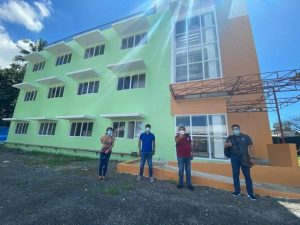 Prior to the conduct of the Turnover,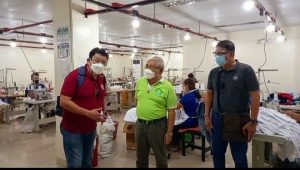 Dir. Cunanan, along with ASec. Lazaga, already started his mission as he visited the construction of the CDA-RXI EO building in Bajada, Davao City, and took part to support the cooperatives in Region XI as they visited the Manuel Guianga Sirib Growers and Employees Multipurpose Cooperative (MAGSIGE MPC) in Calinan, Davao City.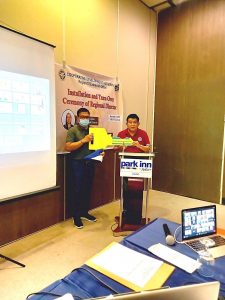 Turnover of Leadership and Installation of the New CDA-RXI EO Director activity was attended by the whole CDA-RXI EO staff, with guests, Engr. Felix A. Tabasa, the Region XI Cooperative Development Council's Chairperson, and Dr. Leah M. Cabang, the Vice-President of RCO XI Finance Cluster.
               The CDA RXI EO staff wish Director Oguis the best of luck on her new area of assignment and look forward to the management of Director Cunanan.