By: Niño Rosil C. Bantayan, CDS II
A culture (in the old school) once dictates that leadership falls only to men. This belief discriminates women and elicits inequality because one is hired or appointed according to his/her identity and not by his/her capacity. This kind of thinking hinders women to discover their potentials. A culture that Candelaria MPC once upholds…but no longer today.
Nestled in the busy city of Cabadbaran, Candelaria Multipurpose Cooperative existed for more than a decade now and just like other cooperatives it has a humble beginning. A beginning that eventually led them to success.
Their success was led by a woman.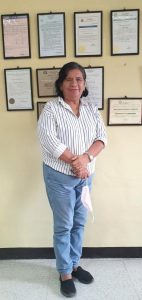 It was year 2010 when they elected Ms. Patricita Dela Calzada  or  "Patring" as Chairperson of the cooperative. It was during her term of office that they started envisioning what is happening to their cooperative now. She made sure that men and women are well represented, and  have equal access to opportunities and resources of the cooperative as members. She ensured that their cooperative is compliant with the MC 2013-22, the memorandum emphasizing the mandatory creation of GAD Committee and appointment of a GAD Focal Person in the cooperative.
For Ten (10) years that she serves as chairperson, the cooperative has  accumulated a total of Php20.5M Paid-up capital, an Asset of Php34M and savings of Php4.2M. With a total membership of more than 700, they were able to employ eleven (11) members as full time coop workers – 5 males and 6 females.
The main business operation of the cooperative is lending service. To think that lending institutions nowadays are having a hard time and a challenge to manage, and yet, Candelaria MPC offers several windows for loans to support its members. It is their bread and butter even up now. This means that, either, they have good credit policies or the members are cooperating well and disciplined enough to pay their obligations.
Another milestone that their cooperative has achieved under Ma'am Patring's leadership is the partnership with TESDA. They owned a building with equipment and machinery for Technical and Vocational Students' Training accredited by TESDA. Since _____ up to now, more than 10 scholars have graduated out of this partnership.
For community service, Maam Patring sees to it that they will conduct their General Assembly Meeting in a church (most members are Roman Catholics) within the city and the program of activities includes capability and entrepreneurial skills training for all the members.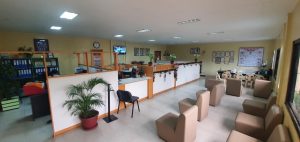 As a leader, she thought at first that she could not make it. Looking back through times (with tears in her eyes) she remembered how much effort she had poured for the cooperative to grow, with her heart and passion. She knew that had it not been for her commitment and the support of fellow officers and cooperative members, the cooperative will not be as it is now.
Then came the challenge of this COVID-19 pandemic, when several members have lost their capacity to pay their obligations and the cooperative incurred losses. Despite, Maam Patring (ever the flag bearer) remained calm in finding ways to sort out this problem. The cooperative adapted the "Bayanihan To Heal As One Act 1 and 2". They offered moratorium for the members to have a respite from their difficulties. They believe that though their cooperative may incur damages, at the end of the day, what matters most is the welfare of the members. The pandemic effected demanding situations, trying times, and the cooperative's ability to cope has been tested.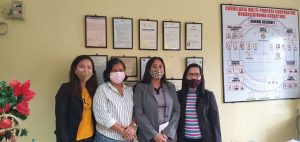 Candelaria MPC is surviving the pandemic. It was once known as the "Sleeping Giant", Candelaria MPC is one of the most promising among "medium-sized cooperatives" in the whole of Caraga. Noted as a cooperative that did not rely solely on grants and subsidies but raised its capital sources by its own efforts. Candelaria MPC is indeed "a giant" but not anymore "sleeping". It has awakened to a new way of thinking and with a new perspective has plans to move forward. The cooperators have awaken from the slumber of beliefs and culture that men can do much better than women. The cooperative experience proved that regardless of anyone's gender for as long as one has the will, the passion, and the commitment at heart …..one can always lead.
In her case, Chairperson Dela Calzada or Ma'am Patring  just happens to be a woman.