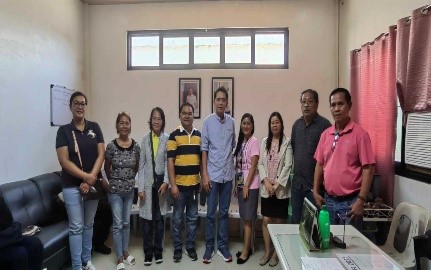 The Credit Surety Fund Cooperatives of Caraga, which include the Butuan City Credit Surety Fund Cooperative, Agusan del Norte Credit Surety Fund Cooperative, and Dinagat Islands Credit Surety Fund Cooperative, recently concluded a fruitful two-day benchmarking visit to the Credit Surety Fund Cooperatives in Region XI from August 31 to September 1, 2023. The warm hospitality of Davao De Oro CSF Coop and Davao City CSF Cooperative awaited the 18 representatives from Caraga Region.
During this visit, valuable insights and best practices were exchanged:
Davao De Oro CSF Coop: Ms. Grace Almedelia, Davao De Oro Assistant Provincial Administrator, along with Mr. Ronald Sibayan and Ms. Malou Lanoy of the Provincial Agriculture Office, shared insights into the operation and best practices of Davao De Oro CSF Coop. Ms. Malou Lanoy, a Senior Cooperative Specialist, emphasized the cooperative's resilience in the face of operational challenges, crediting its success to robust partnerships with the local government unit (LGU) and Landbank for the CSF program. The cooperative's strict credit evaluation and loan collection monitoring ensure secure and sustainable operations.
Davao City CSF Cooperative: Mr. Agripino L. Torres, representing Manuel Gianga and Sirib Growers and Employees Multi-Purpose Cooperative (MAGSIGE MPC), a primary-member cooperative of Davao City CSF Cooperative, discussed their commitment to the Credit Surety Fund's mission. They aim to enhance the creditworthiness of MSMEs facing difficulties securing loans from traditional banks due to collateral limitations. Despite challenges, Davao City CSF Cooperative continues to support its members by providing surety cover, enabling sustainable growth and development.
This benchmarking visit provided a platform for the CSF Cooperatives of Caraga to:
Enhance Operational Efficiency
Strengthen Service Delivery Effectiveness
Identify Areas for Improvement in achieving the Credit Surety Fund's objective of enhancing MSMEs' creditworthiness in the region.
The success of this educational endeavor can be attributed to the collaborative efforts of the CSF Personnel from CDA RXIII and CDA RXI, under the leadership of Regional Director Monatao Honeya R. Alawi and RD Glenn Garcia.
This benchmarking visit underscores the cooperative spirit, dedication, and commitment of these organizations to support MSMEs and fortify the Credit Surety Fund program in the region. It reflects their shared vision of sustainable economic growth, improved access to financial services, and cooperative-driven support for the region's businesses.********