CDA-Surigao City, 03 May 2023 — The Cooperative Development Authority Caraga Extension Office launched the program "Internet Connectivity for Cooperatives" through the signing of the Memorandum of Agreement (MOA) simultaneously with five (5) cooperative beneficiaries, namely: Malimono Sea Explorers' Multipurpose Cooperative, Barangay Roxas Credit Cooperative, Ang Kahugpungan Alang sa Kalambuan Agraryo Agrarian Reform Beneficiaries Cooperative (AKAKA Coop), Dinagat Island Federation of Cooperatives, and Ferdinand Multipurpose Cooperative at Sangguniang Panlalawigan Social Hall, Capitol Compound, Surigao City.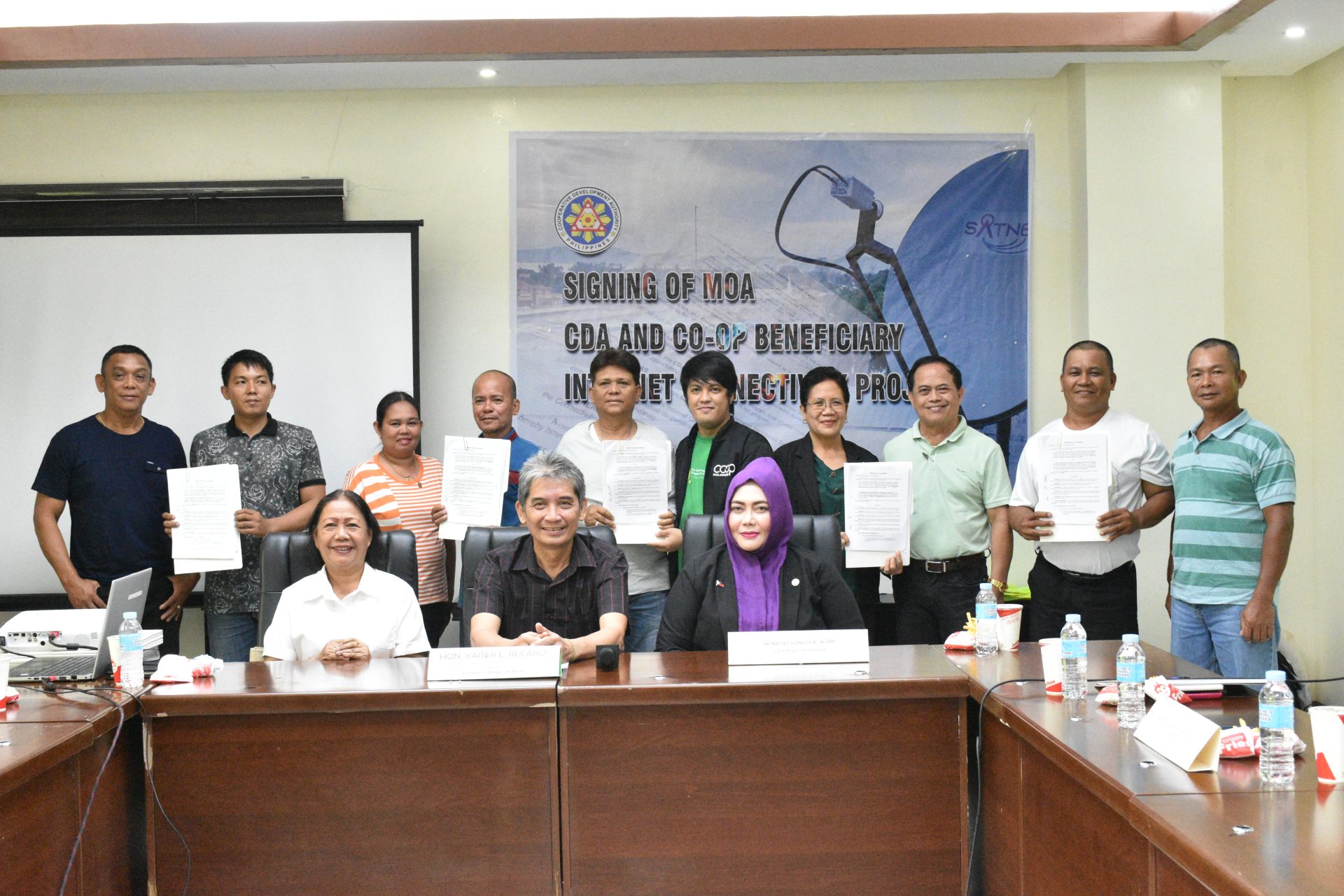 Regional Director Monatao Honeya R. Alawi signed the MOA in behalf of the CDA Regional Office. The Provincial Board Member Hon. Kaiser L. Recabo witnessed and signed the MOA along with the coop project beneficiaries. The launching is the Pre Implementation Stage of the Internet Connectivity for Cooperatives. The project aims to provide a satellite internet connection to micro and small cooperatives located in the unserved and underserved areas in the Province of Dinagat Islands and Province of Surigao del Norte. Further, this is in line with the digitalization program that will help the cooperatives be technologically updated especially in the submission of Annual Mandatory report thru the Cooperative Annual Information System (CAIS).
To emphasize the benefits of having access to internet connections, RD Alawi reiterated that this project will boost the activity of the micro and small cooperatives to do business and submit reports online. According to her Internet service is worth investing as it will provide better collaboration, better productivity, and will lower stress level in submitting reports to the Authority.
This activity was facilitated in close coordination with Provincial Government of Surigao del Norte thru the office of SP Hon. Catherine Gopico and SP Hon. Kaiser L. Recabo, the Cooperative Consultant of the Province of Provincial Government of Surigao del Norte Ms. Gemma S. Entendez, and the Provincial Cooperative Development Office (PCDO) led by Ms. Ma. Rebecca E. Bagnol.