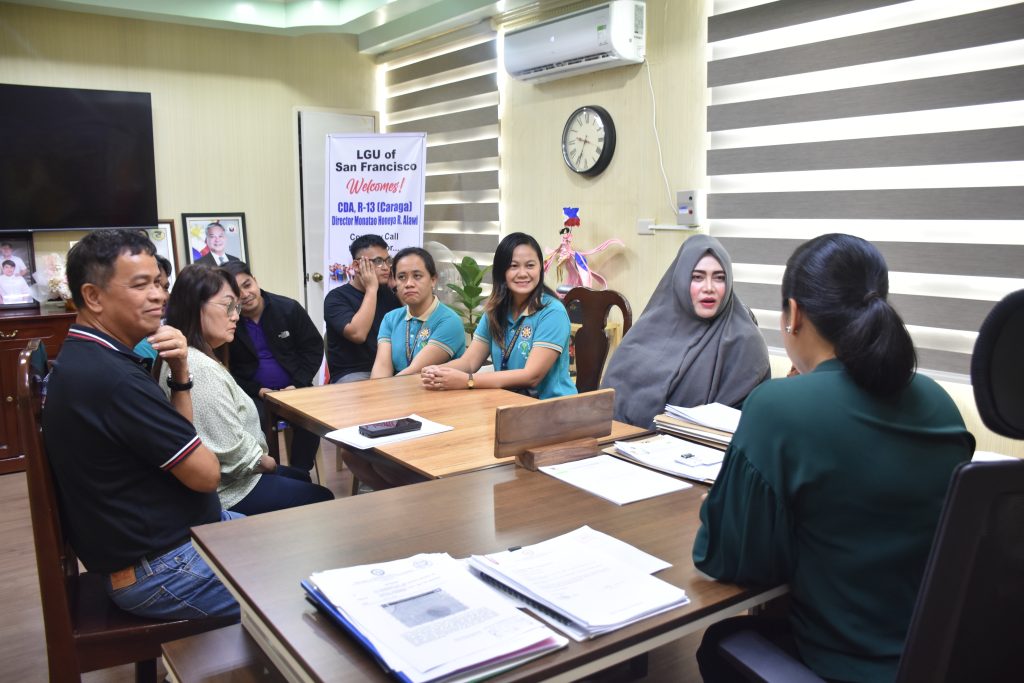 Last July 27, 2023, Regional Director Monatao Honeya R. Alawi of the Cooperative Development Authority (CDA) was warmly welcomed by Gugma sa Lungsod sa San Francisco as she arrived in Agusan Del Sur. The San Francisco Municipal Cooperative Development Office displayed a congratulatory tarpaulin in honor of her visit to meet with the Mayor of San Francisco, Hon. Atty. Grace Carmel D. Paredes-Bravo.
The purpose of Director Alawi's visit was to express her heartfelt gratitude to the leaders of Agusan del Sur for their unwavering support to the CDA and their continuous dedication to fostering the cooperative movement within their jurisdictions. During the meeting with Mayor Bravo, Director Alawi discussed the crucial program on the merger and consolidation of micro cooperatives. This strategic step aims to optimize resources and ensure the long-term sustainability of cooperative ventures. She earnestly requested the continued support and cooperation of local leaders in effectively implementing this program.
Moreover, Director Alawi highlighted the significance of RA 11535, the law making the position of a cooperative development officer mandatory. Mayor Bravo expressed her commitment to support this law and the cooperative movement as a whole. Director Alawi emphasized the importance of sustaining the spirit of cooperativism in San Francisco Agusan Del Sur through extensive training programs in collaboration with the Municipal Cooperative Development Office and CDA.
The meeting resulted in positive responses from both leaders, who reaffirmed their commitment to working with the CDA through their Cooperative Development Officer (CDO), Ms. Honorina N. Blanco, and the Municipal Cooperative Development Council (MCDC) Chairman, Mr. Federick Blanco. This collaboration aims to ensure the successful execution of programs and services to benefit the public.
In response, the CDA reiterated its unwavering commitment to promoting inclusive development through the cooperative movement and expressed eagerness to strengthen its partnership with the local leaders of Gugma sa Lungsod sa San Francisco.
By fostering such cooperative ties, Director Alawi's visit signifies a step forward in empowering communities and fostering sustainable development in the region. Through collaborative efforts and continued support, the cooperative movement is expected to thrive, contributing to the betterment of the lives of the people of San Francisco, Agusan Del Sur. **********