The severe spread of COVID-19 is considered as the most critical health crisis, which affects the whole nation, and the Cooperative Development Authority (CDA) is not exempted. Different activities of the Agency were cancelled, plans and programs need to be recalibrated. However, the desire to help the cooperative sector predominates in the heart of the people in the CDA.
On July 30, 2020, the CDA – Regional Office No. 2 conducted the APEX Consultation on the Finance Cluster. The consultation happened online since mass gathering is still not allowed. The Oversight Head on Financial Services Cluster, Assistant Secretary Vidal D. Villanueva III oriented the cooperative leaders in the region regarding Republic Act No. 11364: An Act Reorganizing and Strengthening the Cooperative Development Authority, repealing for the Purpose Republic Act No. 6939, Creating the Cooperative Development Authority.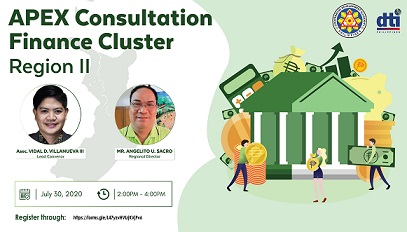 With the approval of RA 11364 there is now a provision governing the establishment and creation of  sectoral APEX organizations and a national alliance representing all types and categories of cooperatives that shall serve as the overall consultative and coordinating body with the Authority. The APEX cooperative should not only be another level in the cooperative sector. It should be the platform where the members meet and discuss issues affecting the sector and be the voice of the marginalized coops.
An apex cooperative will focus on being the coordinating body of the sector. Cooperatives through the APEX organization have to connect not just to other cooperatives but to organizations that are committed to the advancement of cooperatives. Therefore, APEX cooperatives have to build network with the government, financial institutions, academe and NGOs in order to strengthen the cooperative movement. These organizations will provide programs, financial assistance, education and other resources needed for the growth and development of the sector.
The cooperative leaders in the region acknowledged the development of the cooperative movement of the country unifying the cooperatives. Through this, it will also be easier for the cooperative sector to ensure their participation on the government's plans, programs and policies concerning cooperatives.
However, cooperatives must also acknowledge that self-help is one of their fundamental values. Thus, they should play an integral part in their own growth.  Undeniably, there are so many ways to do this – they can be prudent in investing their resources on business activities that would ensure the viability and growth of their cooperative. Most importantly, they must ensure that in all aspects of their business operation, outcomes should always bring honor to their members, the community and the cooperative movement.
This activity served as a mechanism for collaboration in the implementation of plans, programs and policies of the government in partnership with the cooperative sector to achieve the objective of ensuring the growth and development of cooperatives. The management of the CDA-Tuguegarao Extension Office headed by Regional Director Angelito U. Sacro and Assistant Regional Director Artemio N. Guzman encouraged the cooperative leaders in the region to remain united and steadfast in ensuring the development of cooperatives.