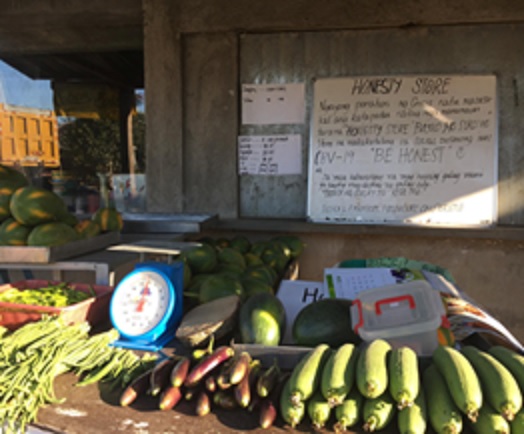 With the Spread of COVID-19 Pandemic and its economic and social disruption. Everyone is facing a time of uncertainty. The most affected are the poor and vulnerable households, including those among displaced communities. As a result, they are resorting to cynical ways of coping such as cutting meals, increasing debts, selling assets or breaking off children's education.
With the Bayanihan to heal as One Act. The Philippine government initiated a large-scale emergency social amelioration program while placing the country on strict community quarantine.
The Cooperatives demonstrate "Bayanihan Spirit" – Spirit of Solidarity by responding to the needs of the members and the community. One of which is the "Co-op Honesty Store" by allowing the customers to get what they need and trusting that they do the right thing and pay the right amount at designated boxes.
The Co-op honesty store was organized by Bukal Farmers Producers Cooperative in the Municipality of San Ildefonso, Bulacan. On sale are different agricultural commodities such as rice, okra, cabbage, string beans, eggplants, cucumber, sayote, potato, taro, sweet potato, and eggplants at much reduced prices. Local farmers who are at the losing end are also encouraged to display and sell their own produce commodities in the Co-op Honesty Store.
Cooperatives as a Social Enterprise contributed in their own ways. A Collective effort of all members are put together, contributed and adhered to one of the principles of the Cooperative – "Concern for Community"
---
Prepared by: John Troy P. Sunga, Bulacan Provincial CDS
Published by: Jenalyn D. Ferrer, CDS II/MIS In-Charge