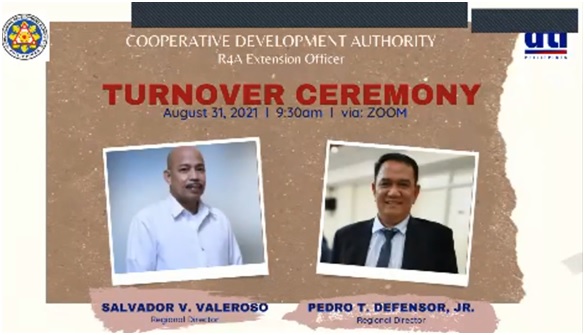 The Cooperative Development Authority (CDA) Region 4A Extension Office welcomed Mr. Pedro "Jun" T. Defensor, Jr. as its new Extension Office Director.
Last August 31, 2021, a simple turnover ceremony was held at CDA Region 4A Extension Office, Calamba City, Laguna. Assistant Secretary Abad L. Santos, Member, CDA BOD and RCO Head – Public Utilities, and Dr. Emmanuel M. Santiguel, former Chairperson, were present during the ceremony. Also, the Section Heads and employees from head office and field offices of CDA Region 4A joined the event via Zoom platform to witness the ceremonial turnover.Prior to his assumption to Region IV-A, Director Defensor was the Director of CDA NCR Extension Office.
Supervising CDS Bernadette Preciosa G. Hornilla formally welcomed Director Defensor and the rest of the guests. With Director Valeroso's transfer to CDA Region V, Asec. Santos recognized his hard work and leadership as the head of the office. He said that, "The continued perseverance in the Extension Office is an indication that you, as the community of professional public servants, have been led well towards the right direction."
Afterwards, Director Valeroso gave an overview of the Region 4A. An audio-visual presentation on the accomplishments and composition of the CDA personnel was also presented.
The turnover ceremony was officially presided by Asec. Santos. Each Provincial Cooperative Development Specialists and Section Heads gave their warmest greetings to the new Regional Director.
During the closing remarks, Atty. August Owen Magdato, Legal Officer of CDA Region 4A, gave his gratitude to the opportunities given by Director Valeroso. In his closing message, Atty. Magdato quoted from Plato, "The beginning is the most important part of any work." He said that the most important thing is the foundation and encouraged everyone to work to build a new beginning.
After the turnover program, Director Defensor addressed the personnel on his style of leadership and preliminary plans. According to him, the direction of the office will never change. Instead, some enhancements and modifications will be implemented to maintain it as one of the top-performing delivery units of CDA.