The spirit of cooperativism was evident during this Covid-19 pandemic as the cooperatives were practicingthe principle of "Concern for Community". The cooperatives were trying to give all the necessary relief that they could provide to ease the burden of the community. Thus, they provided different kind of assistance and renderedselfless service for thecontinuous operation in compliance to the government protocols on precautionary measures.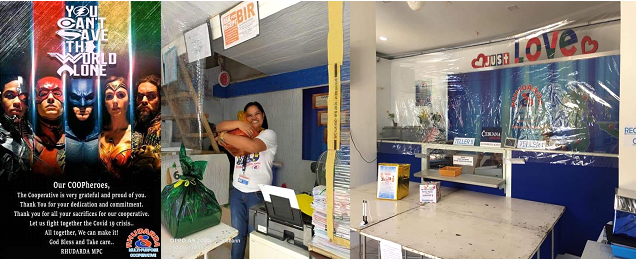 The RHUDARDA Multipurpose Cooperative from Polillo, Quezon is one of the cooperatives in Quezon province who exemplifies valiant deeds amidst the Enhanced Community Quarantine (ECQ) declared by President Duterte under Proclamation no. 929s. 2020 "Declaring A State of Calamity Due to the Corona Virus Disease."The RHUDARDA MPC had taken their part and done an extra mile for their employees/members/ community. They gave an early distribution of 13th month pay to their sixty (60) employees in Polillo and their satellite offices in Burdeos, Patnanungan, Panukulan and Jomalig.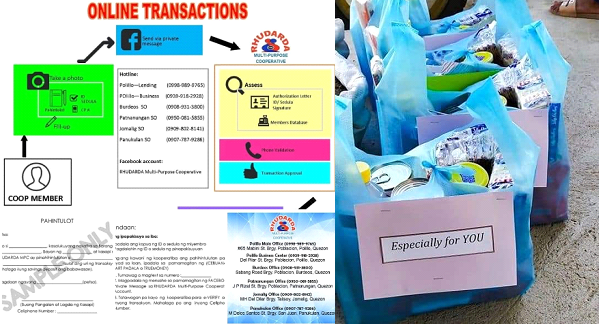 Moreover, despite of the skeletal workforce implementation and the reduction of employee working hours, employees of the cooperative were paid in a full monthly salary. With great awe, the RHUDARDA MPC officers and employees were always ready for service despite of all uncertainties and threat of this dreaded virus. Thus, the commitment and dedication of the employees were also acknowledged by giving them additional financial assistance and food packs for their families.
With regards to the precautionary measures, the cooperative is compliant with the government mandates and protocols. The cooperative is strictly implementing different health and sanitation protocols but not limited to social distancing, sanitation and wear your mask policy.Moreover, they created improvised sanitation tents and disinfected their office premises through the help of their Local Government Unit.Likewise, the cooperative has also developed a Do-it-yourself (DIY) process and support system to ensure the safety of their frontliners and clients, they craftedoperational process posted in their facebook page. Therefore, home-based transactions were accommodated. In addition, for their member-owners, the 2019 dividend and patronage refund was strategically released by the cooperative among its members in order to support their financial needs. Also, loan assistance was given through the approved thirty (30)days loan repayment moratorium to their five thousand (5000) members. As support to the community, the cooperative donated twenty-nine (29) NFA Bags to Local Government Uniton backing LGU's relief program wherein they catered to two hundred ninety (290) households.
Relative to this, some of the cooperatives in Quezon District 1 offered assistance amidst the Enhance Community Quarantine. Lucban Integrated Jeepney Operators, Drivers and Allied Workers TSMPC, Quezon Pahiyas Van TSMPC and Lucban Genesis Transport Service MPC a registered transport cooperative in Lucban assisted the Local Government Unit by providing units readily available for their members and their community. Pearls MPC, Seafarers' MPC, SLSU DC in Lucban, Kooperatiba sa Pagpapaunlad ng Sampaloc (Quezon) MPC in Sampaloc, Pagbilao TSC, Kapitbisig Ugnayan MPC in Pagbilao, Samahan ng Nagkakaisang Magsasaka ng Ibabang Palale sa Tayabas Credit Cooperative and Tayabas Community Multipurpose Cooperative in Tayabas provided food packs and financial assistance for their members. Moreover, almost all of the cooperatives in the said district offered moratorium on loans.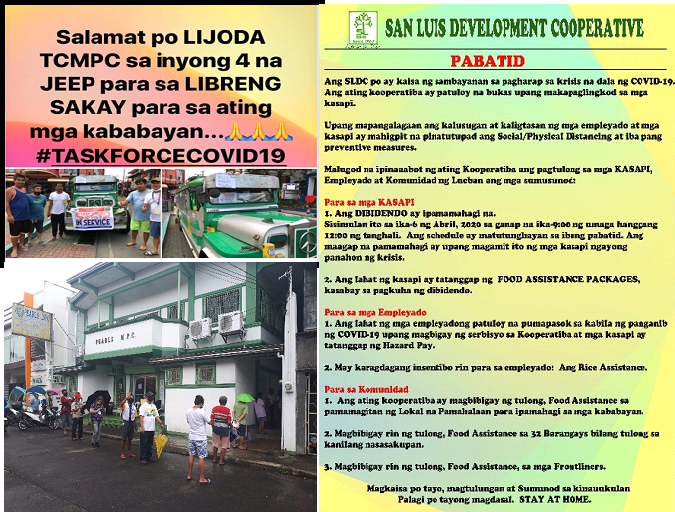 One of the bright sides of this situation is the joined forces of people trying to reach out to every single person in the community, whether they are the richest or the poorest. In this time of crisis, humanity and selflessness arise. The Covid-19 pandemic creates fear and uncertainties.Nevertheless, what is certain is the desire and commitment of cooperatives to help one another.
As the global pandemic takes hold, hand-in-hand the people are trying to grasp some hope that this dreaded virus will vanish rapidly. Hence, this crisis forms a reflection in our minds, that sometime in our life we really have to fight and move as one. And as regards to the matter, the cooperatives can always be depended on. (By: Ms. Hannah Leah V. Panaligan, CDS-II Quezon province)