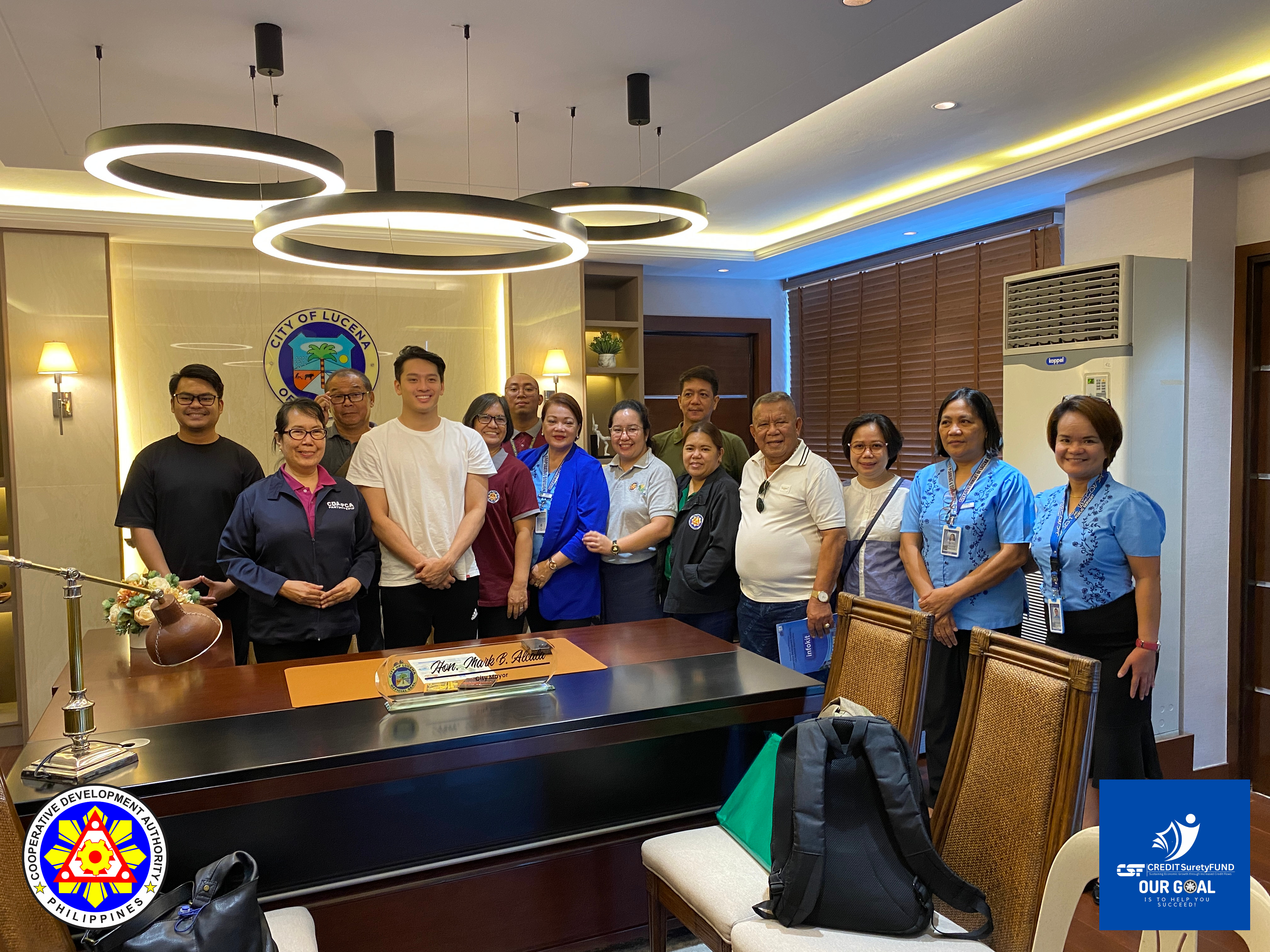 The Cooperative Development Authority (CDA) – CALABARZON Regional Office paid a courtesy call to Lucena City Mayor Mark Don Victor B. Alcala last June 13, 2023, at Lucena City Government Complex, Brgy. Kanluran Mayao, Lucena City, Quezon.
Assistant Regional Director Bernadette Preciosa G. Hornilla and Senior Cooperative Development Specialist Elvira R. Ramos of the Credit Surety Fund Section (CSF) spearheaded the dissemination and presentation of fundamental information regarding the development and advantages that would arise from establishing a Credit Surety Fund Cooperative in the City of Lucena.
The warm welcome extended by the Lucena City Government to CDA CALABARZON signifies a favorable response, as this visit paved the way for an upcoming Orientation on Credit Surety Fund Cooperative to be held on July 13 at the Regular Monthly Meeting of the Lucena City Cooperative Development Council, with the participation of numerous organizations that are Council members.
The initial meeting was attended by the City Planning and Development Office Head – Ms. Julieta B. Aparicio, Local Economic Development and Investment Promotions Office Head – Ms. Sheena M. Estañero, Chairman of the Committee on Cooperative – Councilor Christian O. Ona, Lucena City Cooperative Division Head – Ms. Nimfa S. Arias, from the cooperative sector Lucena City Cooperative Development Council Chairperson – Mr. Reynaldo S. Luna and Quezon Public School Teachers and Employees Multi-Purpose Cooperative General Manager – Ms. Hennie Ambas, also present were the Senior CDS of the CDA, Dexter S. Perez of SES, Romel P. Mabilangan of CPDAS, Ivyrene Rose Q. Panaglima of CRITS, Lucena City Field CDS Loiza C. Salonga, and CSF-CDS II John Immanuel C. Garcia.
CDA CALABARZON also made a courtesy call to Vice Mayor Roderick A. Alcala and provided him with a Credit Surety Fund Infokit, which consists of various information materials and references regarding the Credit Surety Fund.