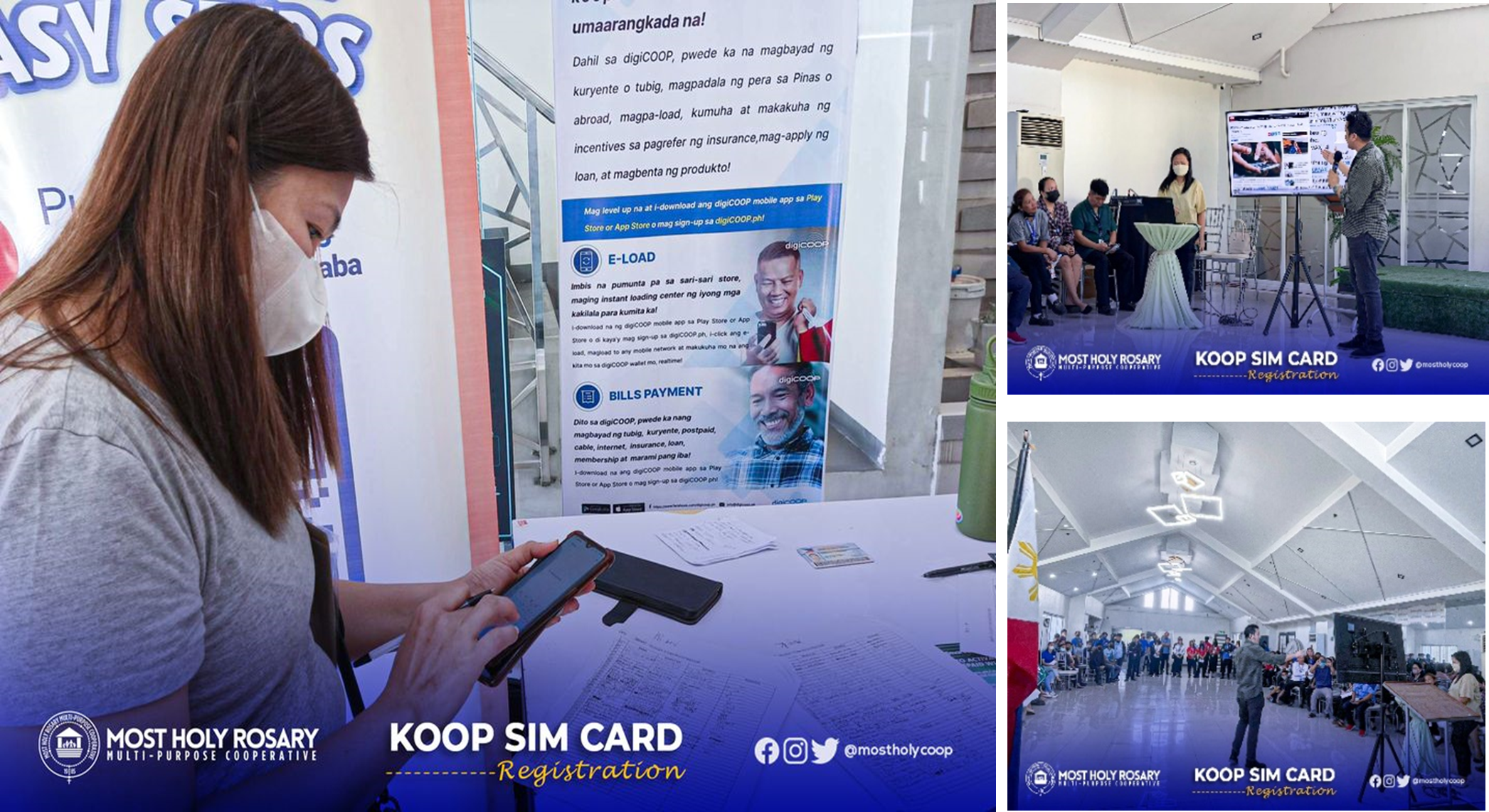 RODRIGUEZ, RIZAL. Being true to its mission to continually provide relevant and competitive program and products for its members, the Most Holy Rosary Multi-Purpose Cooperative, a 38-year-old large multipurpose cooperative with membership roster of 30,813, based in Rodriguez, Rizal, conducted a free assistance of sim card registration for its officers, members and the community last January 23, 2023. It was organized by its Officers at the Cooperatives' Branch Office in San Jose, Rodriguez, Rizal with subscribers of the Smart network including Talk N' Text and Sun Cellular. It was attended by 98 participants, resulting in them successfully registering their sim cards.
The Cooperative initiates to organize the activity to streamline the SIM cards registration of its members especially those who do not fully understand the process and for those who experienced glitches since the onset of the sim card registration. According to the Cooperative' Chief Executive Officer Josie Cardona, "We believe that being in a cooperative, it is imperative to care for others and it is our social responsibility. That is why we include in our programs and activities the support to employees and members the sim card registration."
Furthermore, the Most Holy Rosary Multipurpose Cooperative firmly believes of having social responsibility to its society, hence, the Cooperative through the leadership of its Board of Directors and CEO Cardona, has collectively developed to be a channel of information for its members to better understand up-to-date government regulations and to advocate the Cooperative principle of concern for community and exhibit the values of self-help and self-reliance of cooperatives and its members.
The Sim Card Registration Act has been enacted into Law as the Republic Act No. 11934 and commonly referred to as the SIM Card Law. It is a Philippine law mandating The Registration of Subscriber Identity Module (SIM) Cards even before its activation. In addition, the measure requires all existing mobile device users, including prepaid and postpaid, must register their SIM cards until April 26, 2023 otherwise the sim card shall be deactivated. The Department of Information and Communications Technology (DICT) may extend the registration period for 120 days, though this has yet to be confirmed. The law was enacted intending to curb cybercriminal activities or Electronic Communication-aided Criminal Activities on electronic devices.