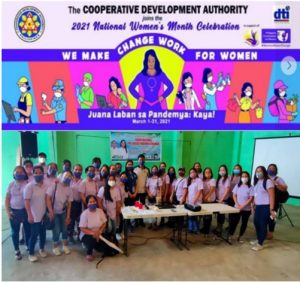 On March 2, 2021, the City Cooperative Development Council, Sangguniang Panglungsod ng Trece Martires through the Chairperson of Committee on Cooperatives, the City Cooperative Development Officer, GAD Committee of the City Government of Trece Martires, GAD Committee of Brgy. Conchu, representative from Union of Enterprising Cooperatives, and CDA Regional Office-4A (Cavite), collaborated to conduct a Pre-Registration Seminar to the marginal sector of the city, particularly Treceño Sewers Association with extra highlights on the promotion of GAD in cooperatives. The activity was graced by Honorable City Mayor, Gemma B. Lubigan and members of Sangguniang Panglungsod ng Trece Martires.
The above-mentioned association of which the majority of members are housewives and solo parentsaimed to form a producers' cooperative. And just in time for women's month, the City Government of Trece Martires used this opportunity to celebrate the momentous event for womenwhich also served as a tribute, a platform, and a call for action that highlighted the extraordinary roles of ordinary Juanas in the society as trailblazers and harbingers of change.
The celebration also served as a venue to discuss and address the issues faced by women that interrupted the complete empowerment of women. The campaign was also a call for concrete, sustainable, and inclusive actions towards gender equality. Thus, one of the topics discussed was the role of cooperatives in sustaining the livelihoods of local communities in the city. And to achieve gender balance, another Pre-Registration Seminar was conducted to all male sectors on March 3, 2021; the TODA Federation composed of 13 Tricycle Operators & Drivers Association (TODA). And with a mixed gender group, the Market Vendors Association of Trece Martires City.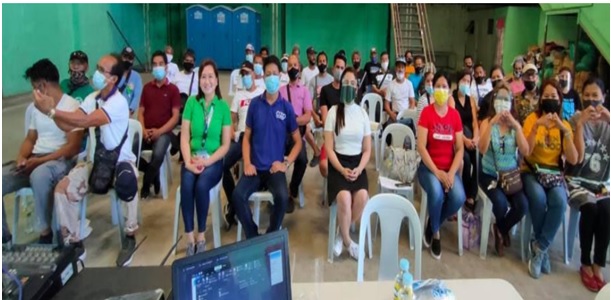 The Seminar discussed the reasons for the establishment of cooperatives. Among the topics were the concepts, governing principles, values, and best practices for the efficient operation of the participants' proposed cooperatives and inculcate in them the true spirit of cooperativism and to ensure their viability and growth.
The presence of Hon. City Mayor Gemma Buendia-Lubigan gave authority and assurance to the agreements made during the meeting, such as Sustainable Livelihood Programs. This would alsoencourage the members to engage in small business by providing them better knowledge and skills.
It is true that the legitimacy of an association could depend not only about achieving the goals and increasing of its wealth but also on its ability to meet the needs and expectations of the stakeholders who contribute and participate. (By: Mr. Dexter S. Perez, CDS II-Cavite)