The Cooperative Development Authority (CDA) Region  VIII office held a webinar on Republic Act 11535 on  September 20, 2022, in collaboration with the  Department of Interior and Local Government (DILG). A  total of forty-seven (47) people took part in the  productive activity, including thirty-one (31) delegates  from twenty-eight (28) municipalities in the area, six (6)  cooperative development officers, and ten (10) local  chief executives. The purpose of the webinar was to  ensure compliance of the Local Government Units to  have an appointed or designated Cooperative  Development Officers (CDO) as Mandated under RA 11535.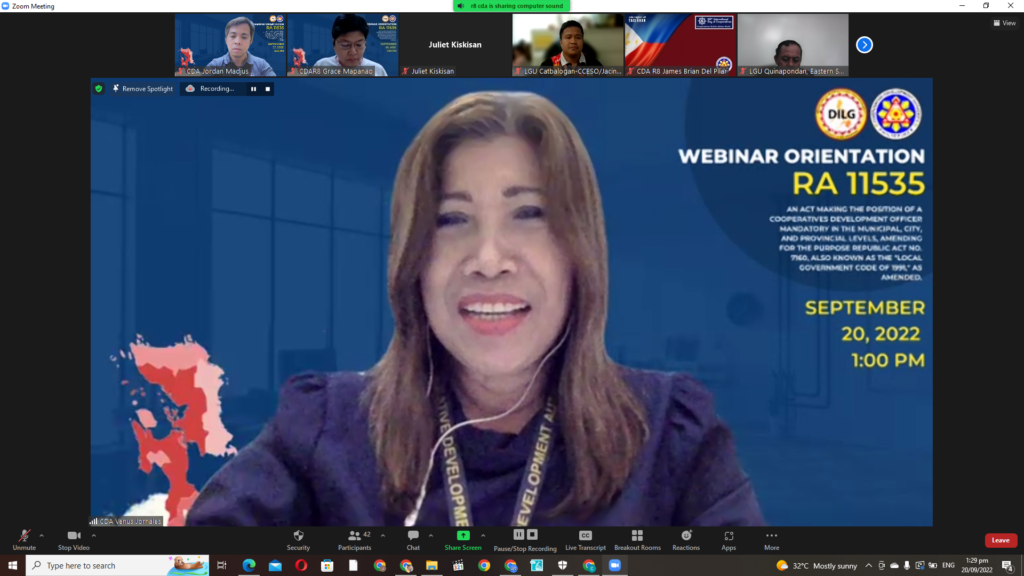 On April 9, 2021, Former President Rodrigo R. Duterte  signed into law RA 11535 AN ACT MAKING THE  POSITION OF A COOPERATIVES DEVELOPMENT  OFFICER MANDATORY IN THE MUNICIPAL, CITY  AND PROVINCIAL LEVELS, AMENDING FOR THE  PURPOSE REPUBLIC ACT NO. 7160, OTHERWISE  KNOWN AS THE "LOCAL GOVERNMENT CODE OF  1991", AS AMENDED. With the new amendment, the  position of the CDOs was mandated.  Dir. Venus M. Jornales of CDA Region VIII provided  a brief overview of the background and significance  of the CDO Offices' formation in the municipality to  support the expansion and viability of the local  cooperatives.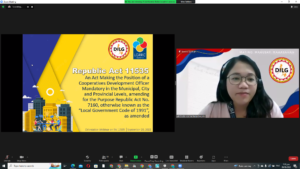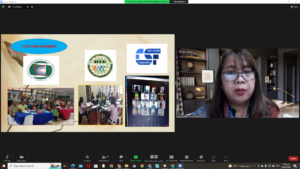 Invited Speaker from DILG, Ms. KONNIE REIKA  SEQUITO – LGOO V, DILG-LGCDD accompanied by Ms. RUDITH A. ROCA – Division  Chief, DILG – Local Government Capability Development Division (LGCDD) presented and discussed RA11535 including the hiring qualification for CDO's and responsibilities of the  LCE's.  
Another invited speaker, MS. RUENA A. MATE, City Cooperative Officer of the City of Tacloban,  shared her office's expertise and accomplishments in establishing Programs and Projects for the  ongoing improvement and education of cooperatives. Her presentation focused on the various  tactics and initiatives urged by the City Cooperative Development and Livelihood Assistance  Office (CCDLAO), including assistance and training for cooperative to equip officers and the cooperative, entrepreneurial management, and events related to Cooperative Month  celebration. Her final remark urged LCEs to do  the same for their local governments She then  added that having an office to look out for the  cooperatives will be advantageous to the  prosperity of the locality, socially and  economically.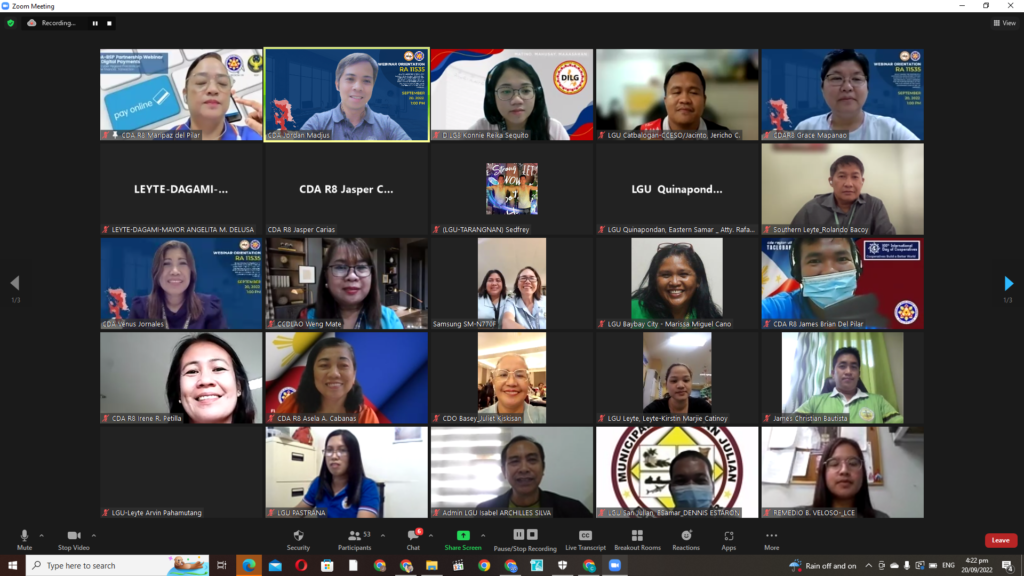 As a refresher, Acting Sr. CDS Jordan A. Madjus of the Cooperative Research Information and  Training Section (CRITS) discussed the importance and reason of establishing cooperatives  followed by the discussion on Salient Features of the RA 11364 An Act Reorganizing and  Strengthening the Cooperative Development Authority, repealing for the Purpose Republic Act  No. 6939, Creating The Cooperative Development Authority by Atty. Jasper M. Carias, Chief of  the Legal Section.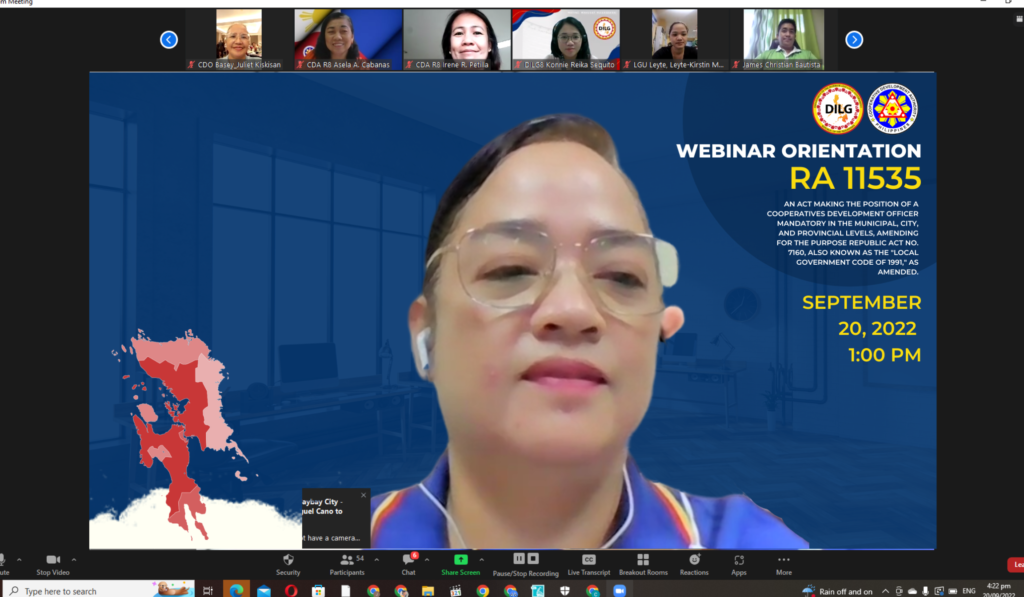 Maripaz M. Del Pilar, Acting Assistant  Regional Director, concluded the activity  by expressing the offices gratitude to all  participants, particularly the LCEs, and  encouraging compliance of LCEs with the  mandate of RA 11535 and the  commitment of the designated and  appointed CDOs in carrying out their  duties and responsibilities for the  development of the cooperatives.