CDA Region VIII Extension Office culminates the cooperative month celebration in the region through the "Adlaw Han Pagkilala " on November 4, 2022 at the Milka Hotel, Abucay, Tacloban City. The theme for this years' celebration is "KooPinas: Nagkakaisang Lakas Para sa Makabuluhan at Sama-samang Pag-unlad!". 
A total of fifty (50) stakeholders were given due recognition of their efforts and contribution in upholding the vision of progress and sustainability of cooperatives in the region. Among these stakeholders were Local Chief Executives, Cooperative Development Offices, Cooperative Development Councils, Partner Agencies and Cooperatives. 
The awards given and recognized were CDA Agency Partners in Cooperative Development, CDA Gawad Parangal Awardees: Local Chief Executives (LCE), 2021 Exemplary Cooperative Development Offices, 2021 Dynamic Cooperative Development Councils, Recognition of Created Cooperative Development Offices, Balik Probinsya Program Cooperative Partners, Koop Kapatid Program Big Brothers for 2021, Graduating Cooperatives Based On Asset Size, Top Performing Cooperatives Based On the Cooperative Par Submission for 2021.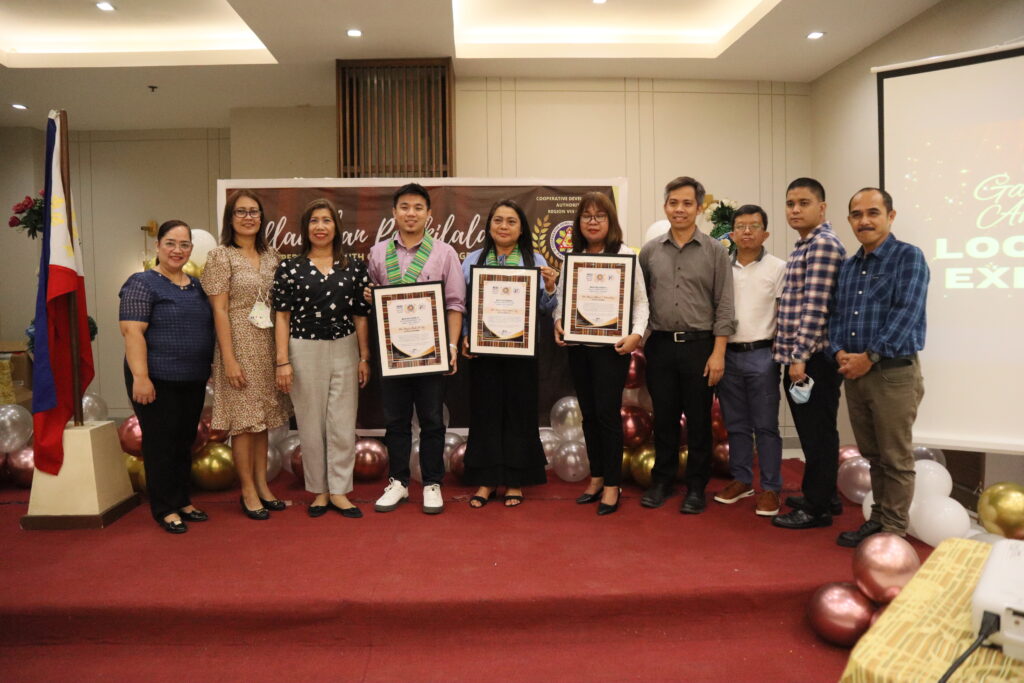 Among the LCEs, Hon. Mayor Dexter Uy graced the activity personally while Hon. Raymund Uy, Calbayog City Mayor was represented by Ms Rosella Sumagang and Hon. Alfred S. Romualdez was represented by Ms Ruena A. Mate, Cooperative Development Officer – Tacloban CIty Cooperative Development and Livelihood Assistance Office (CCDLAO).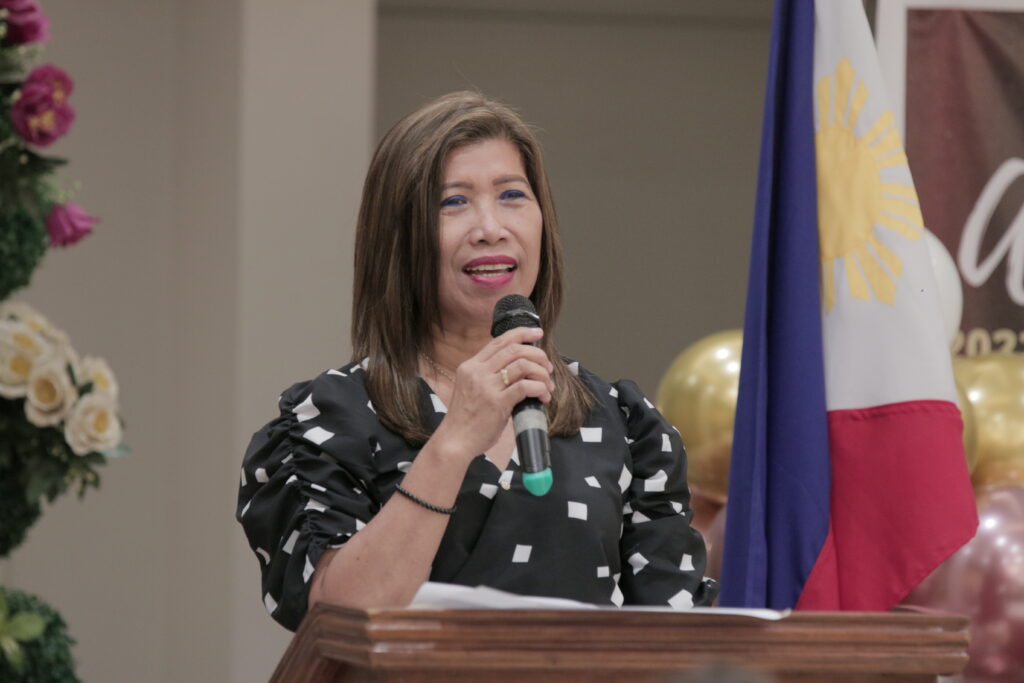 The activity started at two o'clock in the afternoon where Dir. Venus M. Jornales, Acting Regional Director of the CDA R8 delivered her welcome message. Highlighting the Cooperative Month Theme, she expressed that the strength of the movement is in unity and that development of cooperatives were a product of collaborative efforts from the various stakeholders who together uphold the vision of progress and sustainability.
Following the opening message, DTI Representative,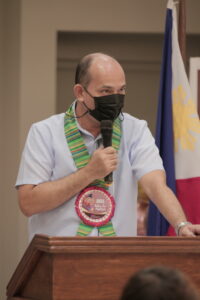 Mr. Pedro Bimbo Tan, Chief of Staff of Dir Celerina T. Bato delivered an inspirational message for all. Accordingly, cooperatives who pursue their cause and innovate, are continually improving. And that cooperative enterprises are vessels for building a better world. The existence of cooperatives and its involvement and contribution to the local economies cultivates community sustenance. He added that cooperatives are able to empower their members and the impact of its doing are game changers of the future hence it should be duly recognized. He then ended his speech leaving a reminder and an encouragement stating, "If you want to be exponentially better, BE COOPERATIVE" and acknowledging the work of the CDA for the continuous development, enhancement and capacitation of the cooperatives in the countryside.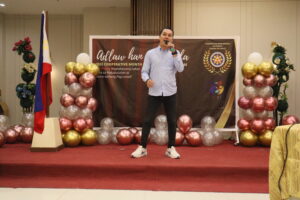 Along with the program, Tacloban City Coop Got Talent Winner, Mr. Julius Modesto from the NIA Employees Multipurpose Cooperative (NIAEMPC) serenaded the crowd with two OPMs. His soulful voice caressed the crowd twice during the event. CDA recognizes the program initiatives of the Tacloban City Coop Office in bringing out talents of the cooperators, applauding Mr. Modesto. 
SOLIDARITY MESSAGES FROM THE LOCAL CHIEF EXECUTIVES 
The three (3) Local Chief Executives were Awardees of the Gawad Parangal 2022 held at the Manila Hotel on October 28, 2022. The LCEs were recognized as staunch supporters of cooperatives and the CDA, with impactful contribution to cooperative development.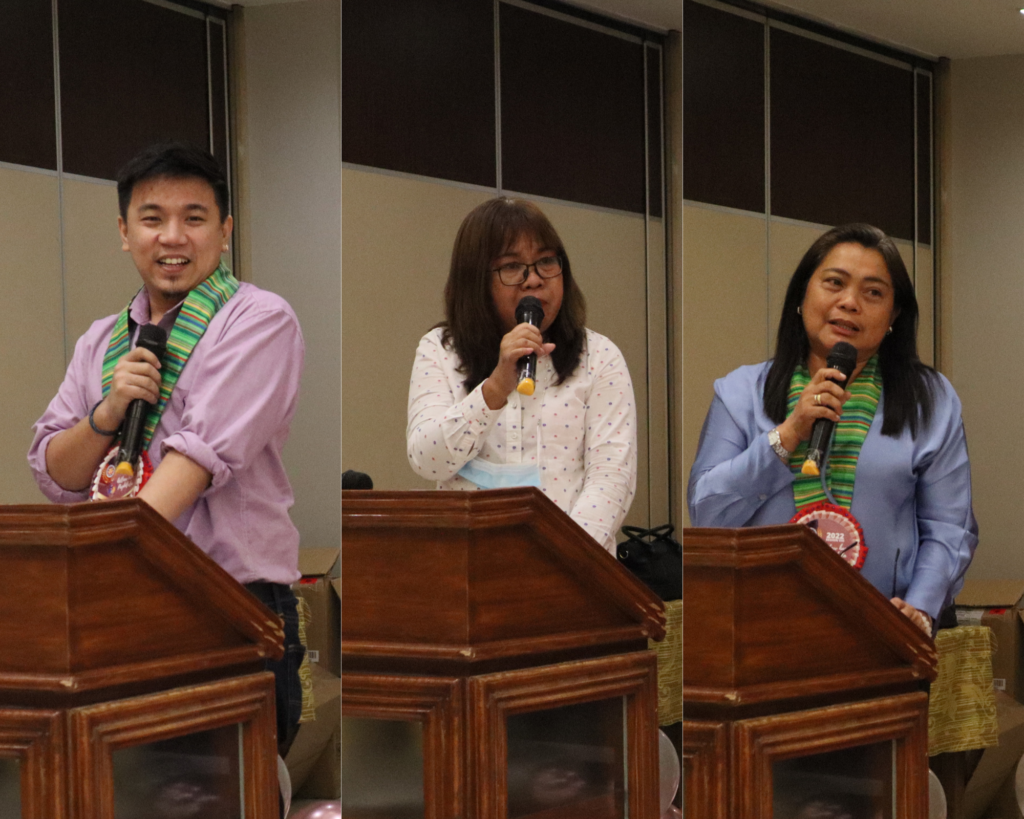 First to deliver his message was Hon. Mayor Dexter M. Uy who applauded CDA and the Cooperative Offices for its outstanding programs which benefited the cooperatives in the region especially in the City of Catbalogan. He then shared that the Catbalogan City Cooperative Development Office since then, has his full support. He recognizes the training and capacity building programs conducted by the latter and that it has brought valuable transformation for cooperatives leading them to sustainability. Hon. Mayor Raymund Uy, City of Calbayog, was represented by Ms. Rosella Sumagang. She relayed the appreciation of Mayor Uy to CDA for such an award. Accordingly, it is then the first award received by the city government in recognition of its support to social and economic development of the city through the cooperative movement. As such, the city government assures CDA of their solidarity and close coordination with all the cooperatives and line agencies that will make Calbayog a great city to live in. "Salamat sa pagkilala," as she concludes her message. Lastly, Ms. Ruena A. Mate, who represented Hon. Alfred S. Romualdez of the City of Tacloban, expressed her appreciation to CDA for its recognition of the city government for its unwavering support and efforts in cooperative and enterprise development in Tacloban City. Accordingly, as the cooperatives of the city and the nearby towns flourish, their economy will prosper as well. She further emphasized and recognized Mayor Romualdez support to Tacloban City CCDLAO for the grant of its new office vehicle and 16M-worth of office building. Such buildings already have training halls that will house training for cooperatives not just in Tacloban City but also of other cities and municipalities, being a CDA-accredited training provider. Another highlight of the solidarity message was the support of the city government for the Tacloban Credit Surety Fund Cooperative, being the very first CSF cooperative registered nationwide. Ms. Mate assures CDA and the cooperative movement in Eastern Visayas that the city government and the CCDLAO will always have their support. 
THE AWARDING CEREMONY: 
The awards ceremony commenced after. Hereunder are the categories and awards presented for due recognition. 
CDA AGENCY PARTNERS IN COOPERATIVE DEVELOPMENT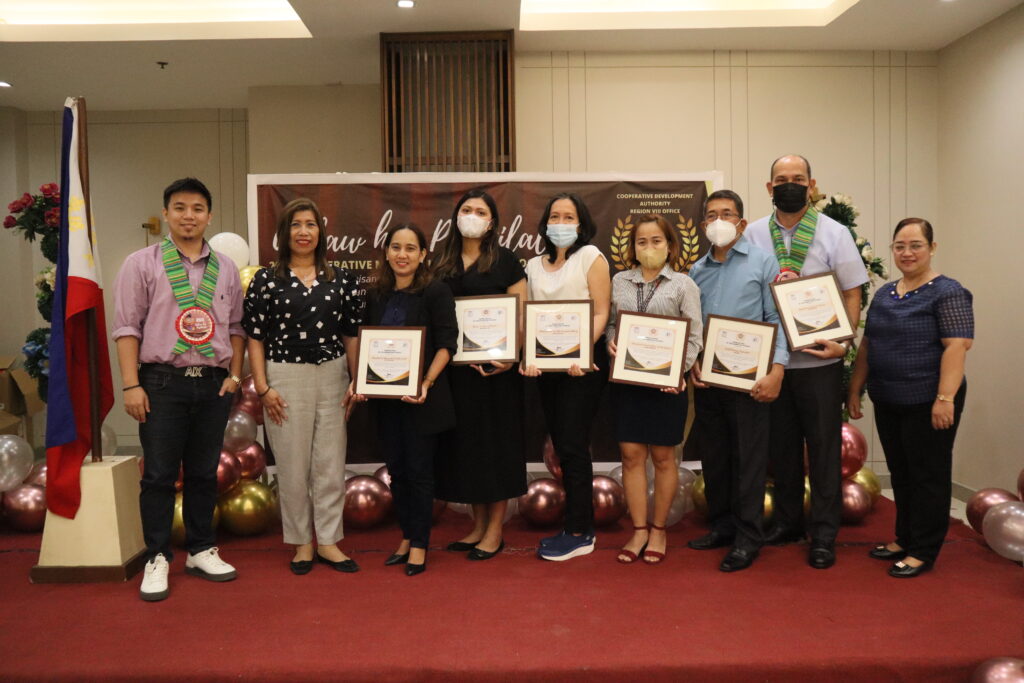 In staunch cognizance of the institution's continuous encouragement and steadfast support for cooperative endeavors through program initiatives which posed substantial impact on the development and sustainability of the cooperative movement in Region 8, the following were awarded: 
Technical Education and Skills Development Authority (TESDA) 
Department of Social Welfare and Development (DSWD) 
Philippine Center for Postharvest Development and Mechanization 
Department of Trade and Industry (DTI) 
Department of Interior Local Government (DILG) 
Bureau of Fisheries and Aquatic Resources (BFAR) 
Bangko Sentral ng Pilipinas (BSP) 
Bureau of Internal Revenue (BIR) 
Small Business Corporation (SB Corp) 
CDA GAWAD PARANGAL AWARDEES: LOCAL CHIEF EXECUTIVES
In sincere admiration and staunch cognizance of their consistent commitment and tangible support for cooperatives through the Cooperative Development Office making a substantial contribution to the achievement of the local expansion and sustainability of cooperatives, the following were awarded: 
HON. MAYOR ALFRED S. ROMUALDEZ, City of Tacloban 
HON. MAYOR RAYMUND C. UY, City of Calbayog 
HON. MAYOR DEXTER M. UY, City of Catbalogan 
2021 EXEMPLARY COOPERATIVE DEVELOPMENT OFFICES 
In recognition of their impactful programs, projects, initiatives and cooperative endeavors in achieving the vision of progress and sustainability for cooperatives in their jurisdiction, the following were awarded: 
Tacloban City Cooperative Development and Livelihood Assistance Office Ormoc City Cooperative Development Office 
Catbalogan City Cooperative Development Office 
Calbayog City Cooperative Development Office 
Northern Samar Provincial Cooperative and Community Affairs Office 
2021 DYNAMIC COOPERATIVE DEVELOPMENT COUNCILS 
In recognition of the Councils' advocacy and commitment in establishing a flourishing community through adept leadership and strengthened cooperatives, the following were awarded:
Tacloban City Cooperative Development Council 
Ormoc City Cooperative Development Council 
Maasin City Cooperative Development Council 
Calbayog City Cooperative Development Council 
Catbalogan City Cooperative Development Council 
Almeria Municipal Cooperative Development Council 
Merida Municipal Cooperative Development Council 
Isabel Municipal Cooperative Development Council 
RECOGNITION OF CREATED COOPERATIVE DEVELOPMENT OFFICES Municipal Cooperative Development Office 
Basey Municipal Cooperative Development Office 
Victoria Municipal Cooperative Development Office 
BALIK PROBINSYA PROGRAM COOPERATIVE PARTNERS 
In recognition and respect of the cooperatives effort to empower and strengthen the beneficiaries of the BP2 program, which serves as a pillar for a balanced rural and urban development, the following was awarded: 
Metro Ormoc Community Multi Purpose Cooperative (OCCCI) 
KOOP KAPATID PROGRAM BIG BROTHERS FOR 2021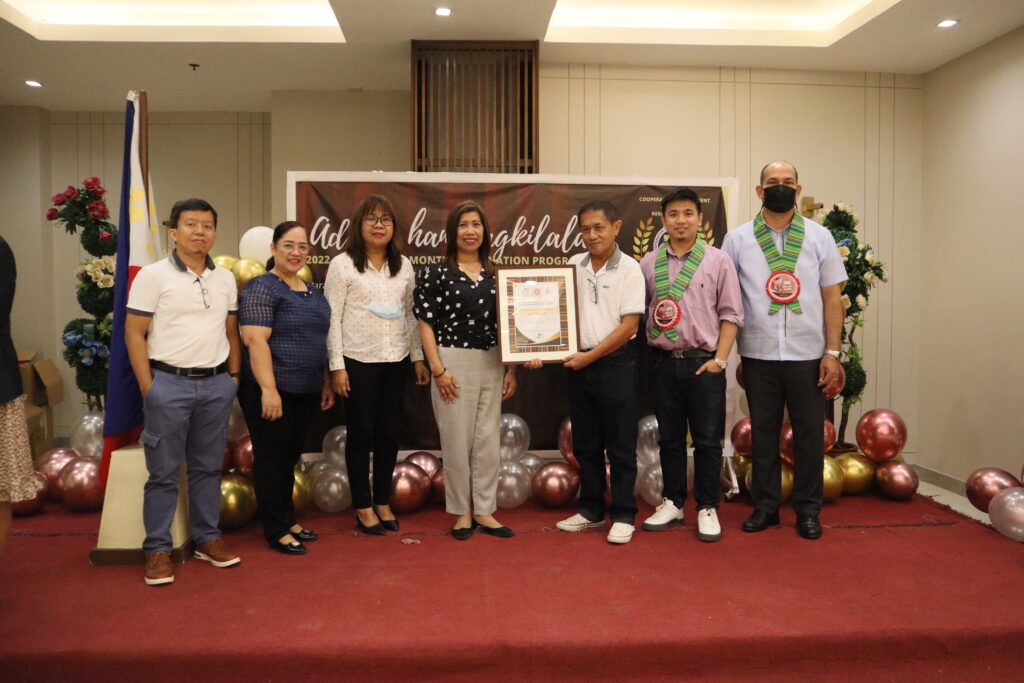 In recognition and respect of the cooperatives' efforts to empower and strengthen Small Brothers' cooperative administration, governance, and commercial operations through technical and other welfare programs, the following were awarded: 
Palompon Community Multipurpose Cooperative 
Fatima Multipurpose Cooperative 
Benabaye Primary Multipurpose Cooperative 
Samar Multipurpose Cooperative 
Kasugbong Multipurpose Cooperative 
2021 GRADUATING COOPERATIVES BASED ON ASSET SIZE 
The unwavering efforts to uplift the lives of the members and the community as a whole of the micro, small, medium and large cooperatives were also recognized through the Graduating Cooperatives Based On Asset Size awards. 
For attaining substantial increase in its cooperative assets through progressive financial management and effective leadership, the following were awarded: 
MICRO TO SMALL ASSET CATEGORY 
San Francisco Multipurpose Cooperative (SFMPC) 
Carnaga Multipurpose Cooperative (CMPC) 
Ormoc Rice Seed Growers Multipurpose Cooperative (ORSEPRO MPC) 
SMALL TO MEDIUM ASSET CATEGORY 
Tacloban Multipurpose Cooperative (TMPC) 
MEDIUM TO LARGE ASSET CATEGORY 
BASEY I District Multipurpose Cooperative (B1DMPC) 
TOP PERFORMING COOPERATIVES BASED ON THE COOPERATIVE PAR SUBMISSION FOR 2021 
In recognition of the cooperative's execution of commendable leadership, Certificate of Compliance issued in 2022 and based on the validated Cooperative Performance Audit Report submission for 2021, the following were awarded under their respective categories: 
Micro Cooperatives 
Hingatungan Agrarian Reform Cooperative 

Cabalawan – Ridge View Transport Cooperative (CARITCO) 

Northeast Transport Cooperative (NETCO) 
Small Cooperatives 
Pura Agri Multipurpose Cooperative (PURAMPCO) 

LIDE Employees Multipurpose Cooperative (LEDEVCO)

Carnaga Multipurpose Cooperative (CMPC) 
Medium Cooperatives 
Visayas State University Credit Cooperative (VSUCC) 

SANPOLI Multipurpose Cooperative (SMPC) 

Maasin Employees Multipurpose Cooperative (MEMCO) 
Large Cooperatives 
 San Jose Parish Hinundayan Multipurpose Cooperative (SJPHMPC) 

Allen Municipal Officials, Employees and Communities Multipurpose Cooperative (AMOEC MPC) 

Leyte National High School Multipurpose Cooperative (LNHS-MPC)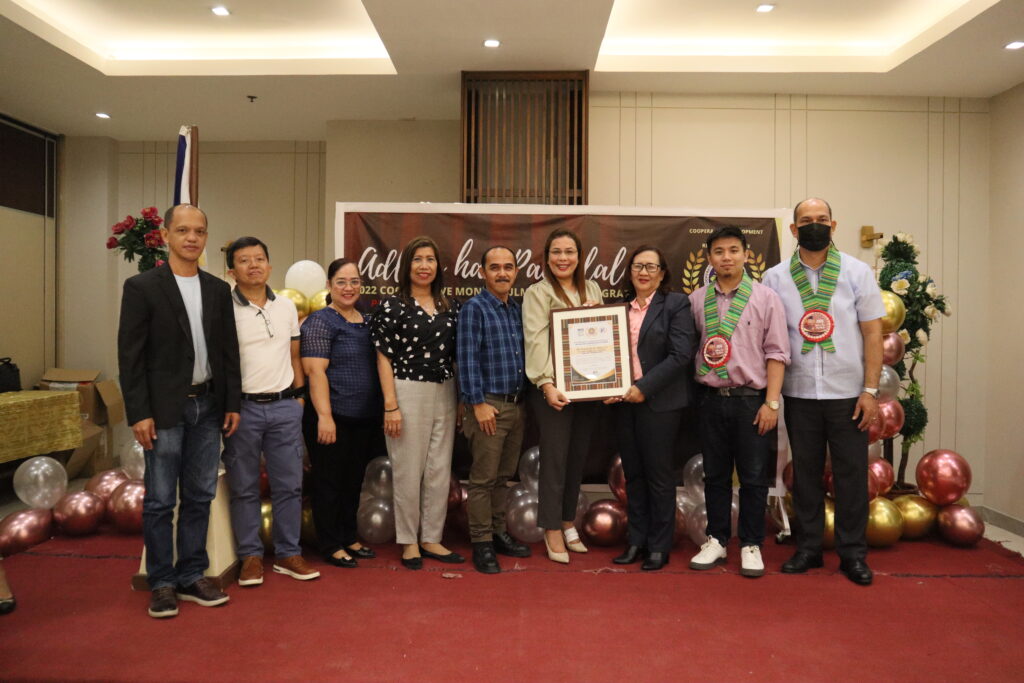 CLOSING OF THE CULMINATION PROGRAM 
The closing message delivered by Acting Assistant Regional Director, Maripaz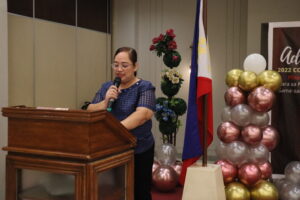 M. Del Pilar geared towards nation building through cooperativism. In line with the theme, she congratulated everyone's success and contribution. She relayed the thankful heart of CDA for the active partnership and is looking forward to more viable programs and activities advantageous as the stakeholders journey to a blissful future of the cooperatives. The successful "Adlaw han Pagkilala 2022″ ended at 4:30 in the afternoon.
Prepared by:
JASSELLE JOY G. LOPEZ, CDS II | JANICA JAYNE RESCO, CDS II |  JORDAN MADJUS, SR. CDS