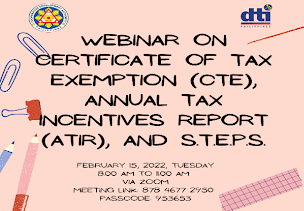 The CDA Region Office VIII ably facilitated a 3-in-1 webinar last February 15, 2022, via Zoom with topics on Certificate of Tax Exemption (CTE), Annual Tax Incentives Report (ATIR), and Stability, Turnover Ratio, Efficiency, Profitability, and Structure of Assets (STEPS) which was participated by one hundred twenty-five (125) representatives of cooperatives in region 8.
The Supervisory and Examination Section (SES) of the CDA RO VIII have been holding webinars on CTE and ATIR, while only last year on the S.T.E.P.S. since this report is required by the Authority to be submitted as part of the annual mandatory reports of the cooperatives. Assistant Regional Director, Ms. Venus M. Jornales showed support through her presence throughout the activity as wellas her affirmation to assist the cooperatives in their clarifications and issues as the point person of the office for BIR concerns. The CDA carefully elucidated how these particular topics and/or reports are bound to support the upkeep of cooperatives as well as the Authority to accord harmony with the Bureau of Internal Revenue (BIR) and the stakeholders.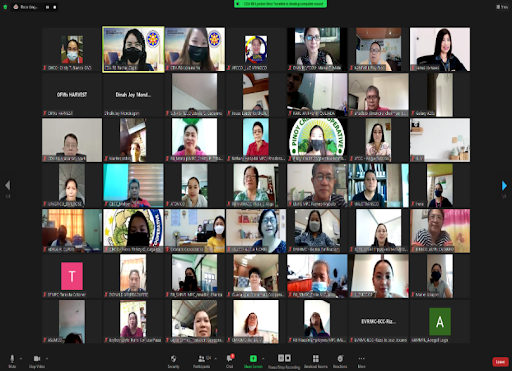 The importance of securing CTE from the BIR, the submission of ATIR on or before every 30th of April, and the importance of STEPS, as well as how the cooperatives will benefit from these were explained to the participants. They were also provided with copies of the circulars mentioned during this webinar and the forms of the reports discussed. Clarifications such as on the circulars issued in relation to the cooperatives' business operation were addressed among the participating cooperatives based on their experiences which certainly showed how cooperatives support each other.
Accordingly, the office guided the participants in filling out the ATIR as it requires computations. The STEPS is part of the Performance Audit Report of the cooperatives which is a management and supervisory tool that would help the cooperative and the Authority assess their condition in terms of its finances and business operations.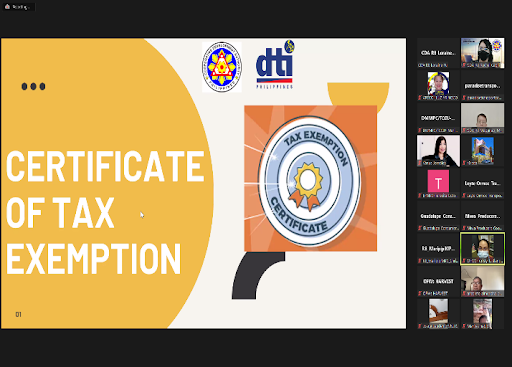 The facilitators also took the opportunity to give the participating cooperatives some important reminders. In this particular webinar, the CDA updated them on the soon-to-be implementation of the new online system for the submission of annual mandatory reports – the Cooperative Assessment Information System (CAIS) that would be the focus of the next webinar to be facilitated by the office for the cooperatives. 
The webinar concluded with immense appreciation pronounced by the participating cooperatives which were perceived by the CDA RO VIII as one of the indicators of the success of the activity. The office, in return, expressed that it has always been a pleasure and fulfilling to have this orientation for the benefit of the cooperatives.
Prepared by Supervisory and Examination Section:
MARK B. MAPANAO, Sr. CDS – SES | LORAINE M. YU, CDS II  | RECHEL T. CAPILI,Administrative Aide IV