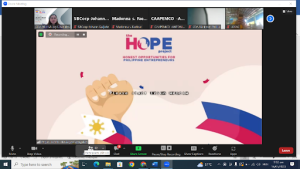 A total of 84 participants from 64 cooperatives attended the Small Business Corporation Webinar on its programs and services and the orientation of the Project Hope for business opportunities of cooperatives. This was held on May 16, 2023 at 8:30 a.m via zoom platform. The resource speaker is Mr. Johann B. Quijote – the Chief Accounts Management Specialist of the SB Corporation, Cebu City. The activity was coordinated with the SB Corporation Visayas Group through Mr. Antonio Elmer M. Garado. The objective of the Cooperative Development Authority (CDA) and the Small Business Corporation (SB Corp) renewed partnership is to extend credit and financial access to cooperatives through Pondo sa Pagbabago at Pag – asenso (P3) Program.
Acting Regional Director of the CDA Region VIII, Venus M. Jornales extended her warm welcome to the participants and speakers. She mentioned that CDA as mandated to promote the viability and growth of the cooperatives for sustainable development is dynamic in making partnerships with other government agencies and institutions who have programs and services that could help cooperatives for their sustainable development of which one is the Small Business Corporation for the development of micro, small and medium enterprises through cooperatives and the Project Hope for the business opportunities of the cooperatives and its members.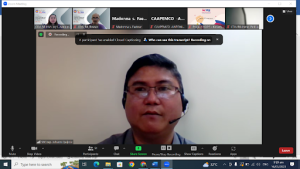 The second speaker is from Project Hope, Ms. Kesielyn Capagalan, Deputy Project Heads for Eastern Visayas. Project Hope (Honest Opportunities for Philippine Entrepreneurs) offers Livelihood, Tourism and Empowerment of MSMEs. The Project is for free and no capital needed. The role of the MSMEs is to look for clients that would patronize the products from the local business owners and it would be the role of the institution to provide capital, warehouse and delivery.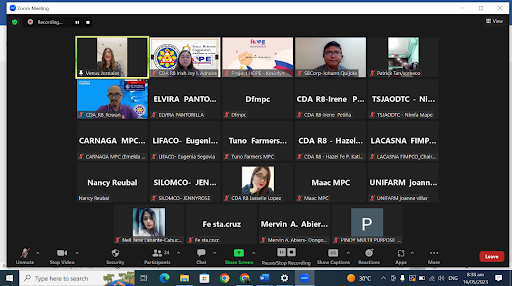 In closing, Acting Assistant Regional Director Maripaz M. Del Pilar thanked the Small Business Corporation our partner , in sharing their programs and services to the cooperatives as well as on the Project Hope for sharing access and services in promoting cooperatives most and by providing cooperatives opportunities to sustain their businesses for the benefits of the members. She added that CDA is looking forward to strong and robust partnership and collaboration for the growth and development of the cooperatives and for the cooperative movement as a whole. AARD also thanked the cooperators for their continuous support to the cooperative movement. With the information, knowledge and experiences and good practices, programs and services shared by our partners it is hoped that cooperatives will be able to sustain their business operations.