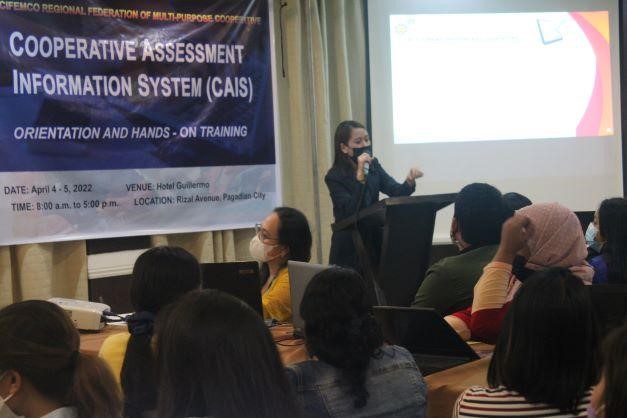 Cooperative officers from the provinces, cities, and municipalities in region 9 were undeterred by this new challenge when they tackled the exacting task of learning the new information system implemented by the CDA on April 1, 2022.
This new information system called "Cooperative Assessment Information System (CAIS)" replaced the old system used by the Cooperatives in submitting the reports annually. One of the main purposes of creating the CAIS is to (1) trim down the hard copies of reports to be submitted to CDA and (2) determine the Maturity level of every cooperative registered with the Authority. Such would be an effective tool not only for the Authority but also for the Cooperatives for them to assess their performance in all the relevant aspects of their operation, management, governance, and compliance to applicable issuances, laws rules, and regulations.


These objectives were attained during the series of training activities conducted on March 23-24, 2022, in Zamboanga City, on March 28-29, 2022, in Ipil, Zamboanga Sibugay, on April 4-5, 2022, in  Pagadian City, on April 11-12, 2022, in Dipolog City, and on April 18, 2022, in Labason, Zamboanga del Norte, titled "Cooperative Assessment Information System (CAIS) Orientation and Hands-On Training", initiated by Regional Director Glenn S. Garcia of the Cooperative Development Authority IX in partnership with Cooperative Federations and Cooperative Development Offices, with 398 cooperative officers and employees of the 259 cooperatives in the region.
by Sr. CDS Xela Mae G. Tan, SES