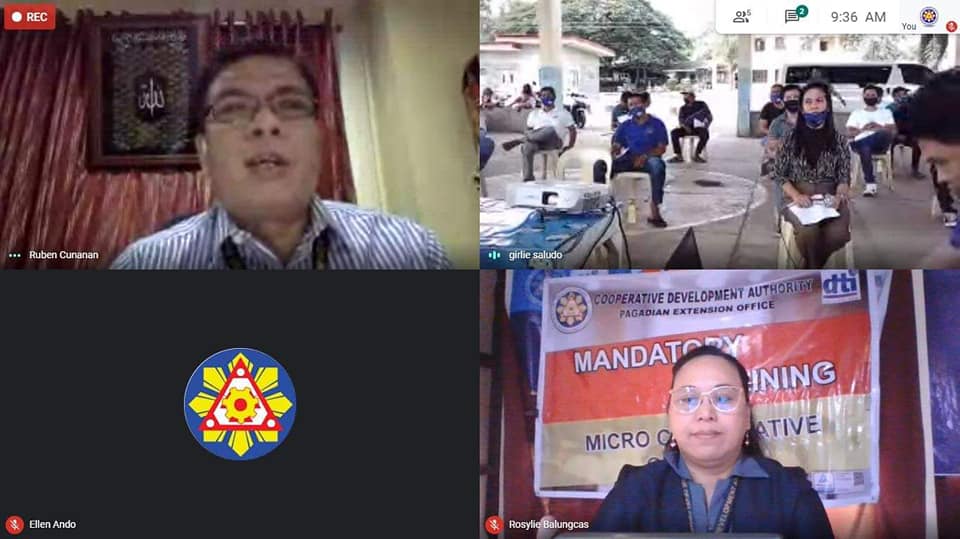 The First Webinar on Mandatory Training for cooperative officers was successfully completed by the twenty (20) cooperative officers of the Tambanan Agrarian Reform Beneficiaries Cooperative (TARBEMCO) of Tambanan, Naga, Zamboanga Sibugay, on July 8-9, 2020.
The Webinar was the result of partnership collaboration between the CDA Regional Director Ruben L. Cunanan and the Philippine Rubber Research Institute (PRRI) Regional Director Dennis Palabrica, in conscious efforts and mutual desire to alleviate the dire economic condition of the cooperative, and minimize the business uncertainties confronting its incumbent officers. Both were optimistic to win half the battle by joining forces to further the education of the cooperative officers through the webinar.
Ms. Girlie Saludo, head of the training team for PRRI and her team, gathered the 20 coop officers in one venue and ensured compliance with proper health and safety protocols while ensuring the smooth conduct of the webinar.
CDS II Rosylie S. Balungcas facilitated the discussion of the topics: Fundamentals on Cooperatives and Internal Control System on the first day (July 8, 2020) and Sr. CDS Ellen M. Ando facilitated the discussion of Cooperative Governance and Management on the second day (July 9, 2020), both within the confines of the CDA regional office, with the assistance of MIS personnel Esnibon Dasdas.
Director Cunanan expressed his gratitude to the PRRI Director Palabrica for a timely opportunity given to CDA to provide the necessary education to the concerned officers through the webinar, believing that sustainability demands not only strong capable leadership but also knowledgeable and confident decision makers.
Director Palabrica also expressed his gratitude to Director Cunanan for readily acceding to his request and encouraged the cooperative officers to work closely with the PRRI for the needed intervention/assistance in order to alleviate the dire economic condition of the coop which they have programmed to assist in order to attain and ensure business sustainability for the rubber cooperative.
All 20 cooperative officers expressed their gratitude to both government agencies for the 2 days training. Some of the officers expressed their relief after the training acknowledging that some solution to the many issues they were battling has come to light. They were thankful for the information and advice given which empowered them to confront the controversies on governance and management of the cooperative head on, and the opportunity to avail of the webinar for free with free meals and snacks provided by the PRRI.