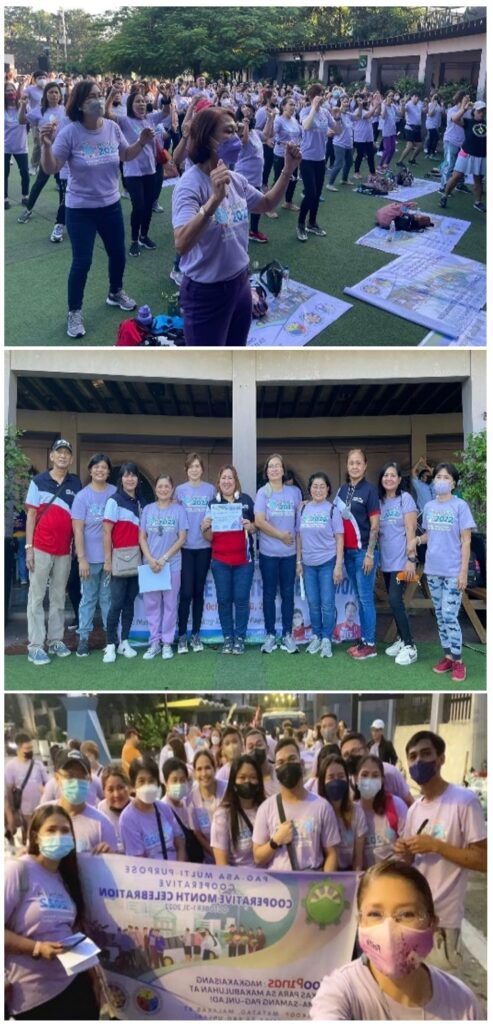 The Valenzuela City Development Office, together with the Valenzuela City Cooperative Development Council (VCDC) Officers and Members, and Cooperative Development Authority – National Capital Region Extension Office (CDA-NCREO) represented by CDS II, Marilou M. Valencia, in coordination with the Valenzuela City LGU, gathered as early as 5:00 in the morning to attend and celebrate the Opening of Cooperative Month Celebration in Valenzuela City on October 1, 2022, as the pictures below show.
The General Assembly of Thirty-Two (32) Valenzuela City Cooperatives with the Three Hundred Sixty-Five (365) members strong, started at 5:00 A.M. in walking briskly and excitedly their Lakad Para sa Kooperatiba along Fatima Avenue, Marulas, to the Valenzuela City Hall People's Park, joined in by several ambulances, police cars, and traffic enforcers.
The happy participants were served free healthy taho from Councilor Sel Sabino-Sy, free water from Councilor Chiqui Carreon, and free breakfast from the Valenzuela Cooperative Development Council.
As soon as each contingent arrived at the People's Park, they were acknowledged by Ms. Roshel Andrada and Dr. Josephine P. Osea. Then they listened to the Welcome Remarks of Valenzuela CDC Chairperson Ms. Lillian D. Silubrico. In response, the Committee on Cooperative Chairperson, Councilor Sel Sabino-Sy gave her Message of Support. Then the Zumba Dance was participated in by everyone. To everyone's happy surprise, awards were given to: 1. The Best Male and Female Zumba Bida Award 2. The Youngest and Oldest Delegate 3. The Biggest Number of Delegates 4. and for everyone who participated in this Kick-Off Activity – a much deserved Certificate of Participation/Appreciation. The awardee-participants were given enough time to have their awards photo ops.
Valenzuela CDO Officer-In-Charge, Dr. Josephine P. Osea gave the Closing Remarks.
Furthermore, this Welcoming Cooperative Month included 6K Wellness Activities (Kagandahan at Kalusugan ng mga Kababaihan, Kalalakihan at Kabataan ng Kooperatiba) offered by Valenzuela Cooperative Managers Club (VCMC) in the form of free haircut, manicure, massage, while VALDECO gave free beauty treatment to those interested. The Valenzuela United Lions Club also gave away free vitamins and face masks.
Though tired after an all-morning exhilarating exercise, every participant happily disbanded, bringing home with them goods and services and memorable experiences of having immersed in this community-cooperatively endeavor.