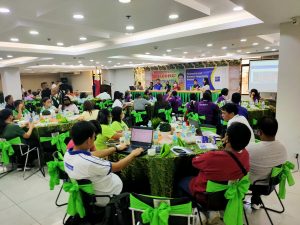 In compliance with Article 53 of Republic Act 9520 which states that, "Every cooperative shall draw up regular reports of its program of activities, including those in pursuance of their socio-civic undertakings, showing their progress and achievements at the end of every fiscal year xxx. The form and contents of the reports shall be as prescribed by the rules of the Authority".  Hence, the Caloocan City Compliance Forum was held in partnership with Cooperative Development Authority (CDA), Caloocan City Development Office (CCDO) and Caloocan City Cooperative Development Council (CCCDC) on March 23, 2023 at Katipunang Bulwagan, 8
th
Street, 8
th
Ave., Caloocan City Hall with 92 participants from 36 cooperatives.
Updates on the CCDO was presented and discussed by Mr. Allan Lambojo (OIC-Cooperative Development Office) and followed by Ms. Rachell Solayao (Caloocan City FCDS) on the Statistics of Caloocan City Cooperatives. Mr. Wilbert Sy of CLIMBS Life and General Insurance Cooperative also introduced their services that will benefit the cooperative sector. The heart of the Compliance Forum was discussed by Ms. Emerlinda Guillemer (Head-Supervision and Examination Section) as well as Mr. Gerard Paul Salinas (CDS II-SES). They presented the legal bases on the submission of Mandatory Reports, the content of the different reports like CAPR, Performance Audit Report, Social Audit Report, Audited Financial Statement and List of Officers Trainings. Also, the alternative way of submitting mandatory reports was introduced. This will only be used when the Cooperative Assesssment Information System (CAIS) is not accessible.  It was followed with the presentation of the Plans and Programs of CDO which includes Lakbay Aral, Cooperative Bazaar and activities for the Cooperative Month. The forum ended with a closing remark from the Chairperson of CCCDC, Ms. Lucy Furo.
Indeed, the activity was successful and participants were pleased with the additional information that they could use with their respective cooperatives.