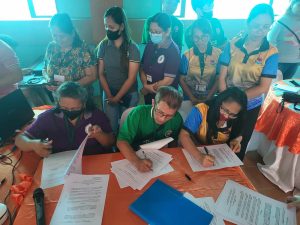 One of the Principles of Cooperative is "Cooperation among cooperatives".  It aims to strengthen the cooperative movement by working together through local, national, regional and international structures.  MC2023-02 entitled "Revised Guidelines on the Implementation of the Koop Kapatid Program" was issued to serve as a guide for the effective implementation of the program which aims to improve the management, governance and business operations of cooperatives through the provision of technical, financial or other forms of assistance.
Thanks to our partner cooperatives namely UE Caloocan Multipurpose Cooperative, Sta. Quiteria Multipurpose Cooperative and DSS Employees Multipurpose Cooperative because they got involved and showed their willingness to participate in the said program.  These cooperatives promised to do beyond what is in the Memorandum of Agreement (MOA) signed Last August 18, 2023 at Hidden Sanctuary Resort, Marilao Bulacan for the growth, development and sustainability of the beneficiary cooperatives.
The beneficiary cooperatives namely Samahan ng Manininda sa Pamilihang Bayan ng Maypajo Caloocan Credit Cooperative (SAMMOCA), Kaagapay ng Masisipag na Magulang Credit Cooperative (KAMAMA) and The New Sta. Quiteria Transport Service Cooperative, gave their pledge to abide with the MOA.  Furthermore, the beneficiary cooperatives assured the partner cooperatives that they will exceed the expectations of the latter for a harmonized relationship between them.