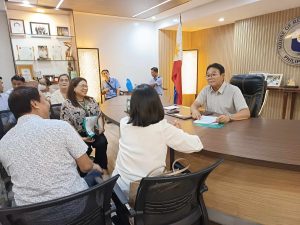 In an effort towards fostering collaborative growth and community development, a meeting transpired at Paranaque City Hall on November 16, 2023, focusing on the comprehensive plans and programs of the Cooperative Development Authority (CDA).  The meeting was graced by the presence of Congressman Edwin L. Olivarez and representatives from the Cooperative Development Authority-National Capital Region Extension Office (CDA-NCREO) led by Ms. Emerlinda Guillemer, Head of the Supervisory and Examination Section (SES), and the Cooperative Development Specialist (CDS) in the Area.   In attendance was also Ms. Josephine N. Salomon, Head of the Paranaque Cooperative Development Office (PCDO).
The meeting aimed to discuss the objectives, scope, and anticipated benefits that these initiatives hold for cooperatives in the city.  The gathering also served as a platform to provide updates on the current status of cooperatives, explore avenues for collaboration, and seek valuable insights and support from the Congressman.
Recognizing the potential for synergy between the CDA's initiatives and the Local Government, the meeting explored opportunities for collaboration. Congressman Olivarez emphasized the importance of aligning development assistance programs with the needs and aspirations of the cooperatives. This collaborative approach is envisioned to amplify the positive impact of CDA initiatives, fostering a mutually beneficial relationship between the agency and the cooperatives it aims to support.
With the comprehensive discussion on CDA plans and opportunities for collaboration, the groundwork has been laid for the continuous partnership that promises to bring about positive and more inclusive change for cooperatives in the City of Paranaque.