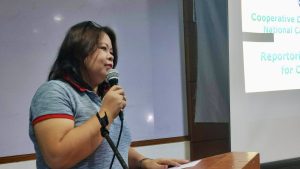 The City of Manila has the second highest number of registered cooperatives in the National Capital Region (NCR).  To ensure compliance of these cooperatives, Compliance Fora were held in the area to accommodate two (2) batches of participants.  Cooperative Development Specialists II, Misses Jezzelen Mae M. Cuevas, Wilma Remaneses, and Mr. Tana-Alim D. Masbod, in coordination with Ms. Milette Velicaria, – Officer-in-Charge, Manila City Cooperative Developm
ent Office, initiated the conduct of the activities.  The fora were held in partnership with the One Federation Cooperative and the Manila Federation Cooperative last March 24, 2023 and April 1, 2023, respectively. The objectives are to equip the participants and enable them to understand the use of CAIS (Cooperative Assessment Information System) and the alternative mode of submission of reports covering CY 2022, MC 2023-07.
Each Compliance Forum was facilitated by the Supervision and Examination Section, headed by Ms. Emerlinda Guillemer (Head/Senior CDS) and Mr. Paul Gerard (CDS II), together with the Registration Section as led by Ms. Ermelina T. Racelis (Head/Senior CDS/Manila Team Cluster Head).
A total of seventy-one (71) cooperatives with one hundred forty-nine (149) participants attended the said forum
. Special thanks was given to One Coop Federation and Manila Federation Cooperative for their significant contributions to the success of these events in Manila City.