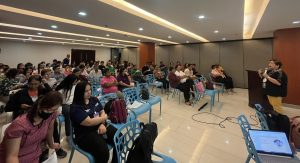 The Annual General Assembly Meeting of the Pasig City Cooperative Development Council (PCCDC) was successfully concluded on September 6, 2023, at the PLP Function Room in Pasig City. This significant event saw the participation of fifty-five (55) primary cooperatives, as well as the active involvement of key stakeholders such as the Samahan ng Kooperatiba Pasig (SAKOP), the Pasig City Cooperative Development Office (PCDO), and a representative from CDA-NCR.
Furthermore, the meeting was graced by the presence of Pasig City Councilor Pao Santiago, who serves as the Committee Chair of Cooperatives. Councilor Santiago delivered an address during the gathering, demonstrating his unwavering support for the cooperative sector in Pasig City.
The primary agenda of the assembly primarily revolved around several significant items of business. Commencing with the presentation and subsequent approval of the financial report for the fiscal year 2022, the presentation was effectively delivered by Ms. Connie Paz, who holds the position of Treasurer of the Council. Following this financial report, Mr. John Troy Sunga – CDS II assigned in Pasig City proceeded to provide comprehensive updates from the Cooperative Development Authority (CDA).
Subsequently, Ms. Donna Cruz, who currently serves as the Officer-in-Charge (OIC) of the Pasig City Cooperative Development Office (CDO), highlighted the notable accomplishments of the Cooperative Office for the period January-August, 2023.
Continuing with the formal proceedings, Ms. Anabella Soriano, the incumbent Chairperson of SAKOP and PCCDC, presented the council's detailed development report and outlined the forthcoming activities scheduled for the cooperative month celebration this October 2023.
The Council GA meeting ended with the formal ratification of a resolution, signifying the council's interest and intent to seek approval and recognition from the authority.