The Unilever Employees Multi-Purpose (UEMPC) through its Gender and Development Committee, conducted a forum in the observance of the 2021 National Women's Month Celebration last March 17, 2021 at 7:00 o'clock in the evening until 10:00 PM, with the theme: JUANA, Kamusta Ka Na? Yours truly was one of the guest speakers and talked about "Women Empowerment In New Normal and Gender Equality". Said activity was participated by Eighty-One (81) cooperative members via zoom platform.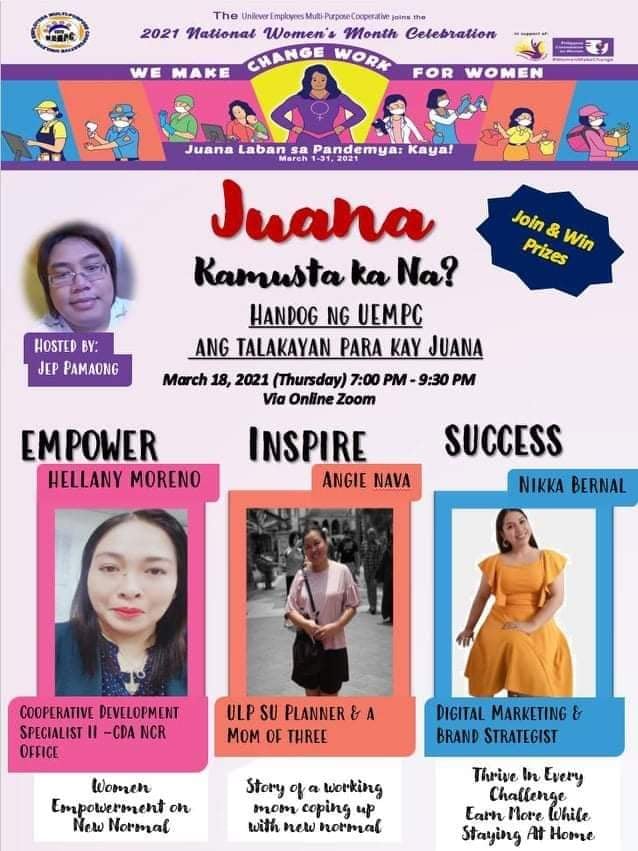 During the forum, yours truly clearly emphasized and took the opportunity to honor women who fulfill extraordinary roles in the society and posed a challenge to Make Change Work To Women especially as we strive during this Covid-19 Pandemic times. Also discussed is the role of women and equal responsibilities in the household and how to cope-up responsibilities in the Cooperative amidst this pandemic.
            The discussion ended with a short question and answer portion together with two (2) other speakers from the different divisions of Unilever Philippines, Inc.