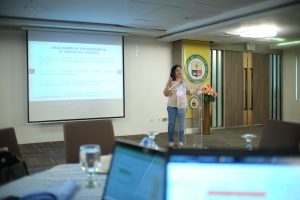 The Cooperative Compliance Forum was held on March 1, 2023, at 8:00 a.m. to 5:00 p.m. in collaboration with the Pasig City Cooperative Development Office (PCCDO) and the Cooperative Development Authority – National Capital Region, at the 6th Floor, Pamantasan ng Lungsod ng Pasig, Banquet Hall, Kapasigan, Pasig City (NCR). There were 44 cooperatives in attendance, with 81 participants represented by 28 Male and 53 Female member participants (including BODs, Compliance Officers, General Managers, and other Cooperative Official Representatives).
The goal of the forum is to assist the compliance officers or bookkeepers of the various cooperatives in complying with the Mandatory Report using the new system, in which all components of the required reports are to be encoded online via the Cooperative Assessment Information System (CAIS).
Ms. Emerlinda G. Guillemer, Senior CDS, facilitated the discussion, with assistance from Ms. Rhodara Abujeco, CDS II, and Mr. John Troy P. Sunga, CDS II. The forum was attended by none other than City Councilor Paulo Santiago, Chairperson of the cooperatives committee.