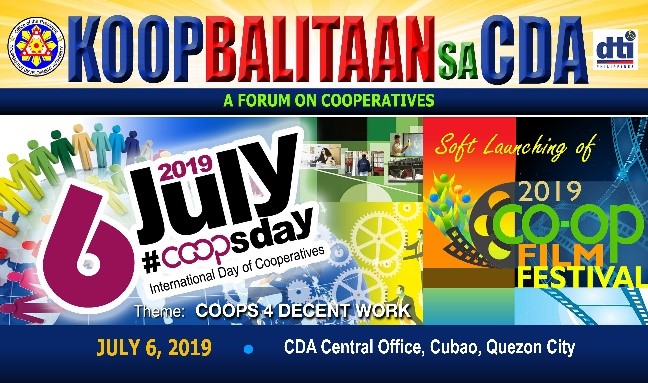 July 6, 2019, Saturday. At least 180 participants coming from the Cooperative Development Authority (CDA) Central Office, the cooperative sector and stakeholders, from the provinces of Batangas, Quezon, Bulacan, Laguna, Rizal, Cavite, Bataan, Pampanga, Bulacan and National Capital Region gathered together to celebrate the International Day of Cooperatives.
This is in unison with the celebration of the 25th United Nations International Day of Cooperatives and the 97th International Cooperative Day. The theme of the International Day of Cooperatives 2019 (CoopsDay) is COOPS 4 DECENT WORK.
The CDA joins the International Cooperative Alliance (ICA) in their message that "cooperatives are people-centred enterprises characterized by democratic control that prioritise human development and social justice within the workplace".
As cooperative development partners, the event was graced by Ms. Julie Llorente, Sr. Labor Employment Officer and Ms. Terence Joy Amores, Labor Employment Officer II of the Department of Labor and Employment (DOLE) – National Wages and Productivity Commission (NWPC) discussed Productivity 101 – Productivity Concepts, Technology and Measurements.
The DOLE – Bureau of Working Conditions (BWC) represented by Mr. Barrymore C. Mabaylan, Labor Officer II, expounded on the subject of Basic Labor Standards and Occupational Safety and Health. These topics are in relation to the theme of the CoopsDay.
The CDA also unveiled the program 2019 Co-op Film Festival, which will feature several cooperative winners of the CDA Gawad Parangal 2018. The program is part of the communication and advocacy program of the agency, to bring awareness to the public on the essence and vital role of cooperatives in nation building and social transformation.
The Co-op Film Festival shall feature documentaries of cooperatives showing the challenges faced and the path to success and empowerment for their cooperative, members and the community.
The filmed documentaries shall be launched in October 2019, during the Cooperative Month.
Participants of the July 6 International Cooperative were encouraged to post their photos in social media with #coopsday. – C.B. Marders
---
Bureau of Working Conditions Presentation
FAQs on Labor Standards Presentation
NWPC Presentation