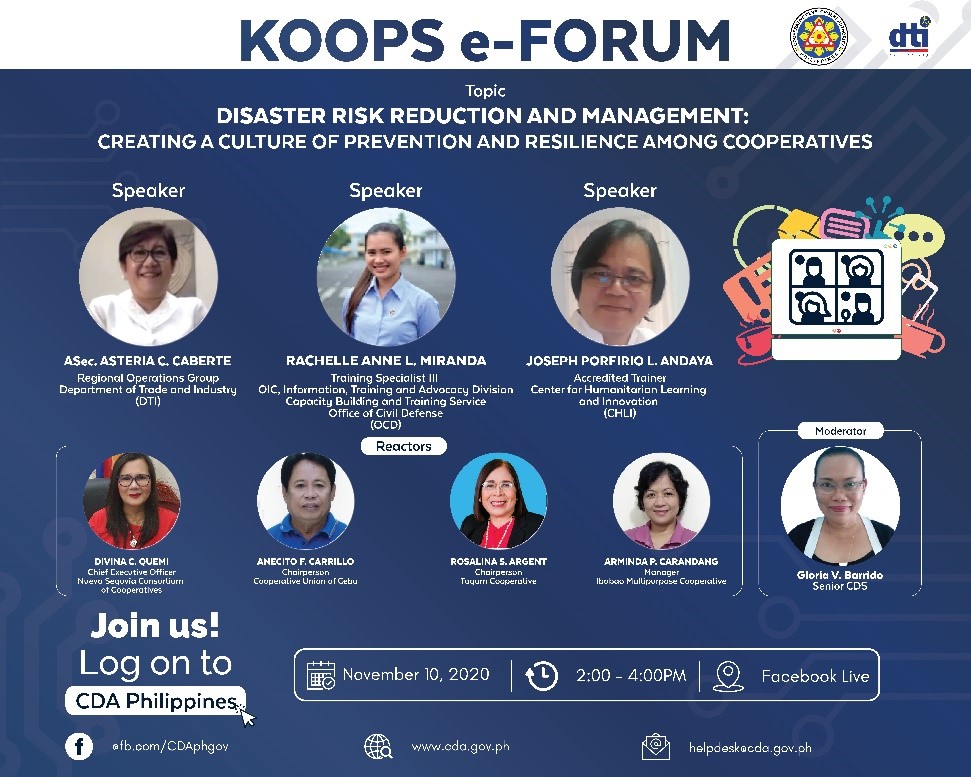 On the 11th episode of the CDA Koops eForum held on November 10, 2020, the topics discussed were very appropriate on the current situation of the country as we are now experiencing one calamity after another.
It is therefore imperative that each and every Filipino be made aware of how to mitigate and even prevent the loss of livelihood, resources and even life during calamities such as this, specifically cooperatives that suffered a huge amount of loss because they are caught unaware.
The discussions of the resource speakers centered on creating a culture of prevention and resilience among cooperatives and providing them with much-needed information on how to deal with calamities, whether natural or human-induced.
Usec. Orlando Ravanera is an environment advocate and his message addressed to the CDA Koops eForum speakers, reactors and audience show how passionate he is with saving Mother Earth, by elucidating how cooperatives contribute and support this call by being proactive and involved, especially since Concern for Community is one of the Universal Cooperative Principles.
For this episode of the CDA Koops eForum, invited resource persons are ASec. ASTERIA C. CABERTE, Regional Operations Group, Department of Trade and Industry, where she discussed DTI's Business continuity planning amidst COVID19; Ms. RACHELLE ANNE L. MIRANDA, Training Specialist III, OIC, Information, Training and Advocacy Division, Capacity Building and Training Service, Office of Civil Defense expounded the How to's on disaster risk reduction and management; and, Mr. JOSEPH PORFIRIO L. ANDAYA, Accredited Trainer, Center for Humanitarian Learning and Innovation (CHLI) explained in detail the Business Continuity Management and the BC Planning process.
Reactors for the CDA Koops eForum were Ms. DIVINA C. QUEMI, Chief Executive Officer, Nueva Segovia Consortium of Cooperatives – Region 1, Mr. ANECITO F. CARRILLO, Chairperson, Cooperative Union of Cebu, Region 7, Ms. ROSALINA S. ARGENT, Chairperson, Tagum Cooperative, Region 11, Ms. ARMINDA P. CARANDANG, Manager, Ibabao Multipurpose Cooperative, Region 4.
With the thorough explanation of the speakers and adept handling of the comments and queries from the reactors, the audience showed their appreciation by posting their gratitude and to the CDA for conducting the Koops eForum.
To watch the recorded video of the Koops eForum, you may click https://www.facebook.com/107061480949245/videos/658005641743942 to visit the CDA Philippines Facebook page. Please like and share the page to be updated on latest issuances, programs and activities of the CDA. You may also download the presentations of DTI, OCD, and CHLI attached below. (Cherryl B. Marders)
---
Resources:
 DTI Presentation
 OCD Presentation
 BCM the BC Planning Process