The Cooperative Development Authority  in coordination with the Cooperative Bank of Cebu(CBC)  conducted the Cebu Cooperatives' Summit on August 23, 2022 at the CFI Penthouse,  Esperanza Fiel-Garcia Building, Capitol Area, Cebu City.
The activity was attended by the CDA Board of Directors led by Undersecretary Joseph B. Encabo together with the Assistant Secretaries Pendatun B. Disimban, Virgilio M. Lazaga, M.D., Abad L. Santos, and Vidal D. Villanueva III  together with Regional  Director  Engr. Doreen C. Ancheta.
It was an  opportune time to update the cooperatives on the significance of  Cooperative Banking as a partner in countryside  development. Cooperative Bank of Cebu Chairperson, Ms. Farla Carolyn F. Garcia, expressed their gratitude for the attendance of the cooperatives,   guests and looks forward to a more purposeful collaboration with the cooperative sector of Cebu and  CDA.  The Coop Bank presented their programs and emphasized the benefits of being a member.
CDA Officials  encouraged the large cooperatives to lead in  the  organization of a Union for the province of Cebu. The   unified   and concerted effort amongst cooperatives was highly explained observing the 6th  Cooperative Principle which is Cooperation Among Cooperatives.
More significantly, the activity was  realizing the long time dream of the Authority to have its own home in Region 7.
Governor Gwendolyn F. Garcia signed the   Usufruct Agreement for    twenty five years use of the one thousand square meters of land at the Government Center in Sudlon, Lahug, Cebu City.
The Cebu Cooperatives' Summit  is  a reflection of partnerships and  sharing of resources for the benefit of the cooperative sector and the community it serves.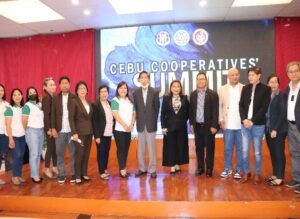 Read more…CEBU COOPERATIVES